After avoiding no-no, Boston's rally snuffed out
Doubront allows just two runs over six frames, but takes second loss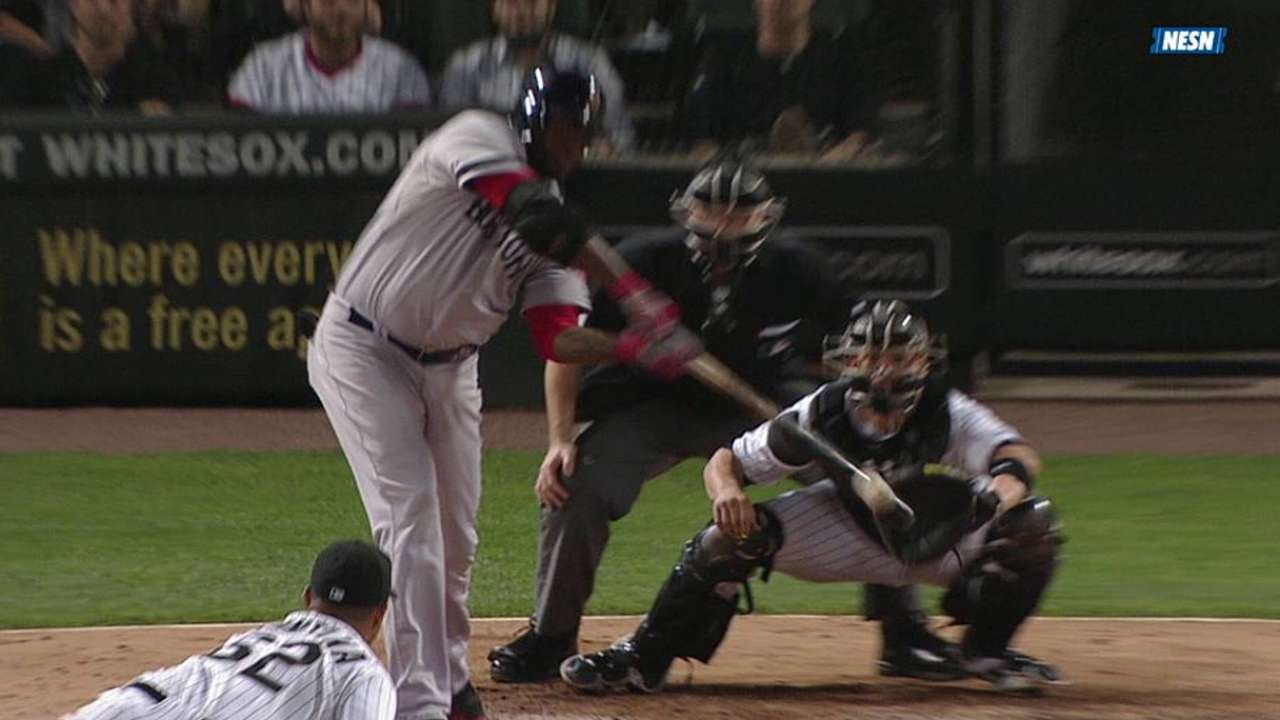 CHICAGO -- Chris Bosio remains the answer to the following trivia question: Who was the last pitcher to throw a no-hitter against the Red Sox?
David Ortiz made sure of that with one out in the seventh inning on Tuesday night vs. the White Sox, when he laced a single to center to spoil Jose Quintana's bid at becoming the first pitcher to hold Boston hitless since Bosio on April 22, 1993, at Seattle's Kingdome.
Though Ortiz's single was the first of three straight against Quintana, it wasn't enough to fuel a comeback. Instead, Boston suffered a second straight frustrating loss to the White Sox, this one by a score of 3-1 at U.S. Cellular Field.
"We just battled and tried to make things happen from the very beginning," Ortiz said. "He was making good pitches. That's the difference in the game."
One inning later, when Big Papi had a chance to tie the game or put the Red Sox ahead, he instead hit into a double play against White Sox reliever Matt Lindstrom that wound up being a backbreaker.
Down, 2-0, after seven, Jarrod Saltalamacchia (walk) and Jacoby Ellsbury (single) started what seemed to be a promising rally. The runners moved to second and third on a wild pitch. With one out, Dustin Pedroia hit a ground ball through the legs of White Sox shortstop Alexei Ramirez and Saltalamacchia scored to make it a one-run game.
Ortiz swung at Lindstrom's first pitch and hit a grounder to Paul Konerko, who started the 3-6-3 inning-ending double play.
"The last thing I anticipated with David at the plate was a ground-ball double play," said manager John Farrell. "You know, they made good pitches to get out of the jams."
The positive development of the night for Boston was the work of Felix Doubront, who turned in perhaps his best outing of the season. The lefty gave up five hits and two runs over six innings. He walked two and struck out three, throwing 85 pitches.
"A lot better than I felt before," said Doubront. "I'm feeling my breaking ball, feeling my fastball [get better]. Everything went really well. Step by step, I think I threw the ball well."
But the other lefty -- the one who started for the White Sox -- was the bigger story.
After Ortiz ended the no-hitter, Mike Napoli and Daniel Nava followed with singles. Boston had the bases loaded with one out. Chicago manager Robin Ventura then went to his bullpen, as righty Jesse Crain came on to face Will Middlebrooks.
Hot of late, Middlebrooks didn't come through this time. Instead, he struck out on a pitch that was out of the strike zone.
"Those games are tough," said Ventura. "You let him out there and then all the sudden it's a tough lineup and boom, there's three hits. But he did a great job of going through that lineup a few times. It's not easy at all to do that."
Stephen Drew also struck out, and Boston remained in a 2-0 hole.
"I thought we had tremendous opportunities," Farrell said. "Crain gets two big strikeouts -- one looked like it was ball four to Will."
While the Red Sox were getting stifled by Quintana, Doubront was turning in just the type of performance Farrell was hoping for.
"Yeah, it was consistent with his last outing down in [St. Petersburg] and I think he's on to something with the adjustments he's made, and I thought today was another positive step for him here tonight," Farrell said.
The White Sox finally got to the lefty in the fifth. Dayan Viciedo's two-out single was just the second hit of the game for Chicago. Up stepped Jeff Keppinger, who drilled a two-run homer to left to break the scoreless tie.
"I didn't make a mistake," said Doubront. "I threw a good pitch, a good hitter, he put a good swing on it, hit it out of the ballpark. But I felt good throwing that pitch, he just put a good swing on it. Like I said, I feel great."
Ian Browne is a reporter for MLB.com. Read his blog, Brownie Points, and follow him on Twitter @IanMBrowne. This story was not subject to the approval of Major League Baseball or its clubs.