Duke has short start in Nationals' third straight loss
Spot starter departs in fourth inning, gives up four runs vs. Giants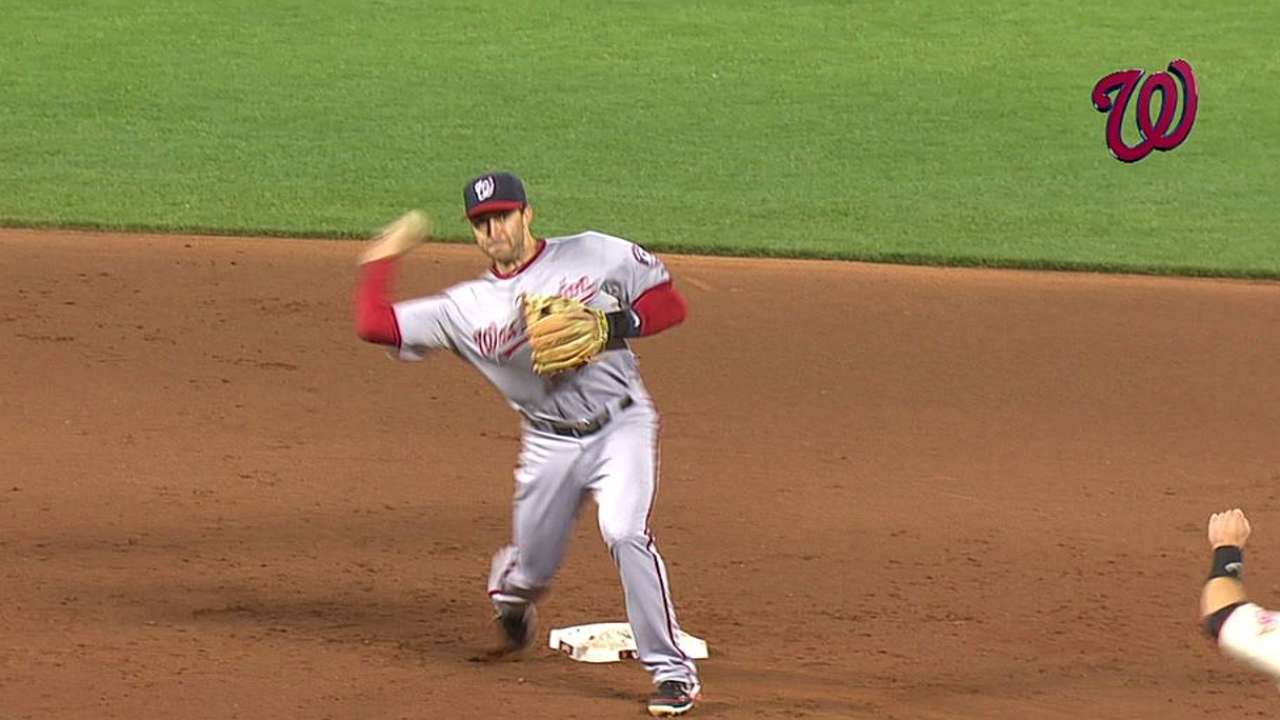 SAN FRANCISCO -- Before Monday night's first pitch against the Giants, Nationals manager Davey Johnson said he was hoping spot starter Zach Duke would be able to get through five good innings. It turned out Duke couldn't even escape the fourth frame of the series opener, which ended in an 8-0 Washington loss.
Starting in place of southpaw Ross Detwiler, who is nursing a right oblique injury, Duke finished 3 1/3 innings, giving up four earned runs on seven hits while striking out one. Just hours after the team learned reliever Ryan Mattheus broke his right hand by punching his locker following Sunday's 13-4 loss at San Diego, Duke couldn't deliver the long outing the Nationals needed so badly.
"I felt fine. Health-wise, stamina, I felt fine," Duke said. "Unfortunately, I didn't execute quite well enough. Missed some spots and ground balls made their way through."
The Giants started off the scoring with two runs in the bottom of the second, when Andres Torres hit a hard RBI double off the left-field wall and Brandon Crawford drove in Brandon Belt with a fielder's choice. By the end of the fourth inning, San Francisco held a commanding 5-0 lead.
Duke surrendered a pair of singles to lead off the frame before getting lifted with one out. Reliever Craig Stammen came in and couldn't hold the inherited runners, allowing runs on a sacrifice bunt, double and single in succession. The first two runs of the frame were charged to Duke.
Stammen eventually gave way to Henry Rodriguez, who was forced to throw 47 pitches in the final two innings because of the Nationals' depleted bullpen.
"That was a tough one," Johnson said of his team's third straight loss. "Been in a lot of funny games, but going into that one being a couple of pitchers short was tough. I thought we did an adequate job. I had to really stretch out Henry."
For Duke, it marked his first start since July 10, 2011, but he lasted just 58 pitches. Like his manager, Duke was hoping to get through five innings, but said his lack of control ultimately cut his night short. Still, he was happy to be on the hill as a starter again.
"Felt good to be out there to establish a little bit of what I do," Duke said. "Unfortunately, I wasn't able to sustain it very well."
Bryce Harper returned to the Washington lineup, but it did little to slow down Giants starter Ryan Vogelsong, who threw five shutout innings before leaving with a fractured hand after being hit by a pitch while batting. Harper finished 0-for-4, but appeared to go through the game without incident on his balky left knee.
Harper was unavailable for comment shortly after the game, but Johnson said he believed the young slugger didn't do anything to aggravate the injury.
"To the best of my knowledge," Johnson said.
The Nationals managed just three hits on the evening, all of them coming off Vogelsong. It marked the latest performance for a team that's struggled to hit all year, as it entered Monday's contest with a .230 team batting average, tied for the second worst in MLB.
"We're just trying to do too much," Johnson said.
Ian Desmond, who went 0-for-3 on the evening, even tried to spark up his teammates with a pregame talk during a hitters' meeting Monday, to no avail.
"When things don't go good, it's kind of easy to point the finger," Desmond said. "I just wanted to express to guys, 'Hey, do what you do best.' That's all we can ask. If everybody does the best job that they can, then at the end of the day, we're going to be a pretty good ballclub."
In Desmond's eyes, about the only consistent thing this season has been the team's defense. The loss marked the third straight defeat for the Nationals, whose record dropped to 23-22. It's only May, but Desmond felt compelled to address his teammates about their recent struggles.
"At this point, it's starting to get a bit frustrating," Desmond said. "But at the same time, this is a long season, this is not a game for the mentally weak and you're going to have to grind through it."
Even though Vogelsong entered the game with an MLB-worst 8.06 ERA, the Nationals could only muster three harmless singles off the righty.
Vogelsong looked like he was in the midst of his best start of the 2013 campaign. Understandably, he was disappointed to have his start cut short by a significant injury, but tried to keep a positive attitude.
"That's the best I've felt in a long time," Vogelsong said. "From a mental aspect, physical aspect, everything felt good. It was nice to be able to get out there and have everything that I've been working on for the last couple of weeks kind of fall into place. From that standpoint, it's a good place to start when I come back."
Following the game, Duke was briefed that Vogelsong had suffered a broken hand. Duke himself overcame a broken hand to start the 2011 season, sitting out eight weeks after getting hit by a line drive. He had nothing but good wishes for his former Pittsburgh teammate, but said the upcoming rehab process would be tough.
"I couldn't pick up a ball for five weeks," Duke said. "You have to get out there and kind of re-establish what you did through the offseason. It's a frustrating process."
Alex Espinoza is a contributor to MLB.com. This story was not subject to the approval of Major League Baseball or its clubs.