Vogelsong gets win, but breaks hand vs. Nats
Righty hurls five shutout innings; Belt contributes four hits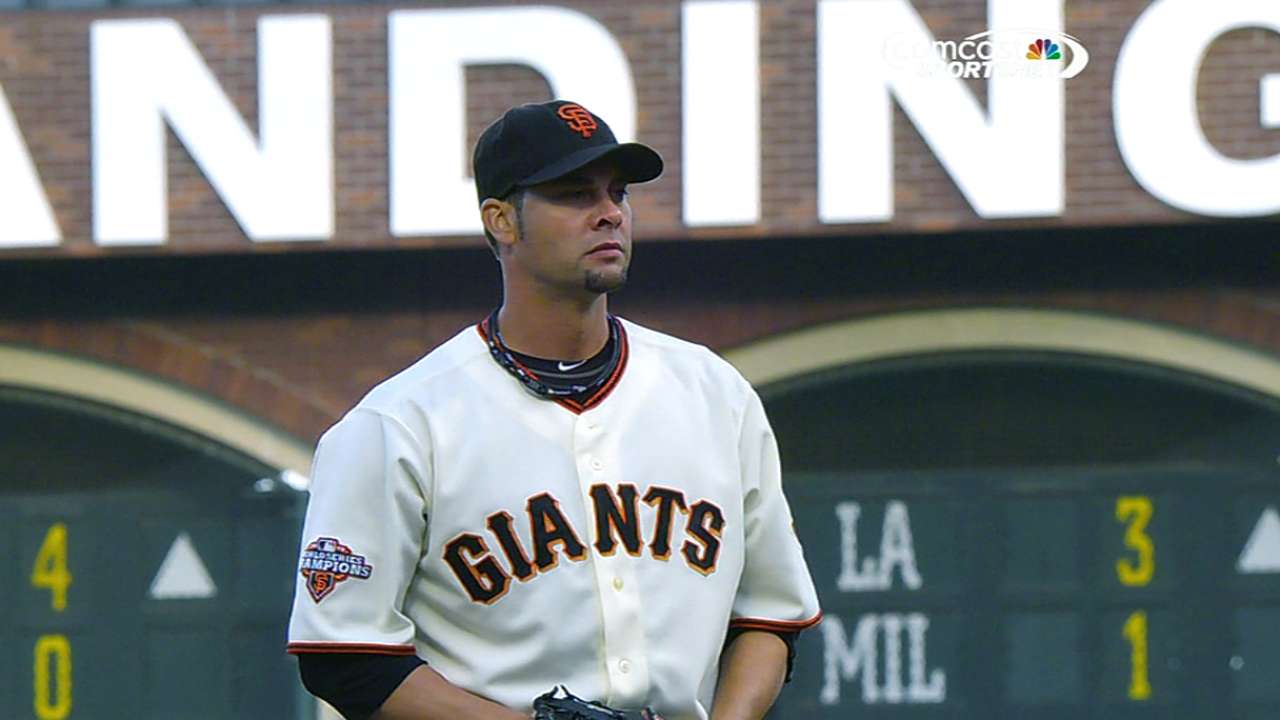 SAN FRANCISCO -- Except for Ryan Vogelsong's injured pinkie, Monday night couldn't have unfolded any better for the Giants.
Treating their 1-5, two-city trip as if it were a distant memory, the Giants broke a three-game losing streak by dominating the Washington Nationals, 8-0.
San Francisco amassed 17 hits, its most at AT&T Park since an 18-hit binge on Aug. 25, 2010, against Cincinnati. Brandon Belt scored four runs and equaled a career high with four hits, including a home run. Andres Torres, hitless in his last 11 at-bats, added three hits and drove in the Giants' first run.
"It was a good win," Giants manager Bruce Bochy said, adding, "It started with the job that [Vogelsong] did."
Entering the game with an 8.06 ERA, highest among National League pitchers who worked enough innings to quality for the ERA title, Vogelsong allowed three hits in five innings before he was hit on the right hand -- the one he throws with -- by a Craig Stammen pitch. Vogelsong sustained two fractures in his pinkie and a dislocated joint that will require surgery Tuesday. He's expected to be sidelined for four to six weeks.
Until Vogelsong was injured, Belt said that he and his teammates "were as happy for him as we could be. It's tough to see him go down like this, but we know he'll be back strong and ready to go."
Outscored 52-28 during their recently completed trip, the Giants appeared bent on turning around those numbers against the Nationals, who were 9-4 against them since the start of the 2011 season and 5-1 last year.
San Francisco scored twice in the second inning against Nationals starter Zach Duke as Hunter Pence and Belt hit one-out singles, Torres lined an RBI double off the base of the left-field wall and Brandon Crawford contributed a run-scoring groundout.
Vogelsong helped San Francisco add three runs in the fourth, which Belt and Torres christened with singles. After Crawford's fielder's-choice grounder left runners on the corners, Stammen replaced Duke. Vogelsong pushed a safety-squeeze bunt up the first-base line that scored Belt. Angel Pagan doubled home Crawford and scored on Marco Scutaro's single.
As if to underscore the unfairness of Vogelsong's injury, his bunt was virtually perfect.
"He made it easy on me," Belt said. "Sometimes when you're the runner on third base, it's tough because you can't see the angle of the ball. He put it right where he needed to put it and I could just read it and go."
Belt didn't have to think as much when he clobbered his sixth homer of the season one inning later. Pagan tacked on a bases-loaded, two-run single in the seventh.
Scutaro, who extended his hitting streak to 18 games, mishandled a fifth-inning ground ball to lengthen the Giants' streak of games with at least one error to eight. Otherwise, the Giants demonstrated marked improvement defensively. Pagan backed up deftly in center field for Adam LaRoche's second-inning drive and made a leaping catch in front of the 399-foot marker. The Giants also turned two double plays.
Oblivious to the extent of Vogelsong's injury, the crowd -- prompted by the Giants' performance -- welcomed back the ballclub with its enthusiasm.
"It was nice to be back home and play in front of our fans," Belt said. "They gave us a much-needed boost tonight. I think it raised the intensity level and we played better because of it."
Chris Haft is a reporter for MLB.com. This story was not subject to the approval of Major League Baseball or its clubs.