Miller again falls victim to high pitch count
Starter leaves with lead, but Salas allows two inherited runners to score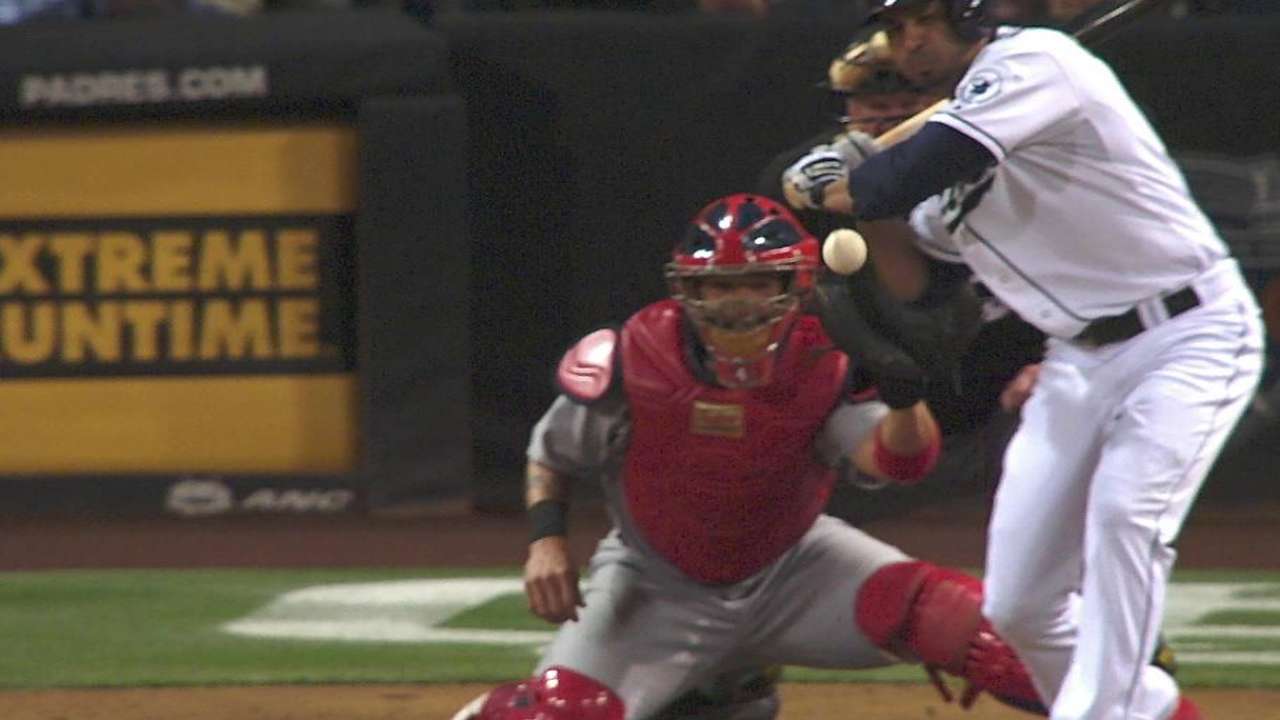 SAN DIEGO -- Shelby Miller worked himself out of a third-inning jam brilliantly, setting down the toughest part of San Diego's order all with the potential tying run on third. But it would be an escalating pitch count that would preclude Miller from getting the opportunity to work out of his next mess.
That troublesome spot came in the sixth, and Fernando Salas' inability to provide the necessary assist cost the Cardinals a series-opening win in San Diego. The two inherited runners to score off Salas pushed the Padres ahead and toward an eventual 4-2 victory in front of 18,763 at Petco Park on Monday.
Miller, who entered the start tied for the league lead with a 1.40 ERA, allowed a baserunner in each inning he pitched, though he did enough damage control to still exit with the lead. After allowing a first-inning run on Chase Headley's RBI single, Miller stranded a runner in scoring position in each of the next two innings.
No escape job was more impressive than his work in the third, when, after allowing a leadoff triple, he struck out Will Venable and Headley before ending the threat on an infield popup.
"He's got a good young arm and he turns it loose," Padres manager Bud Black said. "He's got a bright future. He's got a good arm. But I still like the way our guys attacked and we broke through against him and we got him out of the game pitch count got elevated."
They pushed up that pitch count in much the same way the Mets had in Miller's previous start. The number of foul ball wasn't as high -- 17 in this start compared to 30 in his last -- but Miller also wasn't getting the Padres to offer at many pitches outside the zone.
"Throwing 20 pitches every single inning is not what I'm here to do," said Miller, whose ERA climbed to 1.74. "Facing a good hitting offense on a big league club, it's not going to be easy to just throw it and have then swing at it every single time. Something I have to realize is to get the ball around the zone and hopefully things happen better."
In Miller's eight starts not including the shutout he threw earlier this month, he is averaging more than 17 pitches per inning.
"There are some nights where they're picking it up a little bit better and fouling it off," manager Mike Matheny said. "They're still not squaring up a lot of them. I think taking some shots down in the bottom of the zone more often may be part of the way to help him because the foul balls are typically the ones at the top."
After issuing his second sixth-inning walk, Miller's pitch count sat at 107. That was enough for Matheny, who turned the situation over to his bullpen.
Three pitches later, Chris Denorfia's sharp single up the middle off Salas tied the game. A walk loaded the bases before Salas plunked pinch-hitter Jesus Guzman on an 0-2 pitch to force home the go-ahead run. Both runs were charged to Miller.
Salas said afterward that he was struggling to finish his pitches.
"The ball was high. I couldn't throw it down," Salas said. "I'm trying to throw down with a lot of pressure on the ball and didn't finish."
While the Cardinals' bullpen has calmed substantially since April, Monday's loss served as a reminder that not all is fixed. While Matheny has relied heavily on his most trusted relievers -- Trevor Rosenthal and Edward Mujica -- and seemingly found his preferred fit when leading in the seventh (Seth Maness), there continue to be issues in piecing the rest of the 'pen together in a way the breeds consistent success.
With Rosenthal and Maness unavailable on Monday due to their recent workload, Matheny had to seek help elsewhere.
"You have different guys who have to be able to throw those middle innings," Matheny said. "We have to have the other guys step up."
Left-on-left specialist Randy Choate has been effective all year but was not used in the sixth. He was warming up throughout the inning in case the Padres used the left-handed-hitting Mark Kotsay to pinch-hit.
Joe Kelly's role remains undefined and he has been sparsely used in tight games as of late. Carlos Martinez continues to get his feet wet at this level. And then there's Mitchell Boggs, who did redeem himself by recording six quick outs on Monday after allowing a leadoff homer to Venable upon entering in the seventh.
That blast, which gave the Padres a two-run cushion, came in Boggs' first appearance since being recalled from Triple-A.
"I would have loved to have had two innings with six up, six down. But I had seven up, six down," Boggs said. "The ball was coming out good. The sinker was good. The breaking ball was good. And I just left a fastball in the middle to a good fastball hitter. That happens in the big leagues. I was pleased with tonight."
The Padres' bullpen was better, following a strong six-inning start from Jason Marquis with three shutout innings. It gave the Padres a fifth straight win over the Cardinals at Petco Park. And while the Cardinals still own the National League's best record, the Padres have matched them with a 16-8 mark since April 24.
St. Louis finished with only one hit after temporarily taking a 2-1 lead in the third. Carlos Beltran doubled and scored on a double play in that frame. It was one of three double plays the Cardinals hit into on the night.
"We know that he's a ground-ball pitcher," Matheny said of former battery mate Marquis. "Obviously, you'd like to make a big inning, but he did a nice job of keeping everybody off balance and using the downward movement in the bottom of the zone."
Jenifer Langosch is a reporter for MLB.com. Read her blog, By Gosh, It's Langosch, and follow her on Twitter @LangoschMLB. This story was not subject to the approval of Major League Baseball or its clubs.