Ethier, Kemp go deep to back Kershaw's gem
Lefty finishes what he started in efficient three-hit outing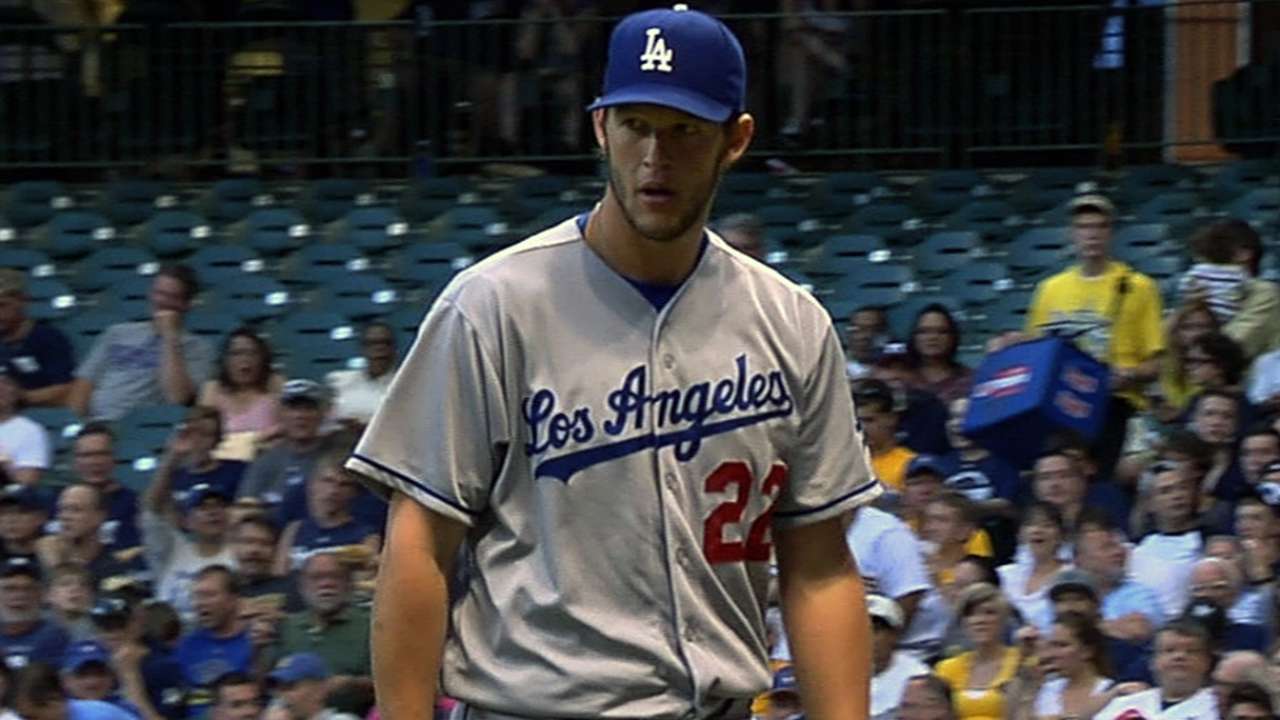 MILWAUKEE -- Dodgers officials responded Monday to speculation of staff firings afoot with reminders that the players win or lose, and the players responded Monday night with a 3-1 win over the Brewers.
Clayton Kershaw was his usual dazzling self with a three-hitter while sluggers Andre Ethier and Matt Kemp actually did some slugging, Ethier with a home run and triple, Kemp with a home run.
"Every time I get in trouble, Kershaw saves me -- one more day," said manager Don Mattingly, able to joke about his rumored job status because his team rebounded after being swept in Atlanta over the weekend.
"He was on a mission again, the second time in a row. It was [Greg] Maddux-like. Just strike after strike."
Kershaw, pitching on an extra day of rest after a 132-pitch victory over Washington, struck out five and needed 107 pitches to go 5-2. He had the free-swinging Brewers playing pepper with third baseman Juan Uribe, who fielded six grounders and two popups.
Significantly, Kershaw's complete game kept Mattingly from using the beleaguered bullpen that got everybody in trouble in Georgia.
"We hear it," Kershaw said of the rumors regarding Mattingly's job security. "We have MLB Network on the whole time. We hear stuff going around. But I don't think we need added motivation to play well. We want to play well for Donnie. He's a great manager and a great person, but he can't go out and play for us."
Kershaw again did his part. He leads the National League with a microscopic 1.35 ERA and since his 2008 debut leads MLB with a 2.69 ERA. He has allowed three or fewer runs in 22 consecutive starts, the longest streak for a Dodgers pitcher since Orel Hershiser in 1985-86. The complete game was the 10th of his career and second this season.
"His fastball plays better than what the numbers are," said Brewers manager Ron Roenicke. "He really buries it in to right-handers. It's got a little bit of a cut on it. He can pitch."
If the workload of his last start had any effect, it only made Kershaw seem better. He was pitching on an extra day rest Monday and will do so again Sunday.
"Who knows with that kind of stuff?" Mattingly said of Kershaw's ability to rebound from the 132 pitches. "Five starts from now he'll have a bad one and they'll blame it on that."
Kershaw issued only one walk, to .168 hitter Rickie Weeks, and that turned into Milwaukee's only run. As Mattingly pointed out, the Brewers' game plan to swing early in counts also helped to keep Kershaw's pitch count down.
"They were hacking," Kershaw said. "They put a lot of balls in play."
Since a pair of mid-April starts in which he didn't complete six innings, Kershaw has made five consecutive starts of at least seven innings while allowing only two earned runs total. The improvement has coincided with a sharper curveball, although Kershaw said he couldn't explain it.
"I thank my lucky stars every day we're not facing him," Ethier said.
Instead, Ethier and Co. faced Yovani Gallardo. Ethier followed a leadoff four-pitch walk to Kemp in the second inning with an RBI triple, then in the fourth inning hit his fourth home run of the year (440 feet) and first in 71 plate appearances. Two innings later Kemp hit his second home run (423 feet) and first in 97 plate appearances.
"Today we got a superstar win," said catcher A.J. Ellis, who had two hits. "Clayton did his thing, home runs by 'Dre and Matt. That's kind of how it's been designed. I hope we keep it up. With Clayton tonight and Zack [Greinke] pitching tomorrow, we feel like we're in a good position."
Although Ethier did his share, he was stranded after his no-out triple, he was ejected by plate umpire Dan Bellino for arguing after a strikeout that followed a buzzing by a Michael Gonzalez fastball, and he wasn't entirely thrilled after the game either.
"We still need to score more runs, especially when Clayton's pitching," Ethier said.
He said he and Kemp know the burden of run production is on them, along with Adrian Gonzalez and Hanley Ramirez, when he returns.
"We know what we're looked at to do and we're not putting up the way we should," Ethier said. "A lot of pressure comes down on us and there's no hiding or running away. If things are going to get going, it revolves around us."
Kemp sounded the same tone.
"I take a lot of what's going on about scoring runs," he said. "I haven't hit the way I should be hitting. I've been a little disappointed. But I'm still in the cage trying to figure this thing out. I still believe in myself."
He said the second homer of the year was a milestone, of sorts.
"I passed Dee [Gordon] and Kershaw," he said. "I can't be tied with Dee and Kershaw."
Ken Gurnick is a reporter for MLB.com. This story was not subject to the approval of Major League Baseball or its clubs.