Bats unable to generate much against Kershaw
Dodgers lefty limits offense on inefficient night for Gallardo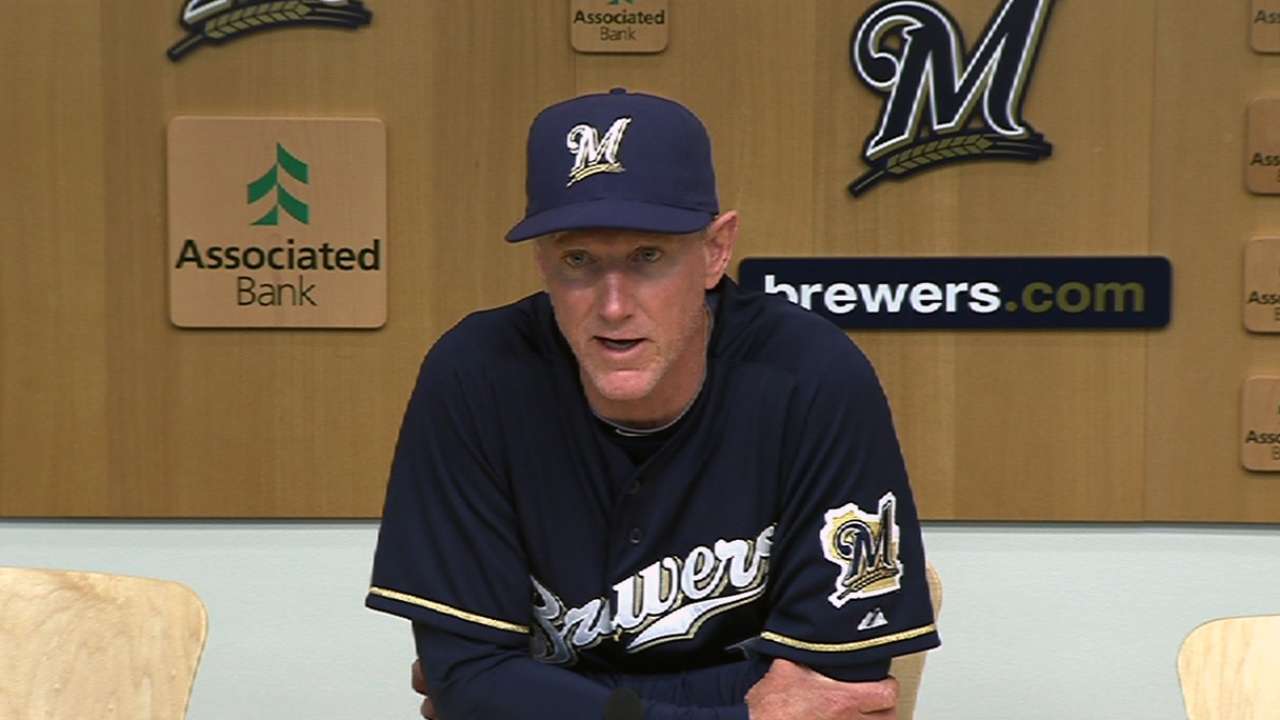 MILWAUKEE -- With Clayton Kershaw on the mound for the Dodgers, Yovani Gallardo needed to be great. He was something less than that. It has been a common problem this season for the Brewers' Opening Day starter, and the result was that Milwaukee remained winless when Gallardo takes the mound in May.
Kershaw carved through the Brewers lineup for the second time in three weeks, allowing only three hits and five baserunners -- one of them on an error -- while working all nine innings of the Dodgers' 3-1 win on Monday at Miller Park. The Brewers fell to 3-15 in May.
How good is Kershaw? Brewers leadoff man Norichika Aoki, who homered off the lefty in Spring Training two years ago, shook his head.
"I mean, he's a good pitcher," Aoki said through interpreter Kosuke Inaji. "He has won a Cy Young Award in the past and even today, it was hard to pick up any of his pitches."
In completing a game that he started, Kershaw accomplished something no Brewers pitcher has done in 373 regular season and postseason games since Gallardo's two-hit shutout of the Braves on April 5, 2011, (although Zack Greinke came close last June, pitching the first nine innings of a 10-inning, 1-0 win over the White Sox).
Since a Brewers pitcher last logged a complete game, 11 opponents have pitched one against them, including the Cardinals' Adam Wainwright and Kershaw this season.
Kershaw needed 71 pitches for the first six innings on Monday. Gallardo needed 105 pitches for the same span, threw only 57 of them for strikes and was finished after allowing three runs on eight hits, with one walk and a season-high seven strikeouts.
Slumping sluggers Andre Ethier and Matt Kemp produced all of the Dodgers' offense. After Gallardo walked Kemp to lead off the second inning, Ethier's hit caromed off the angled right-field wall and rolled along the warning track for an RBI triple. Two innings later, Gallardo tried a backdoor slider to Ethier, but instead of throwing it low and away, he split home plate, and Ethier hit a towering, solo home run to right field for a 2-1 Dodgers lead. In the sixth, Gallardo threw another slider down the middle to Kemp, who homered to left.
Kemp had gone 97 homerless plate appearances since his last long ball and Ethier 71.
"I felt pretty good going into today," Gallardo said. "That's probably the best I've felt in a while. I made two mistakes there. ... You can't do those types of things. Just bad pitches. There's not much I can say about that."
After winning four of Gallardo's six starts in April, the Brewers are 0-4 when he pitches in May. He has not pitched past the sixth inning in any of those games, and manager Ron Roenicke was asked whether high pitch counts are simply part of Gallardo's game.
"I don't think so," Roenicke said. "I think his pitch count is always up in the past because he's a strikeout pitcher. It's getting up now because he's throwing a lot of balls. His ball-strike ratio is close to the same. Today, after 60 pitches I look up there and it's 30 balls and 30 strikes. I don't think that's what Yo's going to be. I think he'll get better at that, I think he'll be able to go deeper.
"But I think he's slowly commanding the ball better. I thought today definitely the life was better on his fastball. I think once the life gets better and he's confident in it, he's going to throw more strikes."
Gallardo has been working with pitching coach Rick Kranitz on some mechanical adjustments related to the length of his stride, aimed to increase his sagging velocity. The Brewers have considered bumping back one of Gallardo's outings at some point, allowing for two bullpen sessions between starts instead of the usual one. Other starters could get a similar "blow," Roenicke said.
But Gallardo's next start will come as scheduled, on Sunday against the Pirates.
"It just felt like the ball was coming out a lot easier," Gallardo said. "Kind of normal. Back to what it was last year. It's still a loss, but that's something positive to look forward to. I'll keep working on it."
The Brewers manufactured their only run in the bottom of the third inning. Rickie Weeks walked and Yuniesky Betancourt singled before Gallardo bunted both runners into scoring position. In a 2-and-2 count against Kershaw, Aoki hit a grounder to second base that scored Weeks and tied the game, 1-1.
The Dodgers pushed ahead in the next inning on Ethier's home run, and Kershaw did the rest. He was every bit as good back on April 28, when he scattered four hits in eight innings of a 2-0 win over Kyle Lohse and the Brewers at Dodger Stadium.
"Really good again," Roenicke said. "His fastball plays better than what the numbers are. He really buries it in to right-handers. It's got a little bit of a cut on it. He can pitch."
The Brewers' chances were scant. Ryan Braun singled leading off the fourth inning but never advanced. Braun singled again with two outs in the sixth and took second on a wild pitch, but Aramis Ramirez grounded out. In the eighth, Aoki reached when he was struck by shortstop Dee Gordon's wild throw, but Jean Segura, the National League's leading hitter, popped out to the first baseman in foul ground. In the ninth, Ramirez belted a monstrous fly ball that hooked just foul before he struck out.
"Those guys are dangerous," Dodgers manager Don Mattingly said of the Brewers. "In this park, you can't let up. One mistake and it's a home run. They have a bunch of guys wearing out left-handed pitching. It's a tough lineup to go through."
Aoki had only an RBI and a bruise to show for an 0-for-4 night. Gordon's throw hit him on the inside of a right thigh that was encased in ice after the game.
"I'm lucky it wasn't a little higher up," Aoki said, managing a smile on another tough night.
Adam McCalvy is a reporter for MLB.com. Read his blog, Brew Beat, and follow him on Twitter at @AdamMcCalvy. This story was not subject to the approval of Major League Baseball or its clubs.