Correia off his game as Twins fall in Atlanta
Righty allows four runs in the first, lasts just four innings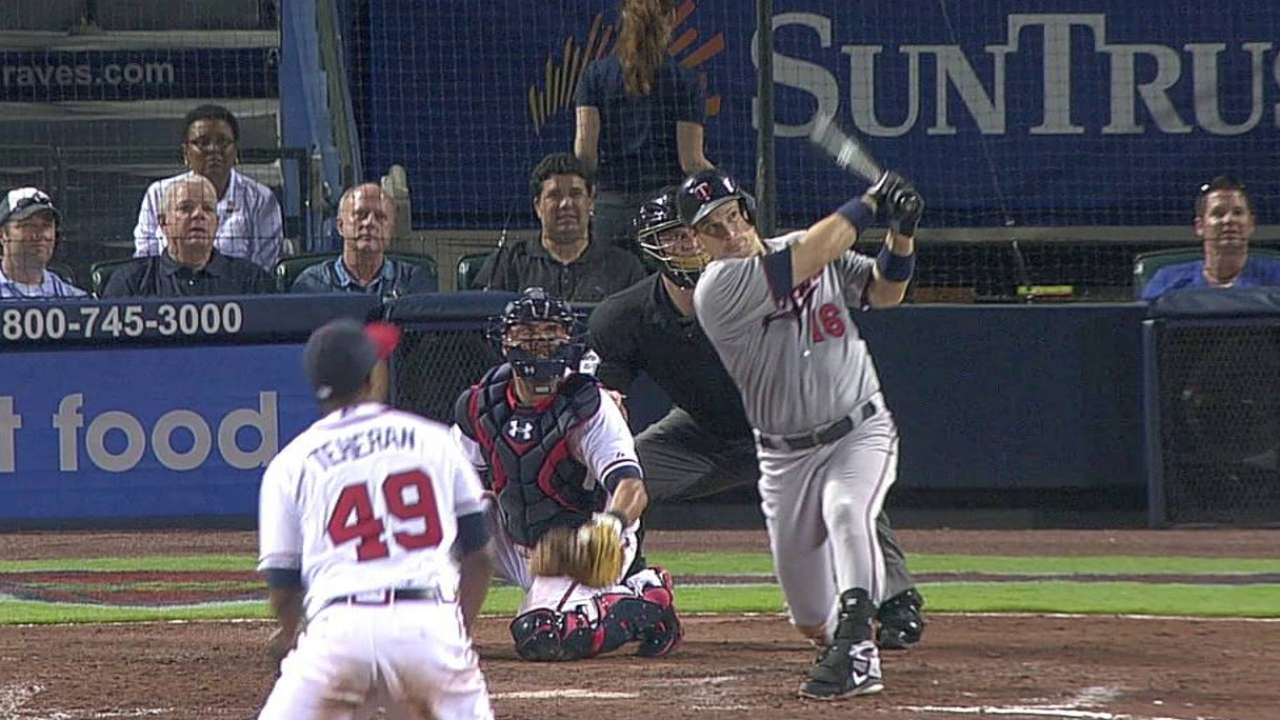 ATLANTA -- It's been an alarming trend for the Twins recently.
Their starters have failed to go deep into the games, taxing the bullpen in the process, and it was again the case on Monday night against the Braves.
Kevin Correia was the latest to get knocked around early, as he struggled over just four innings in a 5-1 loss to the Braves in Interleague Play at Turner Field.
It handed the Twins their sixth straight loss, and their recent troubles have largely come because of a lack of quality starting pitching. Minnesota starters combined for just 22 2/3 innings over their last turn in the rotation, with Vance Worley the only one of the club's five starters going more than 4 1/3 innings when he pitched six frames against the Red Sox on Friday.
"The bullpen has had to throw way too many innings so far this season," Correia said. "We need to get deeper into games as a staff. It's important, not just now, but later in the year, because guys will get worn down."
Correia, who has been the club's most consistent starter this year, was simply hit hard by the Braves in his worst outing of the year. He gave up five runs on eight hits and a walk while needing 75 pitches to get through his outing, which was his shortest of the season.
"He was up," Twins manager Ron Gardenhire said. "And that's one thing for us where he's been very good at getting the ball where he wants it to be and working ahead in the count. But they jumped him. They ambushed him early. Every time he made a mistake, they banged it."
The Braves scored four runs in the first inning. Jason Heyward, Justin Upton and Freddie Freeman hit consecutive singles before Dan Uggla launched a three-run blast to give Atlanta an early 4-0 lead.
"I made a really bad pitch to Uggla," Correia said. "After that, I was able to weasel my way through a couple more innings, but I didn't really throw the ball real great tonight. I think, this season, this was the only start where I didn't have command on some pitch to go with."
Atlanta tacked on another run in the fourth on a sacrifice fly from Andrelton Simmons despite a strong throw from Aaron Hicks in center field. Juan Francisco, who led off the frame with a double, barely beat the throw home from Hicks, as he got his left hand on the plate before Joe Mauer could tag him.
It was the last inning for Correia, as he was lifted for pinch-hitter Wilkin Ramirez in the top of the fifth, but Ramirez couldn't add a spark off the bench, as he lined out to third.
The Twins were shut down by rookie right-hander Julio Teheran, who tossed a career-high 8 1/3 innings and struck out four. The Twins managed just five hits off him, with Josh Willingham's homer in the ninth accounting for the one run. It was Willingham's first homer since April 29 and his sixth of the year.
"For the experience of being out there in the ninth inning, maybe he was a little tired, but you've got to dig deep a little bit," Braves manager Fredi Gonzalez said. "It was good for him."
Minnesota reliever Caleb Thielbar also made his Major League debut and threw two scoreless innings. The left-hander struck out three and allowed one hit.
"Obviously, there were some butterflies with it, but I just reminded myself it's the same game," said Thielbar, who didn't arrive to the park until just about game time. "It's still 60 feet, 60 inches, and you have to throw strikes and trust what the catcher is putting down."
But Thielbar was the lone highlight for the Twins, who were able to keep Teheran from throwing a shutout but left two runners on in the ninth and went 0-for-6 with runners in scoring position.
"It was a nice performance for him, but a frustrating one for us," Gardenhire said. "We got behind early and had to finagle our way from there. We had a couple guys on late, but we just couldn't come up with a big hit."
Rhett Bollinger is a reporter for MLB.com. Read his blog, Bollinger Beat, and follow him on Twitter @RhettBollinger. This story was not subject to the approval of Major League Baseball or its clubs.