Braves ride dominant Teheran to win vs. Twins
Right-hander hurls career-high 8 1/3 innings; Uggla hits three-run HR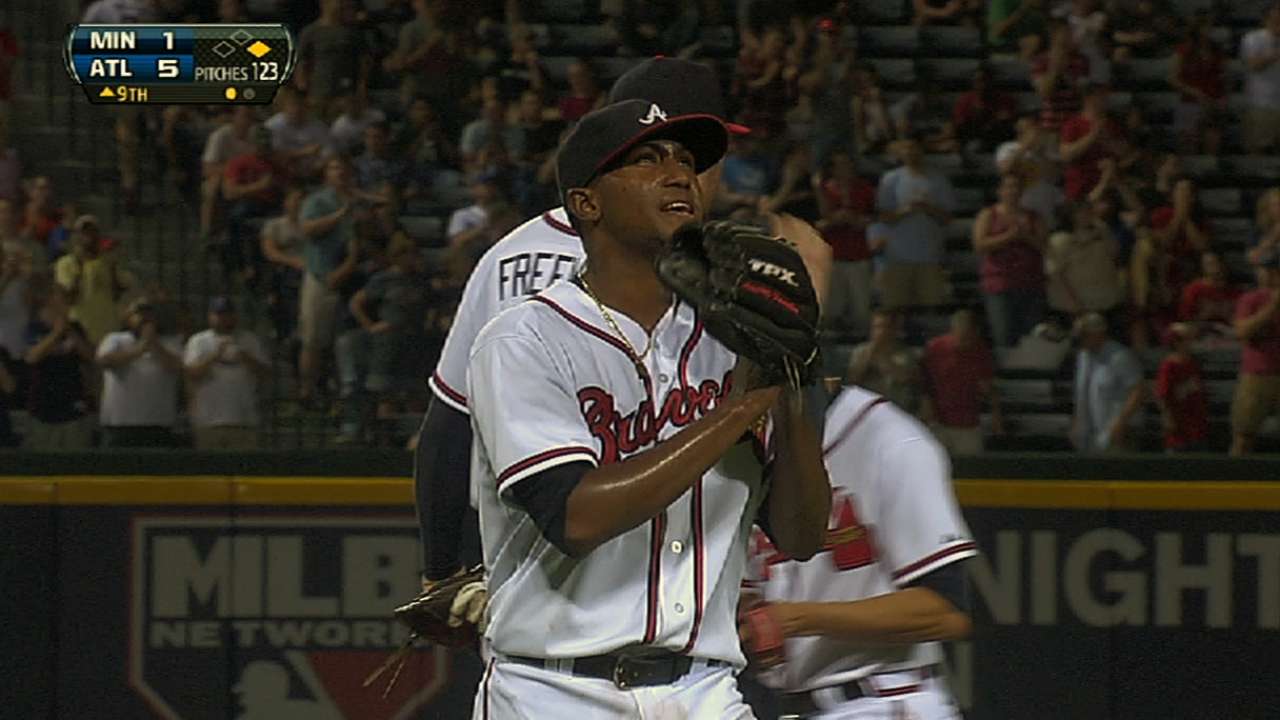 ATLANTA -- Over the past month, Julio Teheran has started to show why he was such a highly regarded pitching prospect. In fact, the Braves' right-hander has elevated his game to a point where he is now one of the most dependable pieces of Atlanta's starting rotation.
Teheran produced the finest start of his young career, as he benefited from a four-run first inning and came two outs away from his first career shutout while leading the Braves to a 5-1 win over the Twins on Monday night at Turner Field.
"I knew I was throwing a shutout, and I wanted to get it," Teheran said. "When they saw my face and that I wanted to go out there, they just sent me."
Despite the fact Teheran had already thrown 109 pitches through the first eight innings, Braves manager Fredi Gonzalez did not hesitate to give his 22-year-old pitcher an opportunity to notch his first career shutout in what was just his 12th career start.
Gonzalez said his decision was influenced by the fact Teheran entered this start with an extra day of rest and will now have an extra day of rest when he makes his next start against the Mets on Sunday night in New York. There was also the fact that the Braves were working with an injury-depleted bullpen, which had lost Eric O'Flaherty and Jordan Walden to injuries this past weekend.
"I think it was good for him to experience that in the ninth inning," Gonzalez said. "He had an extra day going into that start, and he'll have an extra day going out of that start, so we took that into consideration. And it was good for him to dig deep down in the gas tank and see if he could do it, and by God, he gave it a good shot."
Teheran retired Justin Morneau to open the ninth inning and then saw his shutout bid end when Josh Willingham hit his 118th pitch of the night over the left-field wall. Teheran exited to a standing ovation after Trevor Plouffe followed with a single.
"I was excited to get my first shutout," Teheran said. "I was trying to do what I did the whole game. I just missed that pitch."
After Luis Avilan allowed a single that put the potential tying run on the on-deck circle, Cory Gearrin entered with two outs and needed just two pitches to secure his first career save. Closer Craig Kimbrel was unavailable after having notched a save on each of the previous three days.
The Braves have won four consecutive games for the first time since their season-best 10-game winning streak was snapped on April 17.
"It was a nice performance for [Teheran], but a frustrating one for us," Twins manager Ron Gardenhire said. "We got behind early and had to finagle our way from there. We had a couple guys on late, but we just couldn't come up with a big hit."
After claiming three consecutive comeback victories during this past weekend's sweep of the Dodgers, the Braves recorded five hits during a four-run first inning that was highlighted by Dan Uggla's three-run home run off Kevin Correia.
Uggla's home run was his first since he hit two during a May 8 win in Cincinnati. Having tallied just one hit in the 24 at-bats he had compiled in his previous seven games, Uggla opted to use a slightly heavier bat than normal.
With their first-inning uprising, the Braves scored first in a game for the first time since May 7.
"The first-inning homer felt great," Uggla said. "It was like, 'Woo, finally a hit.' What was really positive for me was how I felt in my last three at-bats. I didn't get any more hits. But I felt great."
Juan Francisco's leadoff double helped to pad Teheran's advantage in the fourth inning when he scored on a sac fly and capped a two-hit game for the Braves' third baseman. Francisco had gone 0-for-13 with 10 strikeouts since his previous multi-hit game on May 9.
"I feel more comfortable when I have the lead, so I was trying to just go out there and throw my pitches," said Teheran, who was able to complete this gem without the ability to throw his changeup, a pitch that he had used more frequently in his previous three starts.
Teheran entered the ninth inning having retired each of the previous seven batters he had faced. He had not allowed a hit since Justin Morneau capped his two-hit night with a leadoff single in the fourth inning.
"He's a mature [young pitcher]," Uggla said. "You forget that he's only 22. I'm impressed with him. He's got a good head on his shoulders and he knows he's got to keep learning and keep improving."
Since allowing at least four runs in each of his first three starts this year, Teheran has gained confidence and shown much better command with his offspeed pitches. He has compiled a 2.41 ERA in his past five starts, and the Braves have won seven of the eight games he has started.
"I think there's still a lot of growing to do," Gonzalez said. "He's not a finished product by any means of the imagination, but sure is nice watching him every fifth day."
Mark Bowman is a reporter for MLB.com. This story was not subject to the approval of Major League Baseball or its clubs.