Rockies stall against D-backs' Corbin
Lefty holds Colorado to three hits in complete game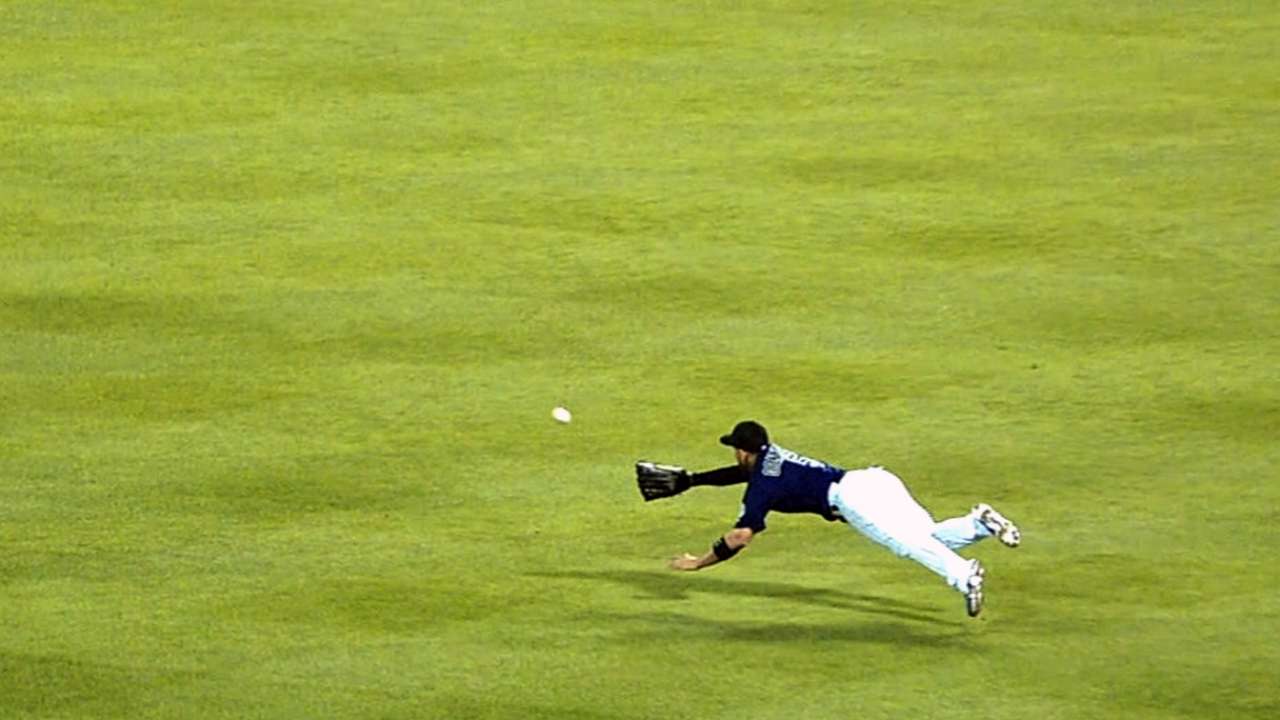 DENVER -- It takes more than momentum to beat D-backs left-hander Patrick Corbin.
The Rockies seemed to be rolling after winning three of four games against the Giants over the weekend, but Corbin twirled a complete game, holding Colorado to three hits while striking out 10 in a 5-1 victory in front of 23,053 at Coors Field on Monday night.
The Rockies (24-21) scored 25 runs the previous three games and began this three-game set a game behind the D-backs in the National League West. But if the Rockies are going to continue the momentum, they're going to have to do it against someone other than Corbin (7-0), who mixed a well-commanded fastball with a devastating slider while throwing 74 of his 97 pitches for strikes..
"Corbin has dominated this year, and he certainly dominated us tonight," Rockies manager Walt Weiss said.
Rockies leadoff man Eric Young Jr. drew a walk in the first inning, then Corbin used his ability to hit all corners of the strike zone to stifle an offense that entered leading the NL with a .272 batting average.
"Actually, in the first inning when they hopped on me there, I was struggling to locate, walked the first guy," Corbin said. "If you said after that first inning that I'd go the whole game, I would never have believed it."
Instead, Corbin completed one of the best starts by a visiting pitcher since Coors Field opened in 1995. According to ESPN Stats & Info, Corbin became the third pitcher to record a complete-game win with double figures in strikeouts. Pedro Martinez and Kevin Brown, two former All-Star aces, are the others.
Troy Tulowitzki's single up the middle in the fourth was the first hit. Nolan Arenado and pinch-hitter Jordan Pacheco each doubled in the eighth, with Pacheco's hit driving in the only run.
"He hits his spot," Arenado said. "When he threw the slider or whatever, it was perfectly on the plate. You never saw him in front of it. He was either on it or right behind it."
As the game progressed, the Rockies swung earlier in counts, hoping to hit a fastball and avoid the slider.
"As a hitter, you probably don't want to hang around for that thing," Weiss said.
Corbin, who has won four straight, beat the Rockies at Chase Field on April 28 by yielding two runs on nine hits in 6 2/3 innings. This time, he threw his first complete game in 26 career starts.
"He's gotten better [since April], but he was definitely good then, too," Rockies second baseman Josh Rutledge said. "He's one of the best lefties we've seen all year.
"It's not like we didn't battle or anything. He pitched a great game. Tip your cap to him tonight."
Rockies starter Jon Garland (3-5) took his third straight loss. After going five innings in each of his previous three starts, and expressing disgruntlement with tight pitch counts after a loss to the Cubs in his last start, Garland stretched his 97 pitches over six. But he gave up too much hard contact, and coughed up five runs. Arizona knocked 11 of their 16 hits off Garland, who was also charged with two wild pitches.
"You put your team down like that, it's terrible," Garland said. "I'd done that my last four or five starts. We're coming to the plate and have to put up three or four to get back into it.
"I'm trying to figure it out. Tonight it seemed when I made my pitch, they were getting those little funny hits. When I didn't make my pitch, they hit it really hard. I've got to focus on keeping the ball hard and continue to attack the zone."
Didi Gregorius, Eric Chavez and A.J. Pollock each had three hits for the D-backs. Gregorius drove in two runs and Chavez had his first triple since 2007.
Thomas Harding is a reporter for MLB.com. Read his blog, Hardball in the Rockies, and follow him on Twitter @harding_at_mlb. This story was not subject to the approval of Major League Baseball or its clubs.