D-backs cruise behind Corbin's three-hitter
Lefty achieves Coors Field rarity in first complete game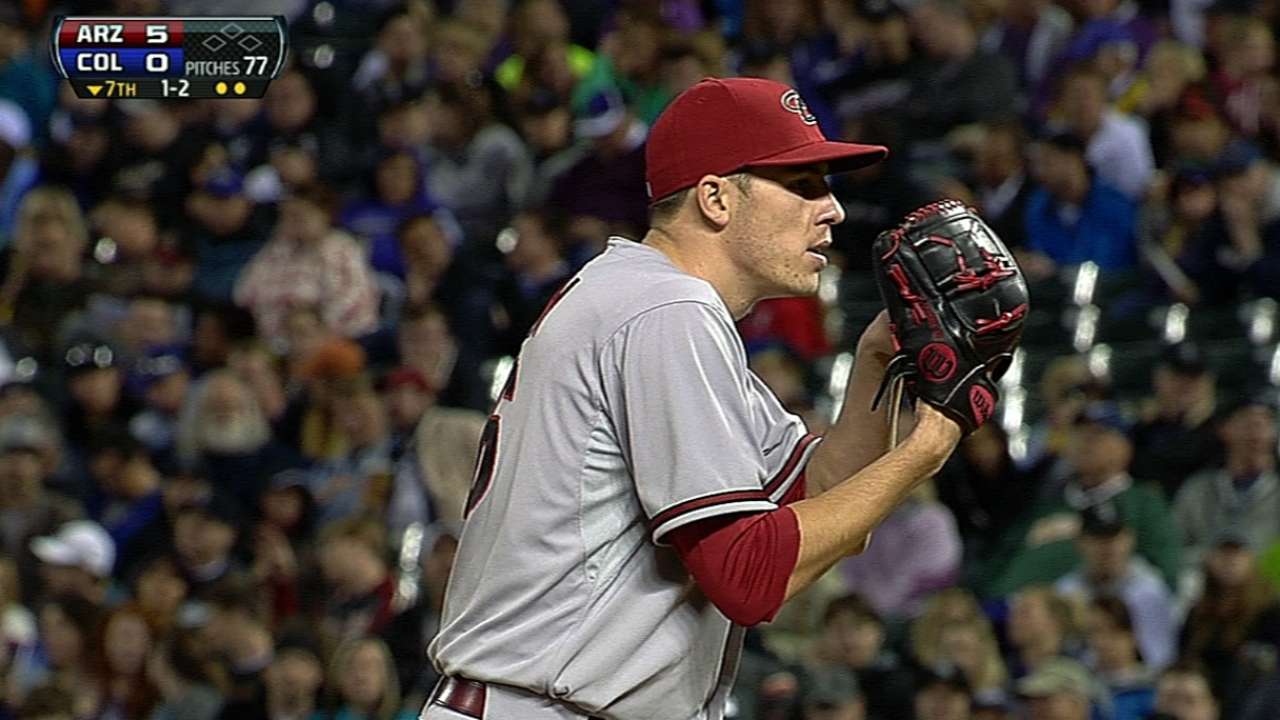 DENVER -- At some point, you have to think opposing hitters are going to make the necessary adjustments to do a little bit of damage against D-backs left-hander Patrick Corbin.
Monday was not that night.
Corbin became just the third visiting pitcher in the history of Coors Field to strike out 10 or more in a complete-game win, holding the Rockies to one run on three hits to lead the D-backs to a 5-1 victory.
Corbin (7-0) went the distance for the first time in the big leagues, and in his nine starts this year has yet to pitch fewer than six innings or allow more than two runs. His seven wins tie him with the Nationals' Jordan Zimmermann for most in the National League, and his 1.44 ERA is second in the circuit to the 1.35 mark of the Dodgers' Clayton Kershaw.
"First time in the big leagues, awesome," Corbin said of going the distance.
Judging by the way his pregame bullpen session went, though, the success was anything but expected.
"To be honest, I didn't think he was good at all warming up in the bullpen," catcher Miguel Montero said.
Said Corbin, "Actually in the first inning, when they hopped on me there, I was struggling to locate, walked the first guy. If you said after that first inning that I'd go the whole game, I would never have believed it."
It might not have exactly been "hopping" but Eric Young Jr. did draw a walk to lead off the first, but he was doubled up when Dexter Fowler lined out to shortstop Didi Gregorius.
"He came up and walked the first hitter, and he caught a break with the double play on the line drive," Montero said. "I think that was it for him. I think that gave him his confidence back and then he struck out Carlos Gonzalez and went from there. He just dominated. He mixed his [velocities], mixing in and out, keeping them off balance. They really didn't know what to look for because he was throwing everything for a strike."
And there were plenty of strikes for Corbin -- 74 of his 97 pitches.
"I'm just getting ahead with my fastball, and I think most of the strikeouts were on sliders," Corbin said. "Just able to get ahead with my heater, strike them out with my slider and just keep them off balance."
Part of the reason the Rockies were off balance was the fact that they weren't sure what pitch was coming.
"All his stuff moves pretty good," second baseman Josh Rutledge said. "His offspeed stuff resembles his fastball. He did a good job mixing up his pitches. It's tough to see when he's pitching good. I don't know if it's grip or what, but everything looks pretty similar."
The Rockies' run came when Nolan Arenado and Jordan Pacheco doubled in the eighth inning. In the first seven innings, the only hit against Corbin came in the fourth when Troy Tulowitzki grounded a single up the middle.
"He hits his spot," Arenado said. "When he threw the slider or whatever, it was perfectly on the plate. You never saw him in front of it. He was either on it or right behind it."
While Corbin was carving up the Rockies, the D-backs were methodically getting to Colorado starter Jon Garland.
Eric Chavez led off the second with a triple and scored on Montero's groundout.
Arizona added a pair of runs in the third thanks to RBI singles by Chavez and Paul Goldschmidt.
Corbin's outing was in stark contrast to how he pitched at Coors Field in 2012.
In two starts last season, he allowed 11 earned runs over nine innings.
"I had two terrible starts here last year so I knew that coming in," Corbin said. "So I just kind of wanted to get over that. It's a tough place to play, but I just wanted to come out here and stick with what I had and not shy away from anything."
Corbin's outing is in keeping with the trend of late for D-backs starters, who are 8-3 with a 2.24 ERA over the last 14 games.
Corbin's complete game is the second in three games for the D-backs, as Brandon McCarthy tossed a three-hitter Saturday night in Miami.
The loss snapped the Rockies' three-game winning streak.
Steve Gilbert is a reporter for MLB.com. Read his blog, Inside the D-backs, and follow him on Twitter @SteveGilbertMLB. This story was not subject to the approval of Major League Baseball or its clubs.