Johnson's struggles continue as O's lose sixth straight
Closer blows third consecutive save after allowing home run in ninth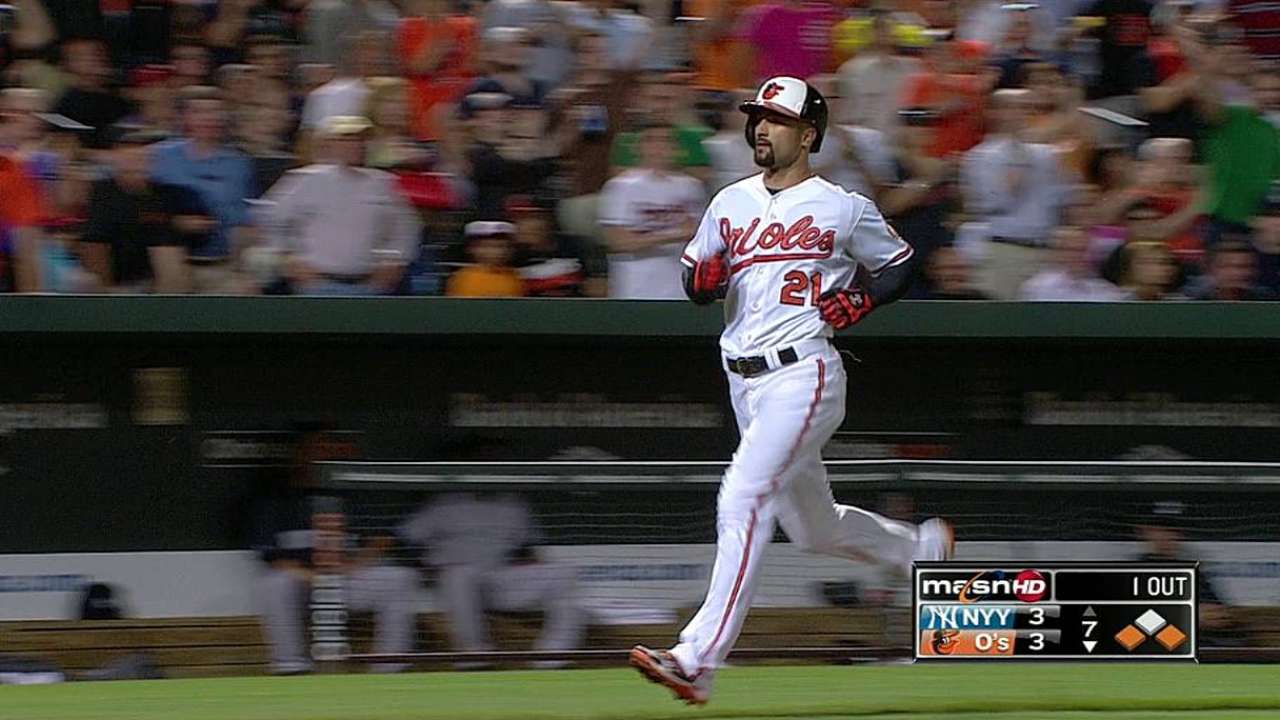 BALTIMORE -- Jim Johnson's struggles continued Monday night, squandering a solid start from Freddy Garcia, an offensive effort that saw Yankees ace CC Sabathia surrender a season-high 11 hits and any hope that the All-Star closer's pair of back-to-back blown saves was a minor glitch.
Instead, Johnson made it three straight blown saves while allowing a game-tying ninth-inning homer to Travis Hafner. And while it was right-hander Pedro Strop who officially took the loss, allowing a pair of 10th-inning runs, Johnson's unreliability is becoming an all-too-familiar trend for a reeling Orioles club that took its sixth consecutive defeat with a 6-4 loss to the Yankees.
"Three of them are my fault," Johnson said of Baltimore's recent struggles. "The other guys do their job and I do mine, then we're not standing here. I think everybody's doing a great job. I'm just not pulling my weight."
Tasked to protect a one-run lead, Johnson's 3-1 pitch was instead blasted into the left-field seats -- well over the head of jumping outfielder Chris Dickerson -- to mark his eighth earned run over a 2 1/3-inning stretch. When he is going good, Johnson -- who led the Majors with 51 saves last season -- is getting ahead in the count and getting ground balls, a recipe that saw him convert 35 consecutive saves up until May 10. Since then, the right-hander has looked nothing like the lock-down closer that helped the Orioles advance to the American League Division Series last fall.
"We will figure it out," said Johnson, who has pored over video and made an effort to tweak some of his mechanics. "I'll figure it out. There's no other option."
Orioles manager Buck Showalter seemed to agree with that, sticking by his closer and leaving no doubt about who will get the ball for his club's next save opportunity.
"Come back tomorrow and watch it again, he was one pitch away," Showalter said.
"Jimmy's a very consistent human being," Showalter added. "Professional and a great teammate. We didn't do enough to win tonight. ... It's frustrating for him, but he wasn't the only one who could come out of this game a little frustrated tonight."
Strop falls under that category as well. The right-hander -- who recently looked to have turned a corner -- was charged with a pair of runs and exited after recording just two outs, while lefty Troy Patton surrendered a solo homer in the seventh.
"We all go through it," Yankees closer Mariano Rivera -- who notched his 17th save this season -- said of Johnson's ninth-inning struggles. "It's normal. If you're a closer and you don't think you're going to go through it, I think you're fooling yourself. You just have to be ready to bounce back, be patient and continue moving."
The late-innings meltdown keeps the Orioles winless on their current homestand and is their longest losing stretch since dropping six straight from May 26-June 1, 2012. Lost in the defeat was the club's impressive approach off Sabathia, as it tallied four runs, including a pair in the seventh inning to chase him from the game.
On the hill due to Sunday's rainout in New York, Sabathia gave up a single to No. 9 batter Alexi Casilla, and the second baseman scored from first base on Nick Markakis' double. Markakis, who singled in the Orioles' second run in the fifth inning, punched a ball into left-center field and scored one-out later on J.J. Hardy's go-ahead double over first baseman Lyle Overbay. Chris Davis got the Orioles on the board in the second, sending a full-count pitch over the right-center-field wall for his 13th homer and 41st RBI of the season.
"We took advantage of the opportunities we had," Showalter said. "We had some people grind out at-bats against their starting pitcher tonight, and that's what you have to do to get him out of there. I was real proud of that. We just couldn't quite ... we could have done some better jobs in other places and had maybe a two-run lead. It happens sometimes."
Garcia gave the Orioles a chance to win, holding the Yankees in check after a pair of early homers by Robinson Cano and rookie David Adams, who hit his first career Major League homer in the second inning. Garcia held firm after that, retiring the next eight straight until Adams' leadoff single in the fifth was erased with an inning-ending double play.
"He threw the ball well," catcher Matt Wieters said of Garcia, who recorded his second quality start in four games with the Orioles. "You know, I thought they put two swings on two balls, and other than that, not many balls were hit hard off him."
Casilla, who robbed Curtis Granderson of a hit in the fourth, helped Garcia strand a pair of walks in the sixth, stopping a scorcher from Hafner to start the club's second consecutive inning-ending double play.
"It was big," said Garcia, who exited after just 66 pitches. "Make a good pitch, make a good catch. I was out of the inning right there."
Showalter went to his bullpen, citing the sticky night as one of a few factors for the early hook on Garcia. After Patton allowed a run in the seventh, Darren O'Day pitched a 1-2-3 eighth before handing the ball off to Johnson. Asked to pinpoint the problem, Johnson said -- again -- it was his location and falling behind in the count. While shaking off one or two bad outings seems routine, could shaking off a stretch of three consecutive blown saves -- particularly when the team is marred in a losing streak -- be easier said than done?
"I don't know," Johnson said. "I haven't been in this position before. I wasn't thinking about the last two outings when I was out there today. So I don't expect to be thinking about the outing before tomorrow when I'm out there."
Brittany Ghiroli is a reporter for MLB.com. Read her blog, Britt's Bird Watch, and follow her on Twitter @britt_ghiroli. This story was not subject to the approval of Major League Baseball or its clubs.