Hafner delivers clutch homer before Yanks win in 10th
Slugger ties game in ninth off Johnson before Wells beats O's in extras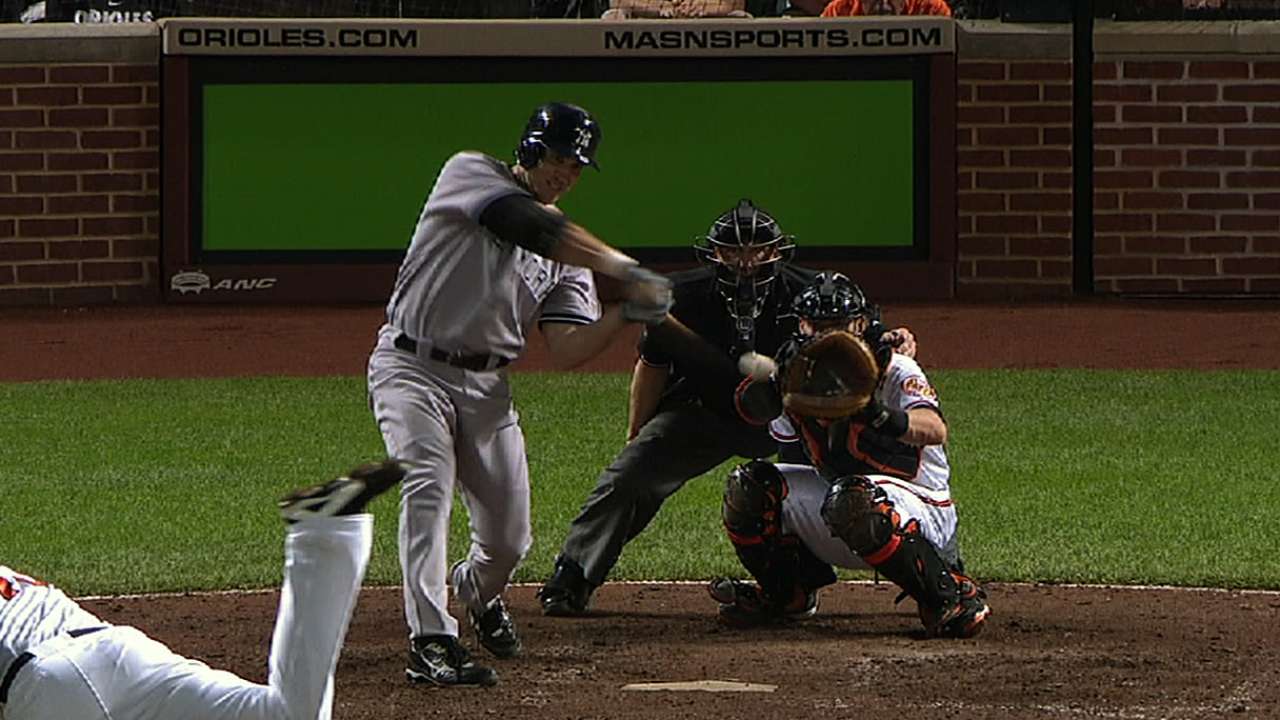 BALTIMORE -- The first two months of the Yankees' season have been dedicated to exceeding expectations and silencing doubters, and now they're adding a new ingredient to the recipe: exciting late-game comebacks.
Travis Hafner crushed a game-tying home run in the ninth inning off closer Jim Johnson, and Vernon Wells delivered a go-ahead ground-rule double in the 10th, helping lift the Yankees to a 6-4 victory over the Orioles on Monday at Camden Yards.
"Those are fun ones. Those are the ones we act like little kids in the dugout," Wells said. "You've got Johnson on the mound and he's one of the best there is; I don't care if he's going through a rough patch or not. He's one of the guys you'd love to have on the mound when you have a lead."
With the Yankees down to their final two outs, Hafner caught up to a 94-mph fastball and drove it over the left-center-field fence, sending Johnson to his third consecutive blown save after converting a club record 35 straight.
Winning pitcher David Robertson retired the O's around a single in the ninth, and Ichiro Suzuki opened the 10th inning with a double before scoring on Wells' hit. Hafner added insurance for closer Mariano Rivera with an RBI single off Brian Matusz, sending Baltimore to its sixth straight loss.
"I think the main thing is just winning ballgames, and we've gotten off to a good start here," Hafner said. "We're building chemistry really well and everyone on the team gets along well. We play really well as a team. We'd like to keep that going."
Rivera retired the Orioles in the 10th inning, notching his 17th save in as many opportunities. Despite seeing starter CC Sabathia cough up a one-run lead in the seventh inning, the Yankees maintained a perfect 19-0 record in games where they have scored first.
According to the Elias Sports Bureau, it is an all-time American League record, and since 1900, only the 1990 Reds (20-0) have fared better in such contests.
"I won't say [I'm] amazed, because we're all professionals," Rivera said. "We are capable to do that and we show that we are capable. That's the way we're playing the game. We know we're not going to score so many runs, but we're scoring enough to win games and pitching good. We have to continue doing that and the rest will be OK."
The Yankees hit four solo homers in the contest, with Robinson Cano and rookie David Adams mashing the first two while building a quick lead against former teammate Freddy Garcia, who allowed just three hits in six innings.
Sabathia kept the Yankees in the game but was never dominant, allowing 11 hits in 6 1/3 innings. Chris Davis launched a solo homer in the second inning, and Nick Markakis singled home Steve Pearce with a game-tying run in the fifth.
"He was battling," catcher Austin Romine said. "I think his changeup actually helped us a little bit; we got some outs off that. It was just a few sliders that were left up, those were the ones that got hit."
The big lefty was in position for a victory after Lyle Overbay mashed a solo blast off left-hander Troy Patton in the seventh, but Markakis and J.J. Hardy answered with run-scoring doubles to chase Sabathia in the home half of the inning.
"It's just not being able to make pitches, leaving some balls up, and I've just got to do a better job with two strikes of making pitches and getting outs," Sabathia said. "We took the lead right there, and it's just up to me to shut the door."
A theme of the Yankees' season has been getting the unlikely contribution in a surge that has seen them win 10 of 13 games to move a season-high 12 games over .500.
"What I'm seeing is guys are coming through," manager Joe Girardi said. "Guys are getting the job done. There's no quit. They come to the ballpark excited to play every day and they're finding ways to win games. Sometimes when you look at our stats, we're not at the top of anything. But these guys have just done a really good job."
This time around, it was the Hafner and Wells late show. As a group, they've quieted the naysayers who were predicting a reprise of the darkened summer of '66, and are setting their sights on better things to come.
"I don't know if anybody cares. We just want to win," Hafner said. "I don't think anybody cares what people think. [It's] a lot of guys just coming together that just want to win ballgames and get to the playoffs and go from there."
Bryan Hoch is a reporter for MLB.com. Follow him on Twitter @bryanhoch and read his MLBlog, Bombers Beat. This story was not subject to the approval of Major League Baseball or its clubs.