Astros ride Dominguez's bat, glove past Royals
Third baseman belts decisive three-run homer, starts key double play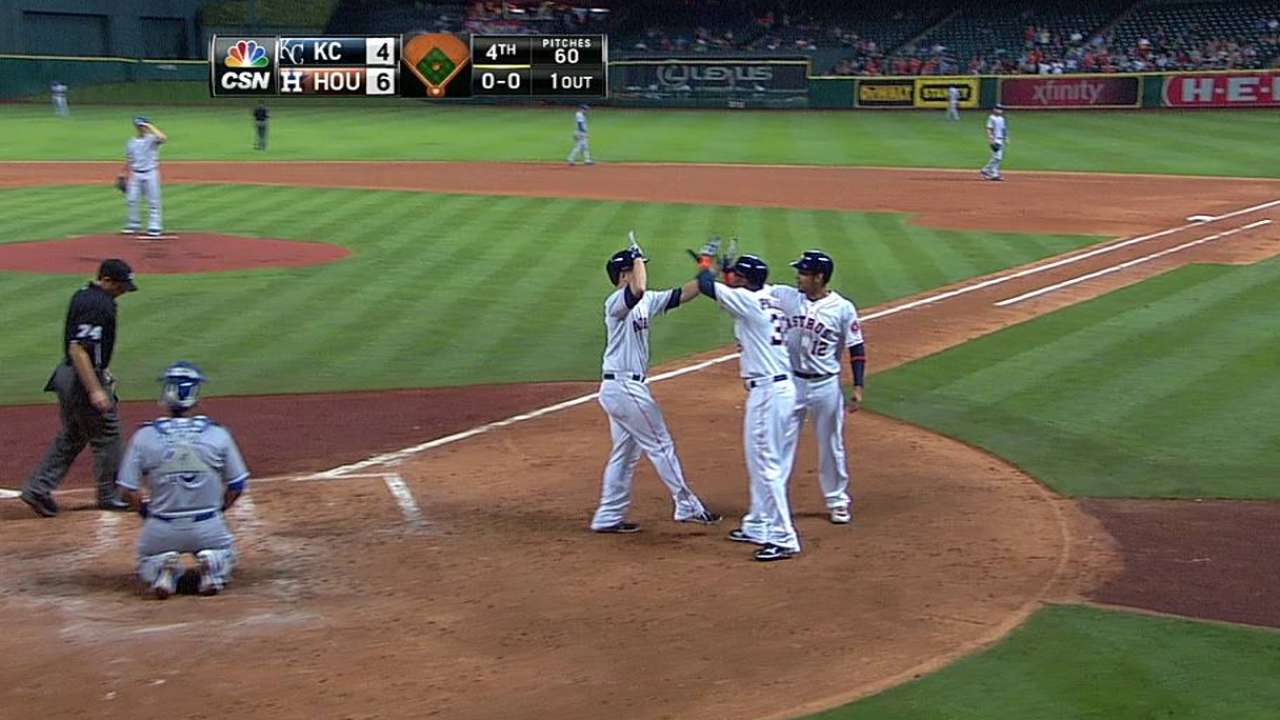 HOUSTON -- He's known for his glove more than his bat, and Astros third baseman Matt Dominguez showed why by starting a terrific double play in the sixth inning on Monday. He also reminded the Royals that you can't take his offense for granted, either.
Dominguez answered a three-run homer by Kansas City's Miguel Tejada in the fourth inning by clubbing his own three-run blast in the bottom of the frame to help lift the Astros to a 6-5 come-from-behind win at Minute Maid Park.
"I was scuffling a little bit this last road trip [1-for-22], but I'm trying to figure some things out and be more consistent, and I've been able to get some big hits, and hopefully the average will be there by the end of the year," Dominguez said. "The most important thing is to get the RBIs and the 'W.'"
Astros left-hander Dallas Keuchel picked up his first win of the season -- and fourth of his career -- by allowing four earned runs while pitching around nine hits and four walks. He matched a career high with six strikeouts.
"Keuchel did a great job of attacking the zone and being very efficient with his pitches, and did a good job of pitching to both sides of the plate and using his offspeed stuff to induce ground-ball double plays," manager Bo Porter said. "And the defense was tremendous tonight."
The Astros are 2-1 in Keuchel's last three starts.
"He commanded the ball good," Royals manager Ned Yost said. "He changed speeds. He kept the ball down and away really well. He was real consistent."
Keuchel allowed 13 baserunners, but benefited from three double plays to end the first and fifth innings, and the 5-4-3 gem started by Dominguez in the sixth. On that play, Dominguez went to his left for the stop and spun around to throw to second baseman Jose Altuve, who made a nice turn at the bag.
"The ball got to me a little quicker than I thought," Dominguez said. "I had to take a little drop-step back, but I wanted to catch it and thought I had a chance to get two, and Jose made a great turn and it ended up being a good play."
The Astros scored twice in the third to take a 3-1 lead on a sacrifice fly by Altuve and Jason Castro's fourth homer of the season. Tejada hit a three-run homer in the fourth into the Crawford Boxes to put Kansas City ahead, 4-3. It was the first homer by the former Astros shortstop since July 16, 2011 at San Diego.
"A lot of their righties like to extend their hands and get the ball out over the plate, and I did a good job with the cutter in and stuff like that," Keuchel said. "The only pitch I'd like to have back is that changeup that actually cut on me and Tejada put a good swing on it."
The Astros rallied against Royals starter Jeremy Guthrie (5-2) in the bottom of the inning, beginning with a one-out walk by Carlos Pena and a Jimmy Paredes single. Dominguez followed with a homer into the Crawford Boxes -- his fourth of the year -- to put the Astros ahead, 6-4.
All four of Dominguez's home runs have come in the his last nine games after he didn't homer in his first 33 games of the season, and his 21 RBIs are second-most on the club behind Chris Carter's 23.
"This guy is growing up right in front of our eyes," Porter said. "Coming into the year, we all knew what we had defensively, but now you're starting to see a guy who's swinging a confident bat. I've always said that power is the last thing to develop at this level. I think he's gotten to the point where he understands himself and what the league's trying to do to him, and now he's picking his spots. You can see he has the power."
Back-to-back doubles by Eric Hosmer and Jeff Francoeur in the eighth inning got the Royals to within a run, 6-5, but Hector Ambriz stranded Francoeur by getting the final two outs in the eighth. Jose Veras worked a 1-2-3 ninth for his seventh save.
But for Porter, nothing was bigger than Dominguez's home run.
"That's what you call the 'break point,' when another team scores and it's imperative that you come back the next inning and put points on the board," the skipper said. "After you score, it's imperative to put up a zero and get back in the dugout. We did that tonight."
Brian McTaggart is a reporter for MLB.com and writes an MLBlog, Tag's Lines. Follow @brianmctaggart on Twitter. This story was not subject to the approval of Major League Baseball or its clubs.