Royals extend one-run loss streak against Astros
Guthrie tagged for pair of home runs as KC drops fourth in a row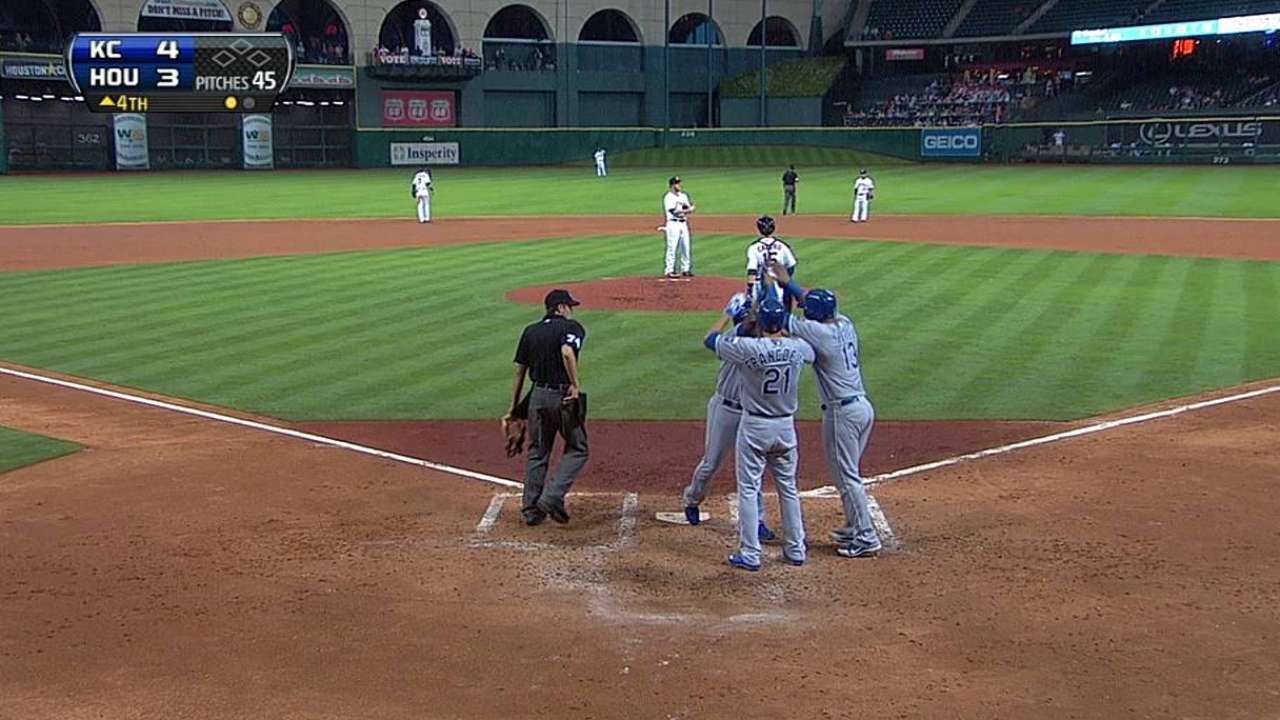 HOUSTON -- The veterans in the Kansas City clubhouse know it's time for them to do a little more. Not on the field. But off of it.
The Royals endured their fourth consecutive one-run defeat on Monday night, enough to test anyone's mettle, with a 6-5 loss to the Astros at Minute Maid Park.
"The tough thing is, when you're just getting beat, that's one thing," said right fielder Jeff Francoeur, playing in his ninth Major League season. "But this is our fourth straight one-run loss. That's never easy. The guys are young.
"At Spring Training, Ned [manager Yost] said you're going to hit a couple of rough patches. This is obviously our first big rough patch. The key is to get out of it as fast as we can as a team offensively."
Kansas City scored only five runs in the three games over the weekend at Oakland. The Royals scored enough to win on Monday and had right-hander Jeremy Guthrie on the mound against a team that started the night 20 games under .500.
It wasn't enough.
"Last year here, we lost a bunch of games, 7-1, 8-2," Francoeur said. "When you're in the game all the way to the ninth and you've got opportunities, that's the frustrating part."
"We had some chances," Yost said. "We hit into three double plays that ended up killing rallies for us. Anytime you lose a one-run game it comes down to one big hit. The way things are going right now, we're struggling to get that hit."
Kansas City (20-21) fell below .500 for the first time since a 2-3 start on April 6.
"It's been a bad couple of weeks," said 38-year-old Miguel Tejada, who started at third base and hit a three-run homer in the fourth inning.
"One thing these [young] guys have to understand, these are the same guys in the beginning of the season. These are the game guys from Spring Training. Don't make the losing streak too long. Start a winning streak tomorrow. Enjoy the game. Relax."
Kansas City collected 11 hits for the second game in a row. Eric Hosmer also ripped three hits and score twice.
The Royals and Guthrie fell behind, 3-1, after three innings. But Tejada's homer put Kansas City back on top, 4-3.
"When Miggy hit that home run, I felt like we were really going to roll," said Francoeur, who went 3-for-4, scored one run and drove in another. "I was definitely excited for Miggy. What a great guy, a great teammate."
"A lot of their righties like to extend their hands and get the ball out over the plate, and I did a good job with the cutter in and stuff like that," Astros starter Dallas Keuchel said. "The only pitch I'd like to have back is that changeup that actually cut on me, and Tejada put a good swing on it."
It was Tejada's first home run since July 16, 2011.
"I'm pretty happy," he said. "Not just because I hit a home run, but we take the lead."
Guthrie (5-2) couldn't make it stand up.
Houston's Matt Dominguez hit a three-run homer in the bottom of the fourth to put the Astros ahead to stay, 6-4.
"I didn't command it very well," said Guthrie, who threw 96 pitches, allowing six earned runs and eight hits in five innings.
"I never really got in a groove, and that's my own fault. Falling behind guys and wasn't able to put guys away. They made me pay."
The Angels pounded Guthrie in his last start.
"Last time, I was a lot more frustrated, a little bit out of whack," he said. "Tonight I felt pretty decent. I wasn't able to keep us in it."
Yost saw problems with Guthrie's arm motion on Monday.
"He battled his command," Yost said. "I think a lot of it was, he was really inconsistent with his arm slot. He struggled at times to get the ball down."
Francoeur defended the right-hander, who saw his string of 17 straight starts without a loss end against the Angels.
"The pitching staff has been carrying us," Francoeur said. "It was really [Guthrie's] first off night of the whole season tonight. We just didn't score enough to get him back in it.
"Guth fell behind, 3-1. The thing he's been so good at all year is pounding the strike zone. He's been lights out for us all year. We needed to pick him up tonight and we just weren't able to. It's frustrating."
Gene Duffey is a contributor to MLB.com. This story was not subject to the approval of Major League Baseball or its clubs.