A's offense backs ageless Colon in win over Rangers
Righty goes seven strong; Smith homers, Crisp collects three hits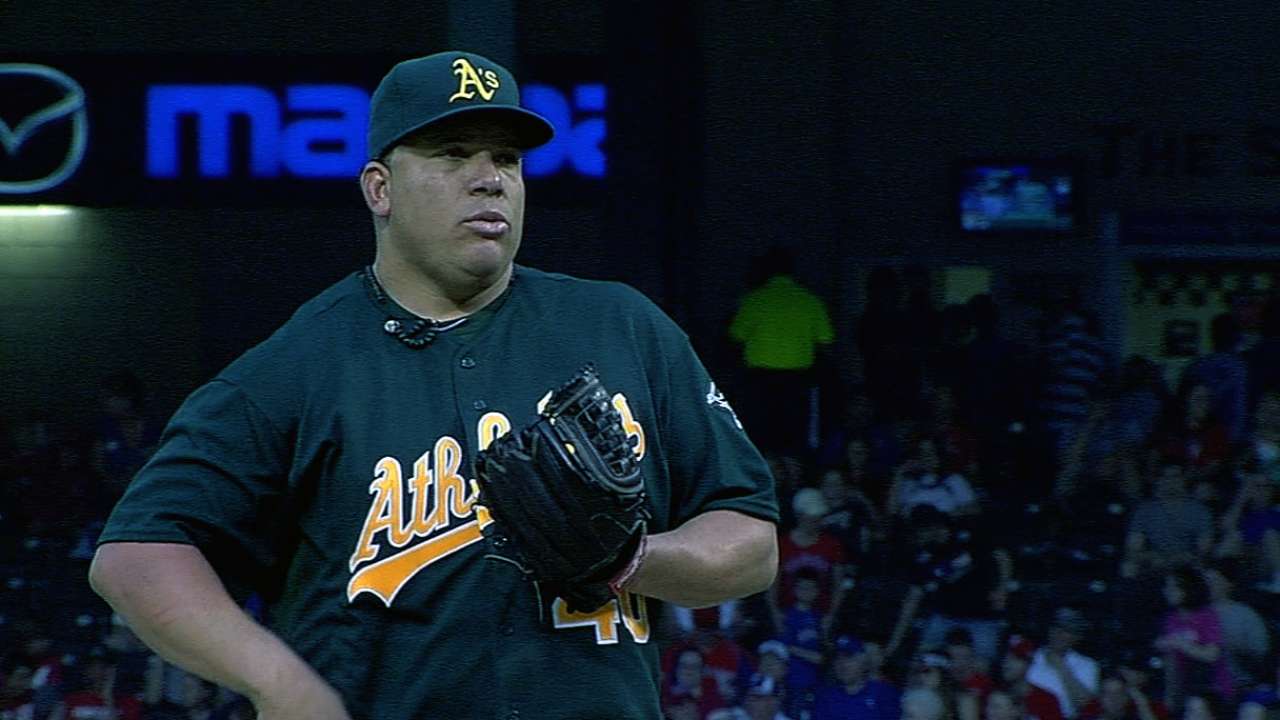 ARLINGTON -- Bartolo Colon will celebrate his 40th birthday on Friday, so the veteran is trying to soak up his final days as a 30-something in fine fashion.
In that regard, consider Monday a success.
Colon looked ageless in a seven-inning showing against the Rangers, limiting baseball's best team to two runs on six hits in a 9-2 A's win, the club's fourth straight.
"At this ballpark, going into it, I would've taken six," said A's manager Bob Melvin. "I talked to him after six, asked him how he was doing."
Colon's response?
"He asked me how I was doing," Melvin said, smiling.
The skipper left him in for one more inning, and Colon responded with three quick outs, the last two of which resulted in strikeouts. He had three on the night, next to two walks -- marking the first time all season he had issued more than one.
Overall, Colon faced just five over the minimum with the help of a trio of double plays, ultimately improving to 14-2 with a 3.16 ERA over his last 18 starts against Texas. It was his 19th career win over the Rangers, and only Bert Blyleven, Dennis Leonard and Jack Morris have as many.
"In all my career, I've always pitched well in Texas," Colon said through interpreter Ariel Prieto. "I like pitching at this field a lot.
"I don't know. I've always pitched well here. I don't know why."
Colon utilized 95 pitches before Melvin opted to let his bullpen finish off the job.
"He's 40," Melvin said, "and we want to try to get him through the season. Anything over 100 for me is starting to get a little uncomfortable. To get us seven and just short of 100 was terrific."
The righty had plenty help on his side, too.
After edging out the Royals with three straight wins in as many one-run games over the weekend, the A's didn't let their biggest foe get that close to them, compiling 15 hits and marking the first time in May the A's plated more than five runs -- a feat they accomplished 15 times in April, when they went 16-12.
This month hasn't treated them so kindly, as they've been plagued not only by injuries but by inconsistent performances from both their pitchers and hitters. But on a windy Monday evening at Rangers Ballpark, everyone delivered.
There was Coco Crisp, who entered the contest with just one hit in 13 at-bats since coming off the disabled list, before finishing with three hits and an RBI. He also had one of the club's eight walks.
That sparkplug presence typically makes everyone else better, and that was surely the case on this night, with every starter except Derek Norris collecting at least one hit. Five came in a four-run fifth that broke apart a 1-1 tie and sent Rangers starter Josh Lindblom out of the game.
Crisp, Yoenis Cespedes and Brandon Moss all doubled in the inning, and Seth Smith, who had already homered off Lindblom in the second for his first home run since April 28, contributed an RBI hit. So did Chris Young, who also had a hit in Oakland's three-run seventh.
The A's added another run in the ninth, somehow leaving 15 on base during the affair.
"You get frustrated during the game at some of the opportunities when you leave some guys on, but we continued to fight through at-bats the whole game," Melvin said. "In this ballpark, you gotta keep adding on, because a big inning can pop up on the other side real quickly."
"You gotta go out with the mentality that the offense has gotta be rolling, and I honestly felt like it really started from the top with Coco," said Josh Donaldson, who had two hits to raise his average to .319. "Whichever way he goes is probably where the offense is going to go that day."
And Colon simply followed along.
"He was outstanding," said Jed Lowrie, who secured his eighth three-hit game of the season. "He really attacked the zone. He just went out there and threw strikes and did enough to keep guys off balance.
"Everyone knows what he's accomplished. It's just a testament to how much he enjoys to play the game and how he's still got that competitive fire. You gotta tip your cap to someone who can still go out there with that after they've been doing it for so long."
Jane Lee is a reporter for MLB.com. Read her blog, Major Lee-ague, and follow her on Twitter @JaneMLB. This story was not subject to the approval of Major League Baseball or its clubs.