Lack of run support hurts Marcum, Mets
Contributions from Byrd, Ankiel not enough in series opener vs. Reds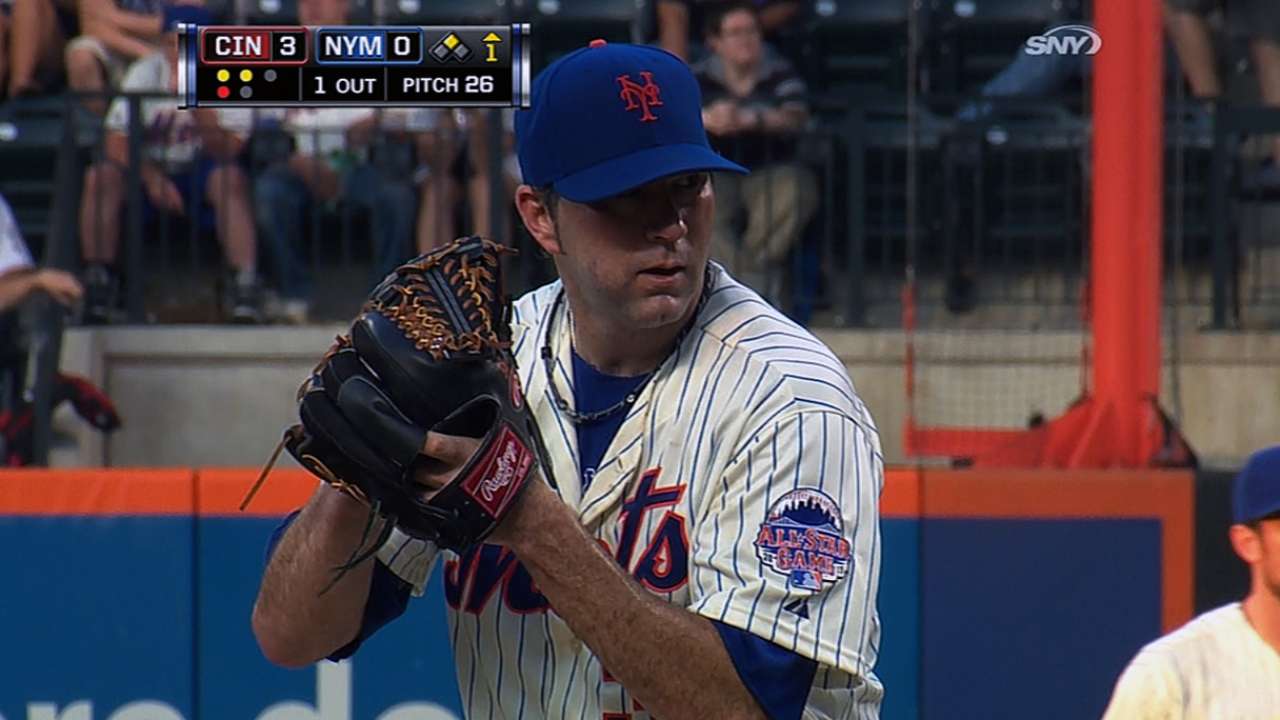 NEW YORK -- Terry Collins' experiments require nothing more than a pen, a piece of paper and a healthy dose of faith. The Mets' manager goes to the ballpark every morning, places a blank lineup card on his desk and tries to construct an offensive machine out of the players at his disposal.
More often than not, his maneuvers have worked -- see Daniel Murphy's game-winning home run from the leadoff spot on Sunday for the latest bit of evidence. But shifting names on a card can only make so much difference, as the Mets demonstrated yet again on Monday in a 4-3 loss to the Reds at Citi Field.
Despite a key three-run homer from Marlon Byrd and a solid contribution from Rick Ankiel, the Mets could not score enough to back starter Shaun Marcum.
"Fortunately tonight, some of the things we thought about worked," Collins said. "But it has been difficult."
Even while winning three games in four tries to end their most recent road trip, the Mets averaged fewer than four runs per game. They entered Monday's contest averaging 4.2 runs per game over the season, a number that has decreased steadily since the early days of April.
With those stats in mind, Collins has done his best to maximize contributions up and down the lineup. His key move on Monday was shifting Ankiel into the two-hole and batting Byrd fifth, basing those decisions on their strong career numbers against Reds starter Johnny Cueto.
It worked about as well as he could have hoped. Ankiel finished 1-for-3 with a walk, sparking the Mets' only run-scoring rally, in the third. And Byrd came through with his game-tying homer, putting the Mets in position to win.
But the Mets, as Collins noted, have "got to play pretty perfect baseball" given their offensive deficiencies. And they continue to fall well short of that standard.
Marcum might have had an easier go of it had Ike Davis not committed a key obstruction infraction on defense in the first inning. With Shin-Soo Choo on first, Joey Votto lined a single to right field. Byrd corralled the ball and appeared to throw out Votto, who was attempting to extend his hit into a double, but first-base umpire Ron Kulpa ruled that Davis obstructed Votto's path around the bases, awarding Votto second base and charging Davis with an error.
The next batter, Brandon Phillips, ripped a two-run single to give the Reds their first lead. Jay Bruce followed with an RBI double before Marcum recovered to retire 10 in a row from there.
Marcum completed six innings, letting the Reds take the lead for good on Bruce's shot to lead off the sixth. He struck out seven, walked one and allowed six hits.
"We've been through this now for what, five starts?" Marcum said. "When I get hit, it's location. I made four or five mistakes today and they all got hit, so I've got to limit the mistakes."
More contention surfaced in the seventh inning, when home-plate umpire Tom Hallion ruled that a LaTroy Hawkins pitch hit Phillips on the hand -- not the knob of the bat, as replays suggested. After Hawkins escaped a bases-loaded jam unscathed, he and Hallion exchanged words. Hallion promptly ejected Hawkins and also tossed Collins, who went out to argue for the third time in the game.
In his first outing back from a five-week stay on the disabled list, Cueto pitched around trouble throughout the early innings until Byrd tagged him for the game-tying homer in the third inning. And that was that. Cueto responded to the homer by retiring the final eight batters he faced, sparking a run of 12 consecutive outs from Reds pitchers.
"I knew he couldn't keep getting into trouble walking guys without centering one," Reds manager Dusty Baker said of Cueto. "That's what happened to Byrd. He got that slider up. But he came back and pitched well after that."
Being locked down by Cueto and the Reds' bullpen caused the Mets to lament their early missed opportunities even more -- particularly in the first inning, when Davis grounded out to leave the bases loaded. Entering the game in a 1-for-30 funk, Davis finished 0-for-3 with two strikeouts and the obstruction error, and was double-switched out of the game after six.
Afterward, Collins once again staved off talk of demoting Davis to Triple-A Las Vegas, while Davis lamented that "either it happens or it doesn't -- I can't talk about it every day."
What's clear is that if the Mets do make a move, they will do so because their offense needs a jolt. Remember that stat of 4.2 runs per game this season? The Mets have averaged only 2.8 over their last 14 contests, which results in a demand for perfection in every other aspect of the game.
"You hope to have two, three guys hot at one time in the lineup," Byrd said. "We haven't had it. We're just going to keep searching."
Anthony DiComo is a reporter for MLB.com. Follow him on Twitter @AnthonyDicomo. This story was not subject to the approval of Major League Baseball or its clubs.