Thanks to Bruce, Cueto victorious in return
Right-hander overcomes early command issues to win first start off DL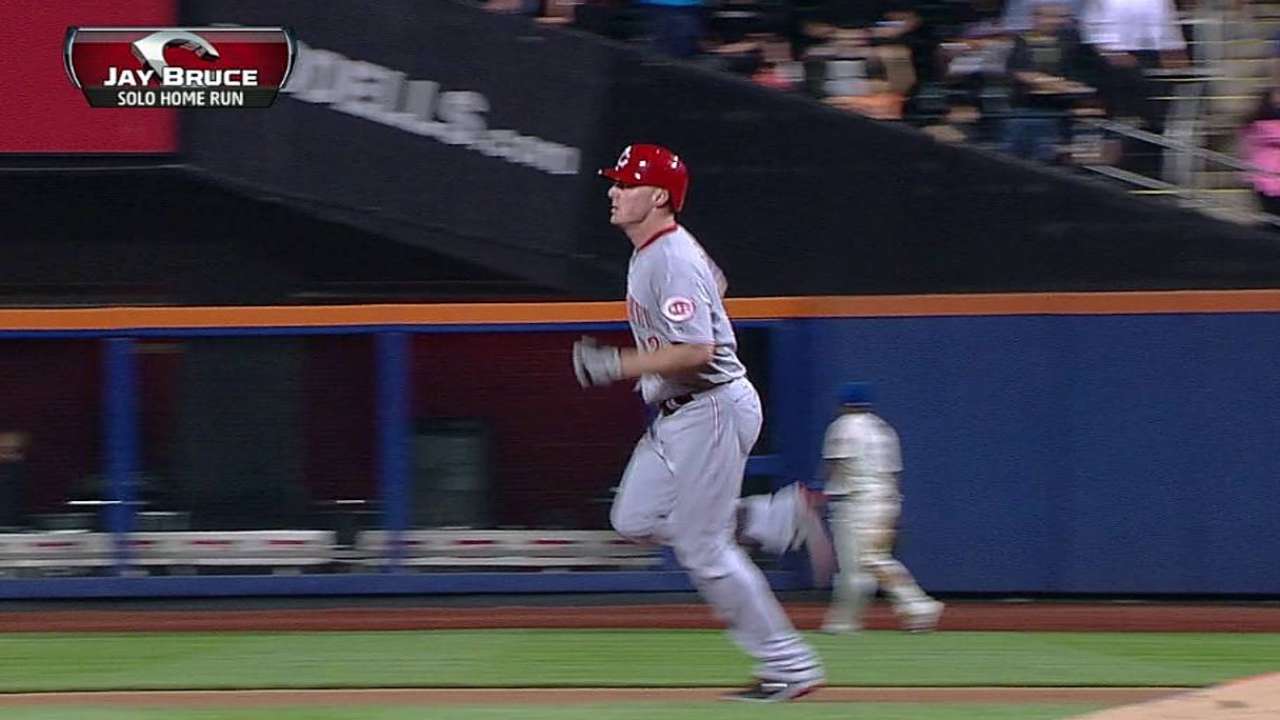 NEW YORK -- In his return from the disabled list on Monday, ace Johnny Cueto was laboring. His command was erratic, and his mind was filled with thoughts beyond the batters who were in the box.
He'd already had four walks in the first three innings vs. the Mets, then he left a slider up to Marlon Byrd that was crushed for a three-run homer.
"I asked myself, 'Oh God, what's going on? What happened?' I talked to myself," Cueto said through interpreter Tomas Vera. "I told myself, 'I have to start pitching how I am.'"
Cueto overcame his issues in the nick of time, retiring his final eight batters -- including six strikeouts -- and the Reds claimed a 4-3 win with the aid of Jay Bruce's leadoff home run in the top of the sixth inning.
"After that [homer] I said, 'This is me. This is Johnny,'" Cueto said. "I feel really well. When I was on the mound tonight, I had too many thoughts on my mind. I was thinking too much. Now that everything has happened, I feel better. I feel a lot better."
Cueto threw 90 pitches, only 52 of which were strikes, in five innings with three runs and three hits, four walks and eight strikeouts. It was his first start since leaving an April 13 game at Pittsburgh with a strained right lat. But he received solid backing, from run support to some nice defense.
"He's kind of our anchor," said Bruce, who went 2-for-4 in extending his hitting streak to 11 games. "You hand him the ball and have him win a game. Tonight he definitely wasn't his best. He made, really, one mistake. He looked good."
Cincinnati staked Cueto to a three-run lead in the first inning against Shaun Marcum. Brandon Phillips' flared one-out single into right field scored Shin-Soo Choo and Joey Votto. Bruce's double to right field scored Phillips, but Marcum retired the next 10 and 14 of the next 16 to keep the Reds in check.
Cueto struggled in the early going, throwing 28 pitches in the first inning and working out of a bases-loaded jam after issuing a single and two walks. A nice defensive stop by Phillips near second base to take a hit from Ike Davis ended the inning. The bottom of the second began with a four-pitch walk to John Buck.
"It looked like he was kind of feeling his way for the strike zone. He wasn't really letting it go," manager Dusty Baker said. "To start the game, he was 88, 89 [mph], and then he'd get in trouble and go to 93. As soon he tried to go to 93, most of the time it was up."
In the third inning, Cueto walked David Wright to put runners on first and second. Baker visited the mound when Cueto went to a 2-0 count on Lucas Duda. Cueto recovered to strike out Duda looking at a 92-mph fastball but saw his first-pitch slider to Byrd tattooed for a game-tying three-run homer. He threw 67 pitches over his first three innings.
"Whatever I told him, it worked for the first batter, not the second batter," Baker said. "I just told him to pitch. When you haven't been out there in a while, you think about your arm and this and that, things you shouldn't be thinking about instead of just pitching. I told him to be natural."
After the Byrd homer, Cueto struck out the next four batters.
"He's just a good pitcher," Byrd said. "You know he's going to pound the zone. He's a bulldog out there. That's the reason he's the ace of that staff. Sometimes you might think you have him on the ropes, and he just keeps coming at you, and that's what he did tonight."
In the top of the sixth, Bruce attacked Marcum's first pitch for a screamer that landed in the right-field seats. He has four homers during his hitting streak, and six overall.
The bullpen backed up Cueto's effort with four scoreless innings combined from Logan Ondrusek, J.J. Hoover, Sean Marshall, Jonathan Broxton and closer Aroldis Chapman. In earning his ninth save, Chapman bounced back from two consecutive blown saves.
Now 5-2 through seven games of the nine-game road trip, the Reds are assured of returning home with a winning record.
A 19-game winner last season, Cueto is 2-0 with a 3.22 ERA after four starts as he gets the chance to resume his season. His arm, back, lat and oblique muscles all feel fine, and he is optimistic for what lies ahead.
"I feel great, like the season is starting. I feel brand-new right now," he said.
Mark Sheldon is a reporter for MLB.com. Read his blog, Mark My Word, and follow him on Twitter @m_sheldon. This story was not subject to the approval of Major League Baseball or its clubs.