Dickey solid for eight as Blue Jays top Rays
Knuckleballer backed by Encarnacion in longest outing of season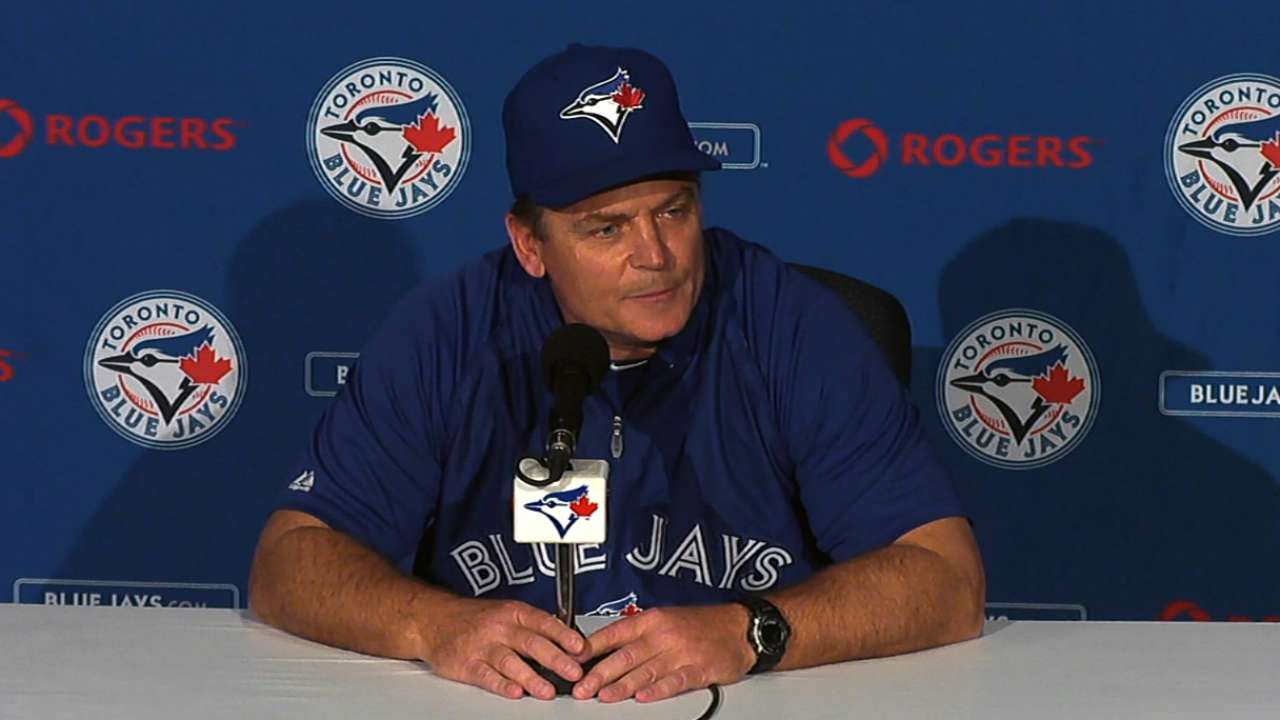 TORONTO -- The overall results have improved, but R.A. Dickey's 2013 campaign is still very much a work in progress.
Toronto's ace starter has begun to limit the amount of runs he allows but is nevertheless battling an inconsistent release point that has caused a lot of issues with his command.
Dickey was once again wild Monday afternoon but managed to pitch eight strong innings, and Edwin Encarnacion had a bases-clearing double in the bottom of the seventh inning to lead the Blue Jays to a 7-5 victory over the Rays at Rogers Centre.
"Still walking more guys than I hope to, which is causing my pitch counts to be higher," said Dickey, who allowed three runs (two earned) while walking four. "I mean, that should've been a game where my pitch count should have been around 100 after eight innings, not 120-something.
"But, you just got to keep grinding it out. I feel like I've been stuck in a quagmire for the last week, two weeks. So It's nice to at least get one foot out of it."
Dickey complained after a recent start in Tampa Bay that he was falling into the pattern of a more traditional knuckleballer. There has been a low number of hits in each of his recent starts, but the walk total has led to a high pitch count and rallies by opposing teams.
The 38-year-old Dickey has prided himself in the past about being able to control the knuckleball. It is normally a pitch that takes on a life of its own and can float in any direction, but Dickey throws it with more velocity than most and can usually command it within the strike zone.
But the control has been elusive at times this year. Dickey walked just 54 batters in each of the past two seasons, but he has already walked 28 in 62 innings of work this year.
"The knuckleball can be a very capricious animal," Dickey said. "It's there one batter, and then it kind of goes away. I mean, you can throw great ones, but they're just not strikes.
"I had big movement today. I mean, four hits is indicative of good movement, but it's still tougher when the velocity is a little bit lower; you get bigger movement, and it's harder to keep it in the strike zone."
Despite moments of frustration, Dickey most likely could have gotten through his Monday outing without any runs if not for some questionable defense backing him up. One run scored in the second when a potential inning-ending double-play ball was not turned by Emilio Bonifacio and Munenori Kawasaki.
Another two runs scored in the third on a liner to right field during which Jose Bautista took a small step in before backtracking and having the ball sail over his head.
Dickey continued on and managed to get through his longest outing of the season. He has now thrown three consecutive quality starts and has allowed a total of seven earned runs over his past 20 innings of work. He is 2-0 over that stretch while striking out 20, so even with the walks there are plenty of positive signs.
"That's probably as good as we've seen him," Rays outfielder Matt Joyce said. "Shoot, the last time I remember him throwing like that was when he threw that one-hitter against us. Even then, that was controversial.
"He had great stuff, man. His ball was all over the place. For us to score what runs we did, I thought we did a pretty good job. It's just, it's tough. You swing hard, and you hit it; you have no idea where it's going. Some balls are going up. Some were going down. You just had no idea."
Toronto and Tampa Bay were locked into a 3-3 tie until the seventh, when Rays right-hander Josh Lueke entered and had his own trouble finding the strike zone. He walked three batters before Encarnacion came up with two outs and sent an 0-1 pitch off the wall in left field.
Three runners came around to score as the Blue Jays broke the game open. Lueke was charged with all three runs as Toronto ended its mini, two-game losing streak at home following a rain-shortened series in New York.
That extended Encarnacion's hitting streak to six games as Toronto's first baseman continues to produce since being moved into the No. 3 spot of the batting order. He is batting .478 (11-for-23) over the past six games and has a total of 26 RBIs over his last 25.
"I put it in my mind to be aggressive, looking for a pitch that I can make a good swing on," Encarnacion said of his double. "I was looking for something in the strike zone.
"For me [hitting third] doesn't feel any different. I just always try to do the best I can no matter where they tell me to hit."
The Blue Jays caught a break prior to the start of the series when Rays left-hander David Price was placed on the 15-day disabled list with a left triceps strain. Price was originally scheduled to pitch Monday afternoon, but the start instead went to rookie Jake Odorizzi.
Odorizzi, who was acquired from the Royals as part of the deal for James Shields, made his Rays debut and was solid after a rough start to the game. The Blue Jays took advantage of his potential nerves by scoring two runs on three hits in the first inning.
But Odorizzi did not allow another hit and faced just one batter over the minimum from the third inning until his departure after the fifth. He was charged with the three runs on five hits while striking out six thanks in large part to an impressive curveball that kept Toronto's hitters off balance.
"We took advantage of him early, and then he shut us down," Blue Jays manager John Gibbons said. "Then both sides went in to late in the game, then we got that big hit from Edwin late. But he knows what he's doing out there. He's got a chance to be a good one."
Gregor Chisholm is a reporter for MLB.com. Read his blog, North of the Border, and follow him on Twitter @gregorMLB. This story was not subject to the approval of Major League Baseball or its clubs.