How it's Dunn: Slugger's homer sparks White Sox
Axelrod surrenders just two runs en route to second victory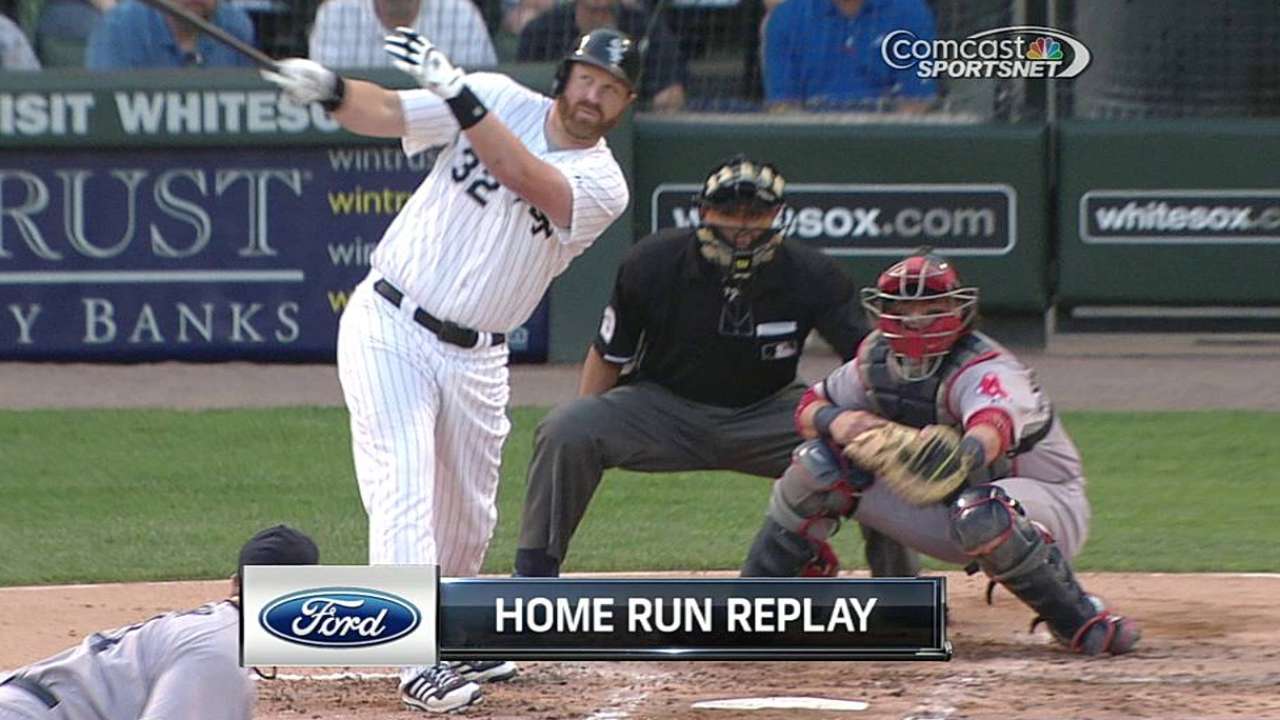 CHICAGO -- It hasn't been fun to pitch to Adam Dunn this past week.
The White Sox left-handed designated hitter continued his hot streak when he belted a two-out, three-run home run off left-hander Jon Lester in the first inning during a 6-4 win over the Red Sox at U.S. Cellular Field on Monday night.
"Yeah, to be honest with you, he threw me two kind of sliders, or his cutter," Dunn said. "On 2-0 I was thinking he's probably going to come with a fastball and he didn't. I just kind of caught it out in front."
Even when Dunn guesses wrong he hits.
Despite back problems that surfaced during Chicago's series in Anaheim, Dunn finished the White Sox long stretch of road games on a tear. The slugger is batting .360 (9-for-25) with five homers, 13 RBIs and six runs scored over the past seven games.
Monday's win over Boston began a stretch of 17 of 23 games that the White Sox will play in Chicago (two games across town at Wrigley Field), and Dunn welcomed his team back to the Windy City in a big way. His three-run home run started the White Sox barrage of two-out hitting in the series opener and served as evidence that the tinkering Dunn had been experimenting with his swing has produced results. On May 13, Dunn was hitting .113, but after Monday's game, his average sits at .172.
"It was hard to sit here and keep saying over and over and over how good I felt with no results," Dunn said, "Hopefully these results keep coming and people start believing me that I wasn't lying to them."
Dunn wasn't the only one waiting for his bat to come around. As a team, the White Sox struggled to score with runners on base during their seven-game road trip to Minnesota and Anaheim, when they hit .212 with runners in scoring position and left 54 runners on base. On Monday, Chicago knocked in a pair of runs in the second on back-to-back-to-back doubles by Tyler Greene, Alejandro De Aza and Alexei Ramirez with two gone in the inning. Then in the fifth inning, the White Sox plated another run on a two-out single by Dayan Viciedo.
"It's one of those nights that you jump out in the lead and hold on to it," manager Robin Ventura said. "The first inning is good, but for me, that next inning when you get a couple of doubles and you score like that, that's a good sign."
In front of their home crowd, the White Sox produced enough runs for starter Dylan Axelrod to hold on for his second win in a row despite a shaky performance by Chicago's bullpen. Matt Thornton allowed two runs in the seventh, but Axelrod outdueled Lester through six innings and won consecutive starts for the first time in his career.
After the game, Ventura said Axelrod's track record over his 15 starts between last season and the early part of this year should quiet the surprise at how well the right-hander has pitched in the Majors.
"If people want to think that way, go ahead," Ventura said. "He's still going to go out and beat people."
Axelrod didn't even need everything he had to beat the Red Sox on Monday. He allowed two earned runs and four hits to a team that was riding a five-game winning streak but was removed after just 83 pitches. Ventura said he thought the situation suited Thornton well, and Axelrod's removal had nothing to do with the way he was pitching.
"Axe, he was awesome tonight," said closer Addison Reed, who picked up his American League-leading 15th save. "He kept them off-balance. It was fun to watch him pitch. He looked sharp and I feel like he could have, I think he could have went beyond what he did. Everything worked out and we got out of there with a win. That's all that really matters."
The 27-year-old Axelrod, who was pitching in independent league games four years ago, shined when it mattered most. Ventura and general manager Rick Hahn met with injured starter John Danks, who has completed four rehab starts, before Monday's game to discuss the left-hander's next step in his return from arthroscopic surgery that he underwent last year. Axelrod and left-hander Hector Santiago are in competition for which starter will remain in the rotation and who will move to the bullpen when Danks returns.
Axelrod said he went into Monday's start aware of the situation. With his performance against the Red Sox, he made a strong case to remain as the team's fifth starter, continuing the White Sox stretch of quality starting pitching over the last month. Chicago starters are 12-7 with a 2.96 ERA and have thrown 19 quality starts over the past 30 games.
"John will throw next couple of days and then we will find out exactly, go from there," Ventura said. "But again, it's not going to be easy for anybody, so we'll make that decision when we get there. Axe is one of those guys that, again he doesn't light up the radar screen, but he knows how to pitch and get through a lineup."
Axelrod couldn't have picked up the win without the help of his offense, which tagged Lester for six runs (five earned) over six innings and hit when it had scoring opportunities.
The Red Sox gave Reed a scare in the ninth inning. With Mike Napoli on first, Will Middlebrooks, who hit a two-run double in the seventh, put a charge into a ball to center field, but the wind was blowing in and De Aza made the catch at the wall for the second out.
"I thought I did [get enough of it], but the wind was blowing in," Middlebrooks said. "I knew it was going to be close. I hit it too high to hit it over the guy's head and he was playing no doubles [defense]."
The White Sox have now won five over their last seven games and six of their last nine. Monday's win was just the fourth time they have won an opening game of a series this season, and Axelrod said the key to settling in was watching Dunn and the White Sox offense provide some pop to support his cause.
"It makes it a lot easier to challenge guys," Axelrod said. "That was a big three runs early and then we tacked on two more in the second. So it was nice to see the offense come alive like that early."
Ethan Asofsky is an associate reporter for MLB.com. This story was not subject to the approval of Major League Baseball or its clubs.