Deep-sixed: Lester roughed up, takes first loss
Ace gives up six runs as Red Sox's winning streak halted at five games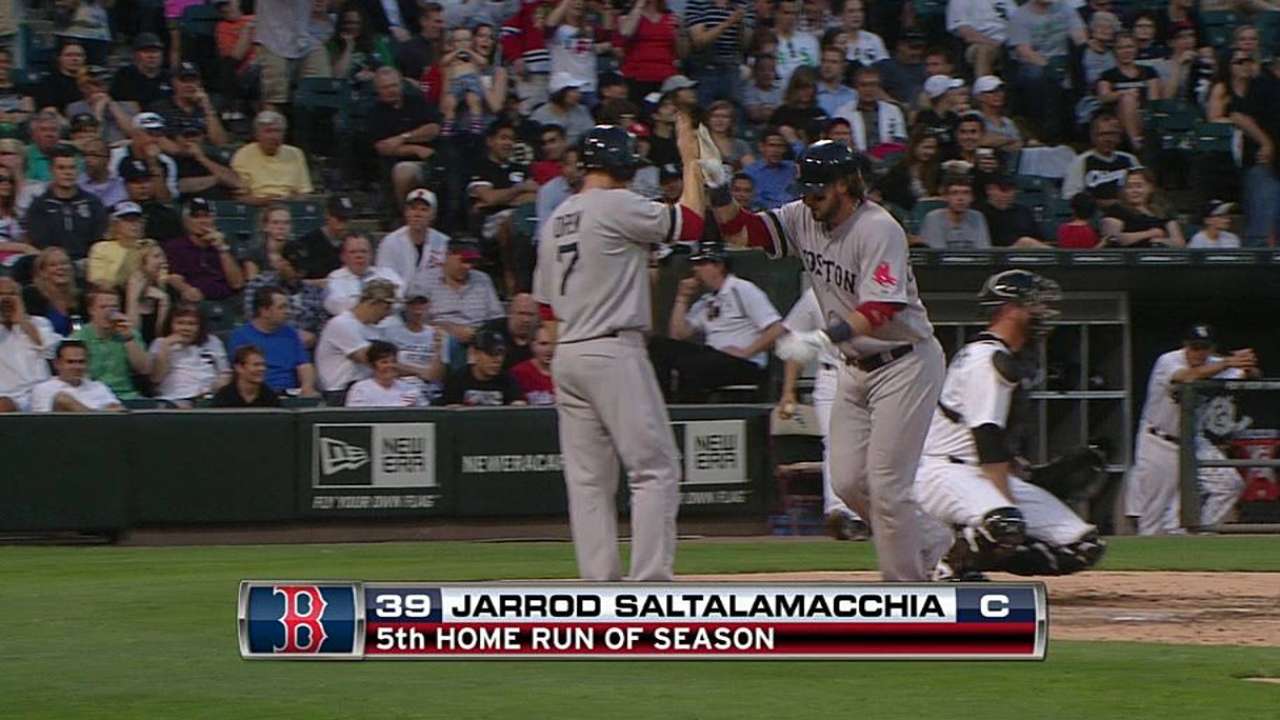 CHICAGO -- Monday was a night covered in frustration for the Red Sox.
Jon Lester kept getting two outs, only to give up a big hit after that. The offense kept knocking on the door, and the one big hit that would have changed the game never came.
It added up to a 6-4 loss to the White Sox at U.S. Cellular Field in the opener of a three-game series.
Just like that, Boston's five-game winning streak came to an end.
The Red Sox had two strong bids to tie the game in the late innings, and they both fell just short.
Jarrod Saltalamacchia ripped one to deep left with two outs in the seventh, and just before you could say "game-tying homer," Dayan Viciedo flagged it down in front of the wall.
"The wind was blowing in," said Saltalamacchia. "I thought it might have had a chance, but unfortunately not. The wind changed on us."
In the ninth, the scenario repeated itself. With one out and Mike Napoli on first, Will Middlebrooks hammered one to center. This one landed in the glove of Alejandro De Aza, right in front of the wall.
"I thought I did [get enough of it], but the wind was blowing in," Middlebrooks said. "I knew it was going to be close. I hit it too high to hit it over the guy's head and he was playing no doubles [defense]."
In losing his first game of the season, Lester (6-1, 3.15 ERA) gave up seven hits and six runs (five earned) over six innings. He walked three and struck out two.
"It was bound to [end] sometime," Lester said. "It is what it is. Felix [Doubront] will pick me up tomorrow, throw better than I did tonight and give us a chance to win the game and hopefully start a new streak."
Red Sox right fielder Shane Victorino left the game in the bottom of the sixth inning with left hamstring tightness. He is day-to-day.
Lester retired the first two batters he faced and suddenly ran into big trouble in that bottom of the first. Alex Rios started the rally with a single and Paul Konerko followed with a walk. Up stepped Adam Dunn, who drilled a three-run homer to right to make it a 3-0 game.
"I ended up leaving up a cutter over the middle to a guy that's got stupid pop, and he did what he's supposed to do with it," said Lester.
Things worsened for Lester and Boston in the second. Again, the trouble all started with two outs. Tyler Greene jump-started things this time for Chicago with a double to right. De Aza then lined one down the third-base line that was fair by inches, going into left for an RBI double that made it 4-0. Alexei Ramirez opened the cushion to five runs with an RBI single to right.
In 10 career starts against the White Sox, Lester is 4-5 with a 5.43 ERA.
"I don't know [why]. I don't know," Lester said. "Just one of those teams. You have those teams that have good offenses and you do really well against them for whatever reason, and then you have teams that, Chicago, for some reason I don't think I've ever pitched well here. It always goes back down to executing pitches at the right time. I didn't execute the pitches in the first innings, and that changed the whole momentum of the game."
The Red Sox did get a big swing from Saltalamacchia in the third, as the catcher unloaded for a two-run homer to left-center to make it a 5-2 game.
Lester settled down for a couple of scoreless innings, but the White Sox again got to him in the fifth. The inning started with Middlebrooks making an error on a grounder by Ramirez, who then stole second and Rios drew a walk. Not even a double-play ball off the bat of Konerko could get Lester out of the rally unscathed. Viciedo's single up the middle made it a 6-2 game, as the White Sox again got a key two-out hit.
The Red Sox refused to make it easy for Chicago. David Ortiz and Napoli led off the seventh with walks. Middlebrooks pummeled a two-run double off the wall in left and Boston was within two, but that would be as close as it would come.
"Overall, I thought Jon gave us what he could tonight in the six innings of work," said manager John Farrell. "I know the White Sox have been a little bit of a struggle for him at times. We put a number of good swings on some balls tonight."
Ian Browne is a reporter for MLB.com. Read his blog, Brownie Points, and follow him on Twitter @IanMBrowne. This story was not subject to the approval of Major League Baseball or its clubs.