Gomes' three-run homer completes four-game sweep
Tribe ties it in ninth, wins in 10 after 'pen lets Seattle twice take lead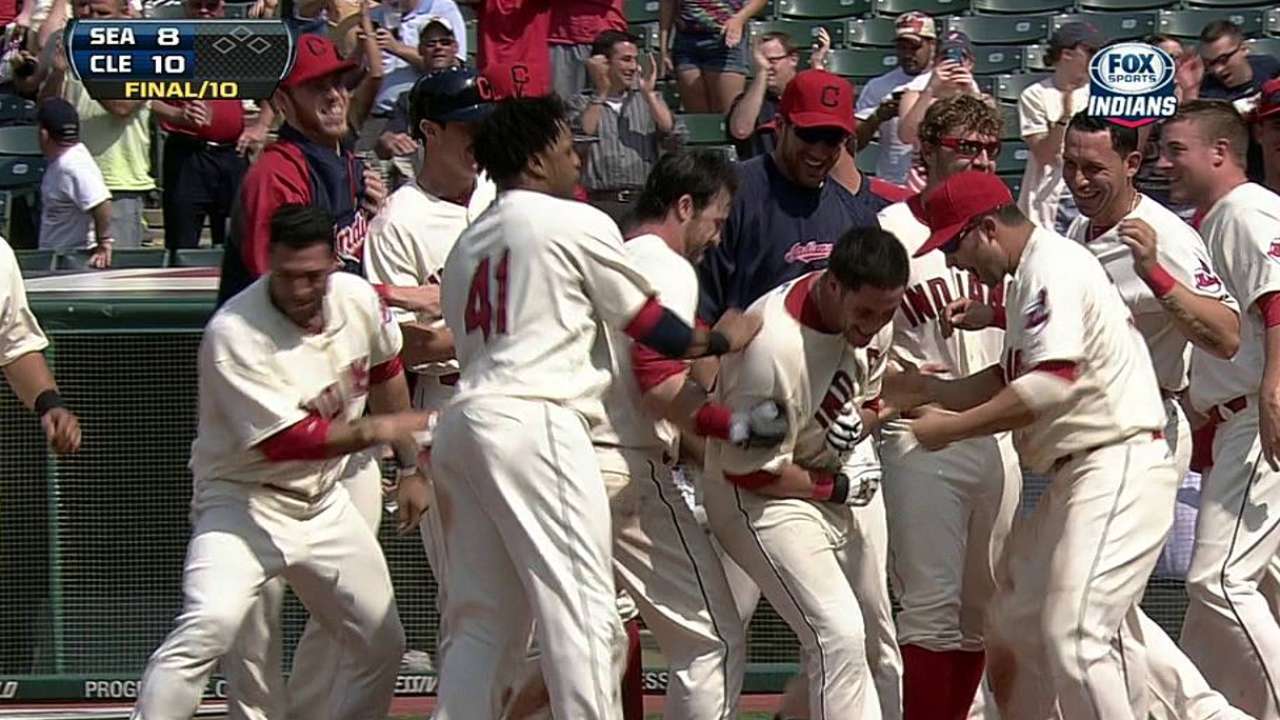 CLEVELAND -- Yan Gomes tore around the basepaths, taking no time to savor his steps. The Indians catcher wanted to get back to his teammates as fast as possible. When he reached them, Gomes tossed away his helmet, jumped into the air and disappeared in the bouncing mob at home plate.
Do you believe yet, Cleveland?
The men inside Cleveland's clubhouse say this feels different, that there is more to this team than the clubs that enjoyed strong starts in each of the past two seasons. On Monday afternoon, the Indians did it again. The Tribe put its never-say-die mentality on full display in a 10-8 victory over Seattle in 10 innings at Progressive Field, a win delivered courtesy of a three-run walk-off home run from Gomes.
"The past couple years, it's been, 'Yeah, it's a great start, but when's this going to slow down?'" Indians setup man Vinnie Pestano said. "'When's that speed bump going to come? When's it going to get derailed? When are the real Indians going to show up?'
"I think with the start this year, people can start buying in, because it's not the same team."
This was a game the old Indians used to lose.
Cleveland's starting pitcher, lefty Scott Kazmir, lasted only two batters into the fourth. For the first time in the same game, the Indians' near-automatic bullpen trio of Pestano, Chris Perez and Joe Smith each gave up runs (all on solo homers). The Tribe had three leads disappear throughout the game, and then trailed in the ninth and 10th innings.
Right now, however, there is something in the water in Cuyahoga County.
Or, at the very least, there was something in the stuff Gomes was drinking Monday morning.
"I actually had beet juice," Gomes said with a laugh. "I'll keep having that, I guess."
Keep chugging the stuff down, Gomes.
The American League Central-leading Indians have won five in a row and 18 of their last 22. Cleveland swept Seattle in a four-game series for the first time since 1981, and has completed a pair of four-game sweeps in the same calendar month -- the other coming against Oakland on May 6-9 -- for the first time since 1977. This season, the Indians have six walk-off wins, including three in the last four games.
In the fourth inning, Gomes followed a three-run home run from Ryan Raburn with a blast of his own against Mariners right-hander Hisashi Iwakuma. Seattle's starter entered the day with a 1.84 ERA and no more than three runs allowed in any start this season. In six innings against the red-hot Indians (26-17), Iwakuma gave up five runs on seven hits.
Behind the plate, Gomes also helped slow a Mariners lineup that chased Kazmir from the contest with five runs in three-plus innings. The young catcher threw out a pair of would-be basestealers (Michael Saunders in the fourth and Brendan Ryan in the seventh), and burst from his crouch to catch a popped-up bunt from Saunders in the seventh.
"He played a very good game," Indians manager Terry Francona said. "He threw the ball extremely well. His at-bats speak for themselves. It's very exciting."
Cleveland's fans may have experienced some heart palpitations in the innings leading up to Gomes' final plate appearance.
After Kazmir's troubled outing, reliever Matt Albers gave Cleveland two innings and Bryan Shaw followed with two more (including three strikeouts). That bought Cleveland's offense some time to rally. In the seventh, Asdrubal Cabrera scored Michal Bourn from third on an infield chopper, giving the Indians a 6-5 lead.
"They came in and shut the door. It gave us a chance," Francona said of Albers and Shaw. "That could very easily get overlooked, and it can't."
Their efforts could be overlooked because of the drama that ensued.
Seattle's Kyle Seager opened the eighth with a home run off Pestano that shot out to right field in a hurry, pulling the game into a 6-6 deadlock. One inning later, Perez surrendered a leadoff homer to pinch-hitter Endy Chavez, who now has 27 career homers in more than 3,000 plate appearances.
You can count on one hand the amount of times in the past four seasons that Pestano and Perez have each allowed a run in the same game: It's only happened four times.
"It's great to be able to go out there and come in the dugout after an outing like I had today," Pestano said. "You go back in there and you can look guys in the eye and say, 'Hey boys, come on. Pick me up.' And they're all in."
The Indians answered with a two-out run in the ninth, as Carlos Santana hustled to first base on a grounder to right side of the infield. First baseman Justin Smoak made a diving stop and flipped it to closer Tom Wilhelmsen at the bag, but the pitcher misplayed the catch. Santana was safe, Jason Kipnis was across the plate and the game was tied, 7-7.
Smoak tried to bail Wilhelmsen out in the 10th, when the first baseman ripped an offering from the side-arming Smith deep to right for a solo home run with two outs. It was another punch to the gut for Cleveland, but the Indians have a way of getting back up over and over these days.
"You play until they send you home," Francona said.
Gomes sent everyone but the Mariners home happy.
"We're glad to leave Cleveland," Wilhelmsen said.
With runners on first and second and nobody out in the 10th, Gomes was asked to bunt. The catcher missed on a couple tries and, once the Indians saw the Mariners aggressively running in on the play, Gomes was instructed to swing away. Swing, he did, crushing a 3-2 pitch from left-hander Charlie Furbush over the 19-foot wall that towers over left field.
Gomes only had one thought as the mob of teammates swallowed him whole.
"Don't get hit in the face," he said. "But I still got hit in the face. Either way, it's exciting. When they get those jabs in your stomach, you know you did something good."
Jordan Bastian is a reporter for MLB.com. Read his blog, Major League Bastian, and follow him on Twitter @MLBastian. This story was not subject to the approval of Major League Baseball or its clubs.