Mariners can't hold leads, fall on walk-off HR in 10th
Seager hits game-tying homer, Chavez, Smoak go-ahead shots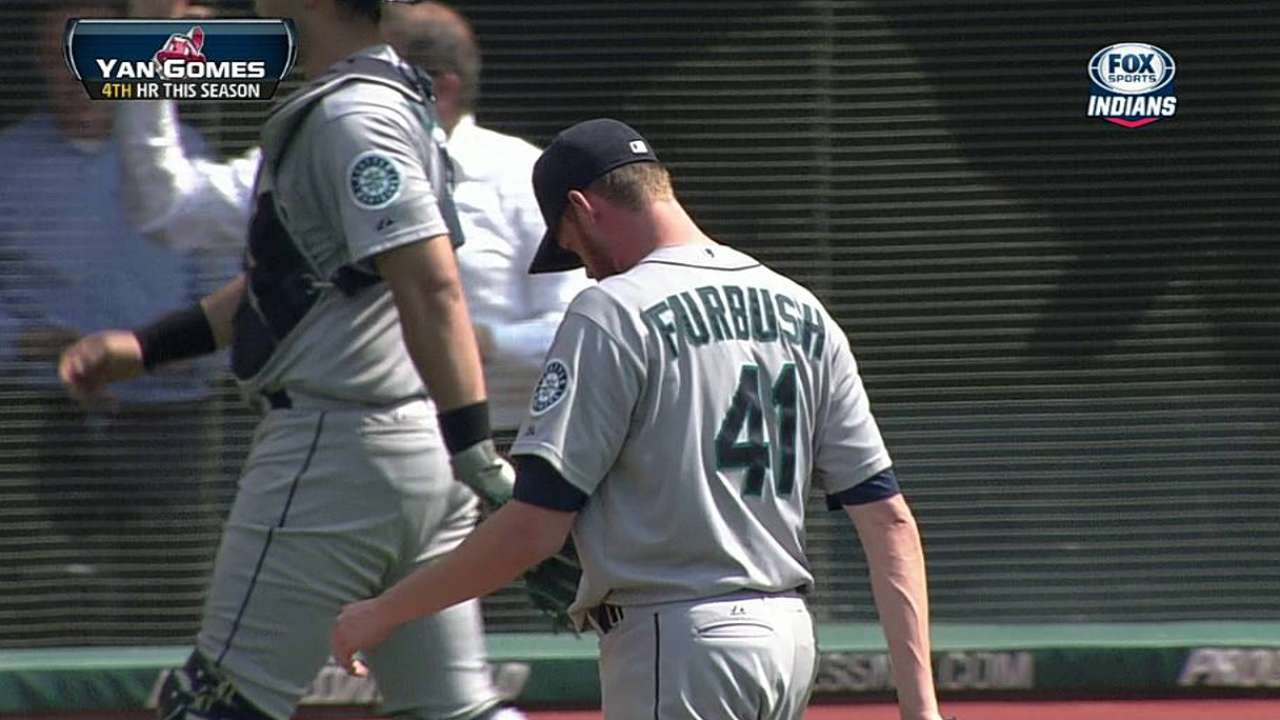 CLEVELAND -- Closer Tom Wilhelmsen spoke for all his teammates Monday as the Mariners packed their gear in silence in the visitors' clubhouse at Progressive Field and prepared to head to Anaheim following the latest in a stunning series of losses, this one a 10-8 heartbreaker in 10 innings.
"We are glad to leave Cleveland," Wilhelmsen said with no trace of a smile after the Indians pulled off their third walk-off win in sweeping the four-game series.
Progressive Field has turned into a house of horrors for the Mariners, who've had eight walk-off losses in Cleveland in the last seven years.
The latest version might have been the most gut-wrenching, given the Mariners hit go-ahead home runs in the top of the ninth and 10th innings, but still couldn't hold off the red-hot Indians (26-17).
Wilhelmsen even had victory literally in his hands, but dropped a toss en route to first base from Justin Smoak that would have been the last out of the game. Instead, the ball bounced out of his glove as Jason Kipnis steamed across for the tying run.
Then, even after Smoak put the Mariners back up in the 10th with a two-out solo homer, the Indians roared back to win it on a three-run blast by catcher Yan Gomes.
"Smoaky made a great play and threw the perfect ball right to me," Wilhelmsen said of the first baseman's diving stop of Carlos Santana's hard shot in the ninth. "I simply took my eyes off it and it fell out."
Inexplicable. Crazy. Frustrating. Or all of the above for a Mariners team that lost on walk-off homer in the 10th on Friday, then fell Saturday on another walk-off after tying the game on a pair of homers with two outs in the ninth.
All of Seattle's late rallies were impressive, but in the end did nothing to salve the frustration.
"That was huge," Wilhelmsen said of the repeated comebacks. "It was great to see, great for the team. Unfortunately, they did it as well. … You want to be 4-0. Do we deserve it? Clearly not. They beat us and that's just the way it is."
The Indians have the best record in the Majors since April 20 at 21-7, and it's not hard to see why after they rallied again on a day their starter lasted only three-plus innings.
"It was another weird game," said Mariners skipper Eric Wedge. "Cleveland is probably the hottest team in baseball and things are going their way. We kept coming back and coming back and taking the lead, we just weren't able to make plays and pitches when we needed to late. We were so close to winning that ballgame, but we're just on the south side of things right now.
"We still have to look at the baseball we've been playing and the teams we've been playing -- two first-place clubs in New York and Cleveland," Wedge said of a 2-5 trip thus far. "We've played seven games now on this road trip and easily could have won six of them. So we're that close. But you've got to execute and make plays late in the ballgame to finish those type of games off. What great fight though. Big hits, great at-bats. We had some good defensive plays, too, we just weren't able to finish things off."
Gomes ultimately finished this one with his second homer of the game, the three-run blast coming off Charlie Furbush on a full-count fastball after he'd first tried to bunt two runners over with no outs.
"That ball came in looking like it was 100 mph, I ain't going to lie," Gomes said. "I haven't bunted in a long time. I was trying to get it down, but as soon as they took [the sign] off, it was just, 'Let's try to get the job done and move some guys over at least.'"
Kyle Seager ripped his sixth home run of the year in the eighth to tie the game at 6, then the Mariners took the lead on Endy Chavez's pinch-hit shot in the ninth and again on Smoak's 10th-inning blast.
But Furbush gave up a leadoff single to Michael Brantley in the bottom of the 10th and Drew Stubbs reached on a sacrifice bunt that was dropped by Smoak after Furbush fumbled the ball and threw hurriedly to first. Gomes then finished it off with the first multi-homer game of his career.
Seattle knocked Scott Kazmir out with five runs in three-plus innings, but it didn't matter against an Indians team that won its fifth straight.
The Mariners saw their recent momentum stall in the wraparound series, as the four straight losses are their longest losing streak of the season and they fell to 20-25.
Hisashi Iwakuma gave up a season-high five runs as the Indians jumped on him early. The 31-year-old right-hander steadied himself and kept the score knotted at 5 for his final three innings to wind up with a no-decision that keeps his record at 5-1 with a 2.37 ERA.
The Mariners kept pace with some timely hitting. After going 1-for-20 with runners in scoring position in the first three games of the series, they were 2-for-3 in the first inning alone on Monday, as Kendrys Morales doubled in Jason Bay and Michael Morse followed with an RBI single for a quick 2-0 lead.
They bounced back to tie it at 4 with a run-scoring single by Morales and a double-play grounder by Morse that pushed home a run in the third.
But the ping-pong match continued and Cleveland ultimately had the final smash for the win.
"It's tough," Smoak said. "Three walk-offs is never good in a four-game series. At the same time, it shows you how much fight we have as a team. They got up and we battled back. We got up and they battled back. It was just back and forth the whole game. It was one of those things where we know what we're capable of doing, we just have to keep our heads down and keep going."
Morales was 3-for-5 with a pair of doubles and two runs batted in as he raised his batting average to .270.
Greg Johns is a reporter for MLB.com. Follow him on Twitter @GregJohnsMLB as well as his Mariners Musings blog. This story was not subject to the approval of Major League Baseball or its clubs.