Nicasio's strong start leads Rockies to victory
Righty hurls six shutout innings; CarGo, Tulo notch two RBIs each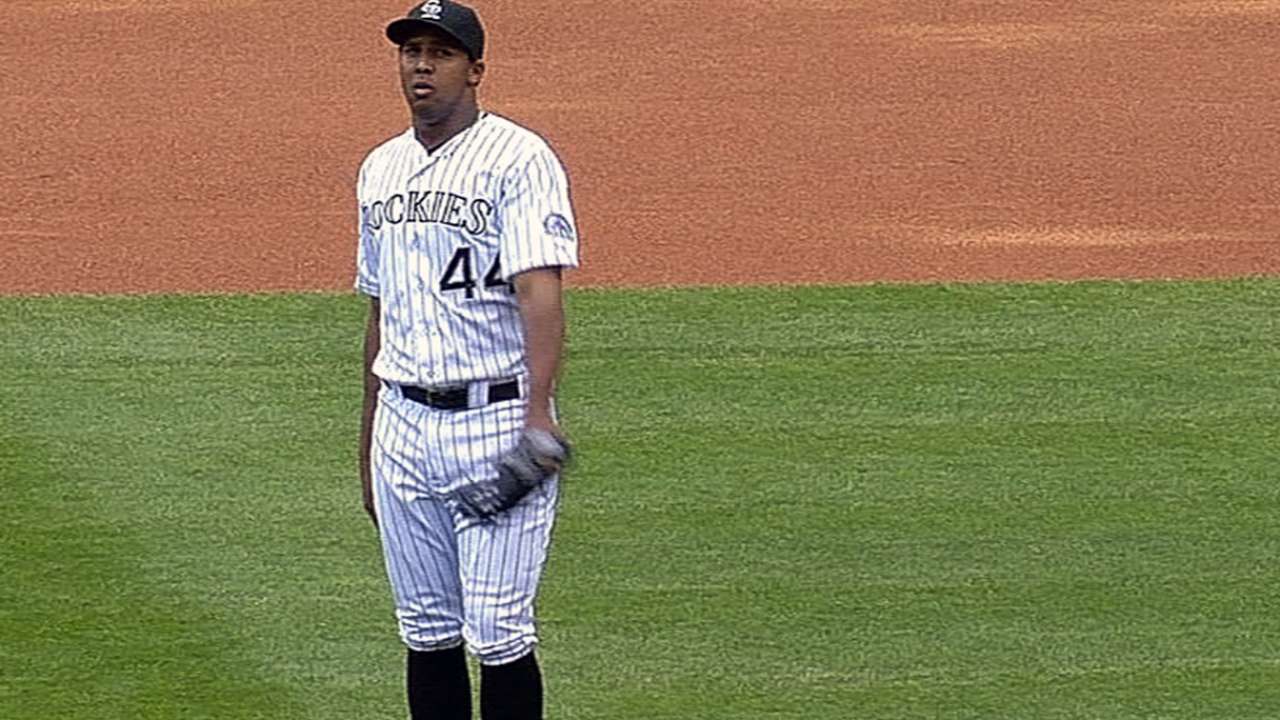 DENVER -- Rockies catcher Yorvit Torrealba said his pregame scouting meeting with pitcher Juan Nicasio on Sunday consisted of one sentence: "Whatever I put down, you throw."
Nicasio kept that in mind all the way to the last pitch of his most impressive outing of the season -- six three-hit innings in the Rockies' second shutout of the season, a 5-0 victory over the Giants that gave the Rockies three of four in the weekend series at Coors Field.
With two Giants on and Brandon Belt facing a full count with two out in the sixth, Nicasio wanted to throw a fastball, as he had for about three-quarters of his 88 previous pitches. But Nicasio, keep in mind, has struggled with efficiency and had been identified as most likely to be sent to Triple-A. Already doing just fine with Torrealba's game-calling, he was all ears when Torrealba made a mound trip.
"He told me, 'Throw a slider, down,'" Nicasio said. "I said, 'OK, I'll throw a slider, down.'"
Belt swung right over the pitch. Not only did the key pitch finish Nicasio's fifth strikeout, but it put the Rockies (24-20) well on their way to their first series win over the Giants since sweeping a two-gamer May 16-17, 2011, and their first win of a series of more than two games since Aug. 21-24, 2009.
The five-run, 11-hit effort against Giants starter Barry Zito (3-3) also erased some negative history. Zito had been 6-0 with a 2.96 ERA against the Rockies in 10 starts since his last loss to them, Sept. 25, 2008.
For all the personal vindication the start gave Nicasio (4-1), who has been considered the likely odd man out when Jeff Francis returns from a left groin injury, the victory meant much more to the Rockies. In the first game of the series, the Rockies blew a six-run lead against Matt Cain and lost, 8-6. With the Rockies already reeling, they needed to bounce back to demonstrate -- to their fans more than anyone -- that a strong early start wasn't a fluke.
Now the Rockies and Giants are tied for second in the National League West behind the D-backs, who will be coming to Coors Field for a three-game series starting Monday.
"You're going to get beat up quite a bit in this league, but I have often said our guys will do what they did the last three days," Rockies manager Walt Weiss said. "When it looks like they start to slide, they turn it around. They've done it a handful of times already this year. That's a great trait to have."
Dexter Fowler tied a career single-game high for hits on a 4-for-5, two-run day; Eric Young Jr. went 2-for-5 to lift his home average to .328; and Carlos Gonzalez and Troy Tulowitzki drove in two runs apiece.
But Nicasio, 26, who is inexperienced because he skipped Triple-A and his 2011 and 2012 seasons were abbreviated by injury, personified the bounce-back trait Weiss admires.
High pitch counts and short outings typified Nicasio's year. The best that could be said about Nicasio's previous start, against the Cubs, was he went six innings for the second time all season, but the five runs he yielded in the first two innings cemented a loss.
Always a hard worker between starts, Nicasio added a two-seam sinking fastball that he used for the first time in a game Sunday. Then Weiss decided to start Torrealba, 34, instead of Nicasio's usual catcher, Wilin Rosario, who had caught him through the Minors.
Rosario's knowledge of Nicasio's habits has helped on occasion. But Nicasio has a tendency to try to be perfect instead of cutting loose the power of his fastball. Turned out Torrealba, a robust sort whose magic is in the fact he doesn't color between the lines, knew how to make Nicasio's rawness an attribute. Whatever scouting report the Rockies produced on the vaunted Giants hitters simply didn't matter.
"They didn't know what to expect," Torrealba said. "They've got good hitters, but to me, I just focused on Juan getting through five, through six, maybe through seven."
Nicasio turned off his mind and turned on his arm.
"I threw a lot of fastballs down in the zone," Nicasio said. "I had more focus today and I threw strikes."
Before Belt came up, Rockies second baseman Josh Rutledge let Hunter Pence's grounder scoot under his glove for an error that put two on for Belt, with the Rockies leading, 3-0. Nicasio's key strikeout kept it that way.
"You're hoping you can get the life going," Giants manager Bruce Bochy said. "But he made a good pitch."
Rockies relievers Matt Belisle, Rex Brothers and Rafael Betancourt each threw a scoreless inning.
The outing demonstrated why the Rockies have had such patience with Nicasio.
"Sometimes a guy just needs a breakout game, and maybe this was it for him," Rockies pitching coach Jim Wright said.
Thomas Harding is a reporter for MLB.com. Read his blog, Hardball in the Rockies, and follow him on Twitter @harding_at_mlb. This story was not subject to the approval of Major League Baseball or its clubs.