Loss caps rough road trip for Giants starters
Zito allows five runs in 5 2/3 innings as SF goes 1-5 in Toronto, Colorado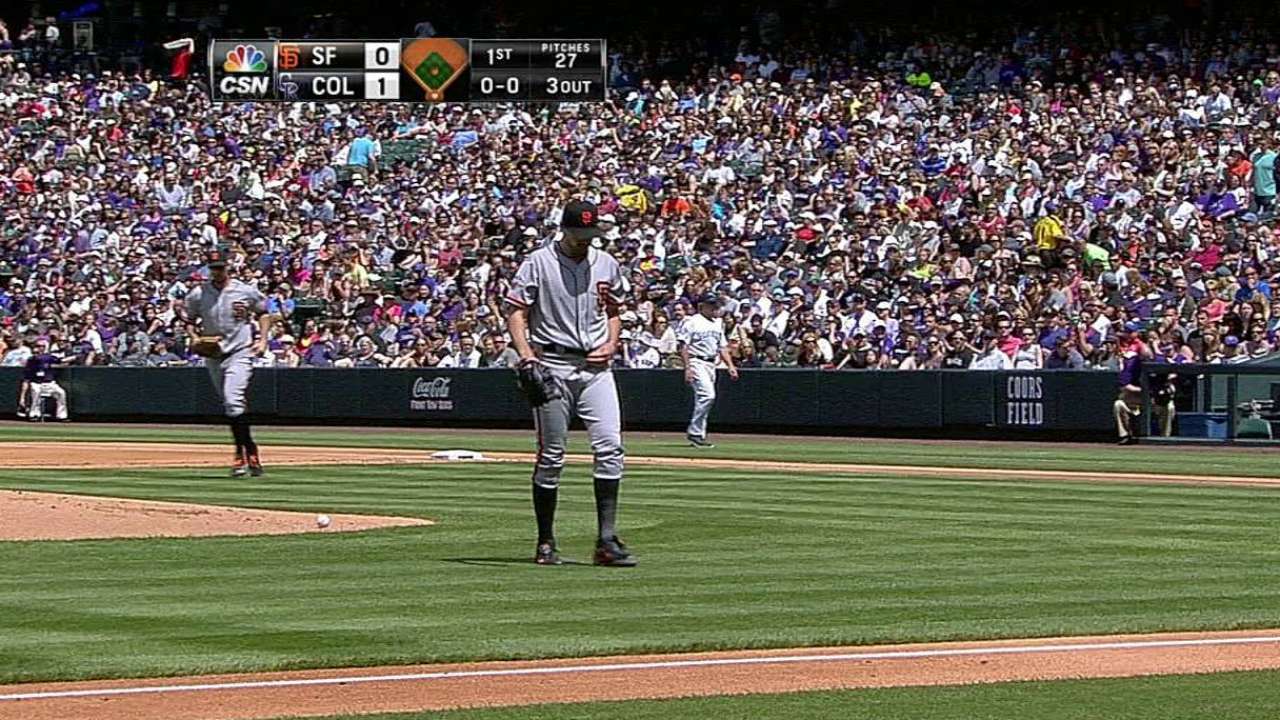 DENVER -- The Giants' harrowing trip has ended, but the search for answers to the starting pitchers' shortcomings barely has begun.
San Francisco's 5-0 loss Sunday to the Colorado Rockies completed a 1-5 journey that thoroughly humbled the reigning World Series champions. Their renowned starting pitching and defense crumbled miserably as they were outscored 52-28 by Toronto and Colorado.
The Giants committed an embarrassing total of 13 errors during the trip's six games, accounting for 10 unearned runs. But the club's defense, though troublesome, is a secondary concern, given the breadth and depth of the starting rotation's shortcomings.
Left-hander Barry Zito allowed all of Colorado's runs and 11 hits in 5 2/3 innings in the series finale, which actually represented an improvement over the starters' recent efforts. None of them permitted as few runs as the five Zito yielded.
San Francisco's starters posted a 9.82 ERA on the trip. Their 4.87 overall ERA is the National League's third-worst. It's also the highest ERA produced by a Giants staff after 40-plus games since 2005, when Noah Lowry amassed a team-high 13 wins and Brett Tomko, Brad Hennessey and Kevin Correia joined a fading Jason Schmidt and Kirk Rueter in the rotation.
The current members of the Giants' rotation have collected three Cy Young Awards and 11 All-Star Game selections, besides excelling in two of the last three postseasons. They've also performed dreadfully of late. Matt Cain leads the Major Leagues in home runs allowed. Madison Bumgarner's ERA has nearly doubled in his last three outings, from 1.55 to 3.09. Tim Lincecum has allowed five or more earned runs in four of his nine appearances.
Zito (3-3), who had won six consecutive decisions against the Rockies since last losing to them on Sept. 25, 2008, has surrendered 23 hits in 11 1/3 innings spanning his last two starts. Ryan Vogelsong, who'll start Monday night's opener of a three-game series against Washington at AT&T Park, possesses an 8.06 ERA, worst in the NL among pitchers with enough innings to qualify for the league lead.
"It's a great starting rotation," Giants manager Bruce Bochy said. "They've done some remarkable things for us. But at the same time, it's a new year and we have to make some adjustments."
The Giants aren't yet certain what those adjustments will involve. Bochy cited fatigue, faulty pitching mechanics, confidence and flawed pitch selection as possible factors in the pitchers' tailspin.
"Is it a rough patch, a streak or a small sample? We'll see," Bochy said. "... I think we need to get further into this before we can answer that question better."
Bochy acknowledged that Vogelsong has prompted the most concern "because he has been consistently off-track and trying to get there." Bochy added that Cain has maintained durability, Bumgarner and Zito have been "pretty good" and Lincecum, though erratic, looks better than he did last year, when he finished 10-15.
The shock generated by the Giants' pitching slump has exacerbated the issue.
"We're probably spoiled, too, because it makes you appreciate the talents that they are, that this is something we're not used to," Bochy said. "It also shows you why we understand the importance of pitching in this game."
That importance was evident Sunday. Zito kept the Giants competitive for most of the afternoon, though he was far from satisfied with his performance.
"My timing was kind of in and out today," he said. "I made some pitches when I had to to get out of some jams, but the ball was generally up in the zone."
The Giants trailed only 3-0 when Zito was relieved by Jose Mijares, who yielded Troy Tulowitzki's bases-loaded, two-run single. Earlier, Carlos Gonzalez accounted for most of Colorado's offense by rapping an RBI single in the first inning and a run-scoring double in the fifth.
San Francisco led the NL in hitting when the day dawned but mustered three hits off Rockies starter Juan Nicasio, who worked six innings to hasten the Giants' second shutout defeat of the season.
It wasn't an easy day for position players, either. Second baseman Nick Noonan avoided serious injury when Gonzalez plowed into him while trying to beat a third-inning pickoff attempt. Noonan emerged with a sore collarbone and neck. Center fielder Angel Pagan left the game in the fifth inning with the flu. Bochy said that Pagan felt ill before the game but received intravenous fluids.
Overall, the trip was reminiscent of last year's Washington-Pittsburgh sojourn that immediately preceded the All-Star break. The Giants also went 1-5 on that trip and were outscored 45-21. The season ended in ultimate triumph, as everybody knows by now.
Though it's a little early to dwell on the NL West standings, they reinforce the notion that there's little reason for panic. The Giants and Rockies share second place at 24-20, one game behind 25-19 Arizona.
"Considering how difficult it's been for us lately, it's not as bad as it could be record-wise," Zito said.
The stage is set for a recovery. Including a pair of Interleague games May 27-28 at Oakland, the Giants won't leave the Bay Area until May 31.
"It was a lousy road trip," Bochy said. "It's up to us to get home and play better ball."
Chris Haft is a reporter for MLB.com. This story was not subject to the approval of Major League Baseball or its clubs.