Rangers' big innings trump Miggy's three homers
Murphy hits three-run HR, drives in four; offense bangs out 18 hits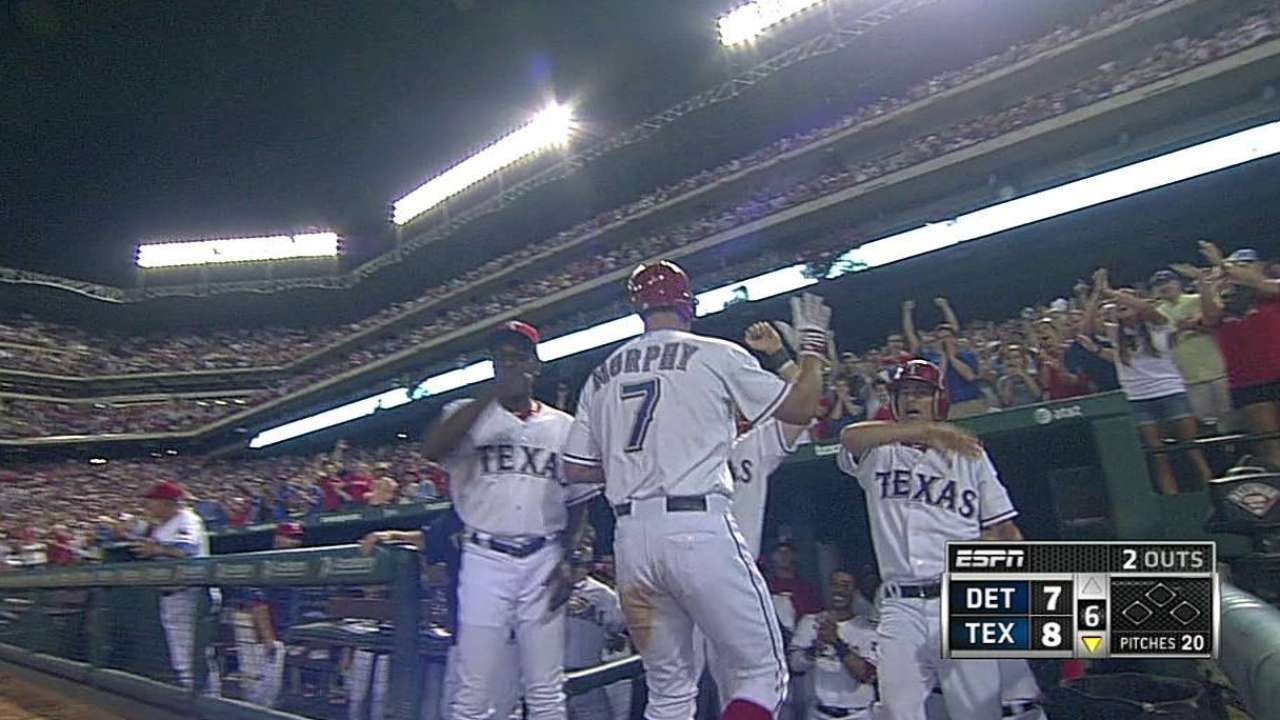 ARLINGTON -- The Rangers are going to have to get used to life without Ian Kinsler for a little while, but if Sunday's 11-8 win over the Tigers was any indication, their lineup can still thrive without their leadoff man.
Minus Kinsler, who went on the disabled list earlier in the day with a right intercostal strain, the Rangers tied a season high with 18 hits, including four by Adrian Beltre, in a spirited slugfest between two of the American League's top offenses.
Texas' offense was enough for the Rangers to overcome a stellar night for Miguel Cabrera, who hit three 400-plus-foot home runs out of the deepest parts of the Ballpark in Arlington and went 4-for-4 with five RBIs.
The Tigers mustered 13 hits of their own, and the total of 31 hits in a game was the second most in a Major League game this season.
"Neither team quit fighting," Rangers manager Ron Washington said. "It was a very good ballgame. It didn't matter what you tried to do, each team kept coming back. We got the final blow and were able to sustain."
No one was more vital to the Rangers' cause Sunday than left fielder David Murphy, who only a week ago climbed above the .200 mark for the first time since Opening Day. Murphy's three-run home run in the sixth inning was the decisive hit after the lead had seesawed back and forth in the bottom of the fourth and top of the fifth.
"You just can't say enough for what Murph did," Washington said. "It was huge right there. We needed that hit and he got us a big one right there to put us back on top."
Murphy made the most of hitting second in the order despite his recent problems. With Kinsler gone and Elvis Andrus moved to the leadoff spot, Washington hoped putting Murphy at No. 2 would spark the left-handed hitter out of his slump.
Murphy went 2-for-3 with four RBIs in what may have been his best game of the season. He had only four multi-hit performances in 41 games entering Sunday and only one multi-RBI game.
The decision to hit Murphy high in the order ultimately paid off for Washington, who had made a move in the sixth that didn't work so well. Cabrera had singled and homered twice in his first three at-bats for Detroit, and Washington was so determined to not let Cabrera beat him again that he walked the bases loaded to face Prince Fielder with one out.
Fielder then ripped a line drive to center off Michael Kirkman, scoring three runs and giving Detroit back the lead after Texas had grabbed it with a four-run fifth.
"Their 3-4 punch in that lineup is about as good as it gets," Washington said. "Once we challenged [Fielder], you saw what he did. It's like picking poison."
Though Kirkman was the Rangers' pitcher of record when they took the lead, Robbie Ross took over following Texas' big inning and earned the victory due the MLB rule that states that an "ineffective" reliever in a "brief appearance" shouldn't get the win if another reliever succeeds him and pitches more effectively. Ross threw a scoreless inning while Kirkman retired only one batter after Fielder's double.
Detroit's Jose Ortega shouldered the loss after starter Doug Fister left having surrendered five earned runs on nine hits over 4 2/3 innings.
"These guys really make you work for your outs," Tigers manager Jim Leyland said. "Probably the best we've played against as far as battling their at-bats out."
Halfway through the game, though, it was Cabrera 4, Rangers 1. Cabrera crushed his first homer 441 feet to right-center, while his solo shot was a line drive that flew a more modest 403 feet to dead center. Both came off Rangers starter Derek Holland, who allowed eight hits, three walks and four earned runs -- all Cabrera's.
"You've just got to tip your hat to him," Holland said. "The guy's swinging it hot right now."
The Rangers elected to pitch to Cabrera with the bases empty in the eighth and he hit his third homer 406 feet off Tanner Scheppers.
Cabrera was 9-for-16 (.563) with six RBIs in the four-game series in Arlington.
"I'm very happy that he's headed to the airport," Washington said.
Holland was done after just 4 2/3 innings, marking only the fifth time in 44 games this season that a Texas starter has been chased before throwing five full frames.
But the Rangers didn't need Holland at his best with the offense they achieved. With 10 runs in the fifth, sixth and seventh innings combined, they didn't need the bullpen to be perfect, either, though Ross (2-0), Scheppers and Joe Nathan combined to keep the lead safe after the sixth.
It was not necessarily the prettiest win of the season, but it was yet another one for the team with the most victories in the Majors.
"You can't predict anything in baseball," Beltre said. "We're just happy that we end up on the winning side of it."
Dave Sessions is a contributor to MLB.com. This story was not subject to the approval of Major League Baseball or its clubs.