Despite Miggy's three HRs, Tigers outslugged
Fielder adds three RBIs, but Detroit drops three of four to Rangers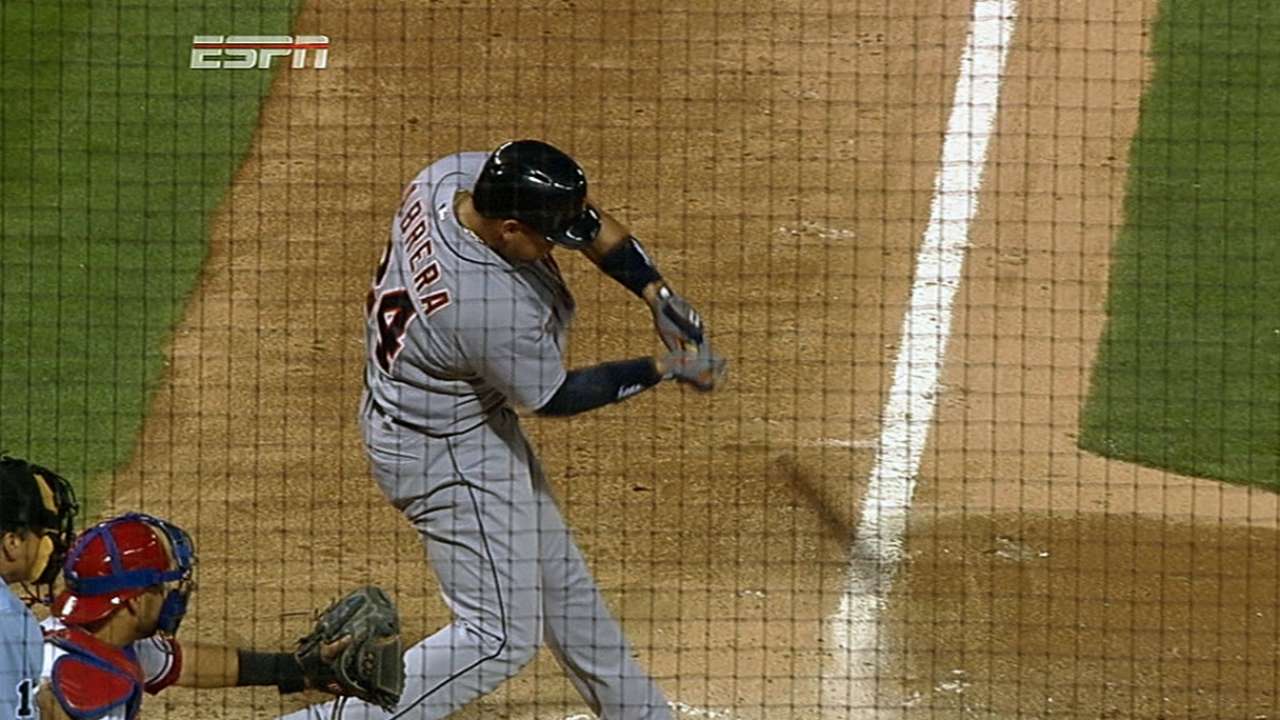 ARLINGTON -- Miguel Cabrera blasting three home runs and Prince Fielder delivering a bases-clearing double would normally mean a Tigers win.
But another short outing by a Tigers starting pitcher and a bullpen that was unable to stop the bleeding meant that Cabrera and Fielder combining for eight RBIs wouldn't be enough. Despite the second three-homer game of Cabrera's career, the Tigers fell to the Rangers, 11-8, at the Ballpark in Arlington on Sunday night.
"This one is very hard to swallow," catcher Brayan Pena said. "We had a pretty good shot to win the game and we didn't. It's one of those days you feel like it was going to be a heavyweight fight. But it's baseball. You just have to learn from the mistakes and continue to work and improve."
Cabrera drove in the first four Tigers runs, three on a 441-foot home run to right in the third off Rangers starter Derek Holland and the other on a 403-foot rocket to center in the fifth. That marked the 27th multi-homer game of his career and put the Tigers on top, 4-1, but the lead wouldn't last long.
Four straight hitters reached base after Elvis Andrus' RBI groundout in the home half of the fifth as Doug Fister walked David Murphy and gave up an RBI single to Lance Berkman. Adrian Beltre followed with his second bloop double to shallow left. The ball was inches away from the foul line when it bounced off shortstop Jhonny Peralta's glove, allowing two runs to score.
"The ball bounces one way or the other," Fister said. "If it bounces our way, we get out of that inning. If it bounces their way, it causes trouble. He did it twice. The guy's a great hitter. I've got to tip my cap because he put it where we weren't. That's pretty much what it came down to."
Nelson Cruz's infield single ended Fister's night. Fister, who fell to 2-5 with a 6.00 ERA in eight career starts against the Rangers, allowed five runs on nine hits in just 4 2/3 innings as Tigers starters went 1-3 with a 10.91 ERA in the four-game series.
"Fister's not a guy that I enjoy facing," Beltre said. "We knocked him around a little bit before the fifth inning and we jumped on the bullpen. That's what you're supposed to do."
The Tigers regained the lead when, after Jason Frasor intentionally walked Cabrera, Fielder lined a double that one-hopped the center-field fence, driving in three runs -- one more than he had driven in during his previous 11 games.
"[Fielder] coming through against the left-hander [Michael Kirkman], that was huge," Tigers manager Jim Leyland said. "That was a heck of an at-bat when they walked Miguel and Prince fought his butt off against that lefty and hit the ball in the gap. That was a huge hit for us."
But, once again, the Tigers failed to hold on to the lead. With the Tigers on top, 7-5, the Rangers batted around and scored four times for the second straight inning. Murphy's three-run homer off Ortega highlighted the sixth-inning rally and put the Tigers in a hole they would not climb out of.
"We just made some horrible pitches late in the game," Leyland said. "We felt like [Ortega] was perfect for that spot. We were a little bit short, obviously."
Cabrera's third blast was a 404-footer to center in the eighth inning, giving him his first three-home run game since May 28, 2010. Sunday marked the first time that Fielder and Cabrera each had at least three RBIs in a game since they became teammates before last season.
Cabrera became the first player in Major League history to go 4-for-4 with three home runs, five RBIs and four runs scored in a loss.
"Of course you wouldn't have believed that, but unfortunately that's what happened," Fielder said. "You never think you're going to lose. You always feel confident you're going to win, but it just didn't work out."
With the loss, the Tigers trail the Indians by two games in the American League Central -- their largest division deficit this season. After an off-day Monday, they will be in Cleveland for a two-game series against the Indians, who are 15-4 in their last 19 games while the Tigers have lost eight of their last 12.
Christian Corona is a contributor to MLB.com. This story was not subject to the approval of Major League Baseball or its clubs.