Angels take patient approach to back Vargas
Lefty hurls seven shutout innings, benefits from RBI walks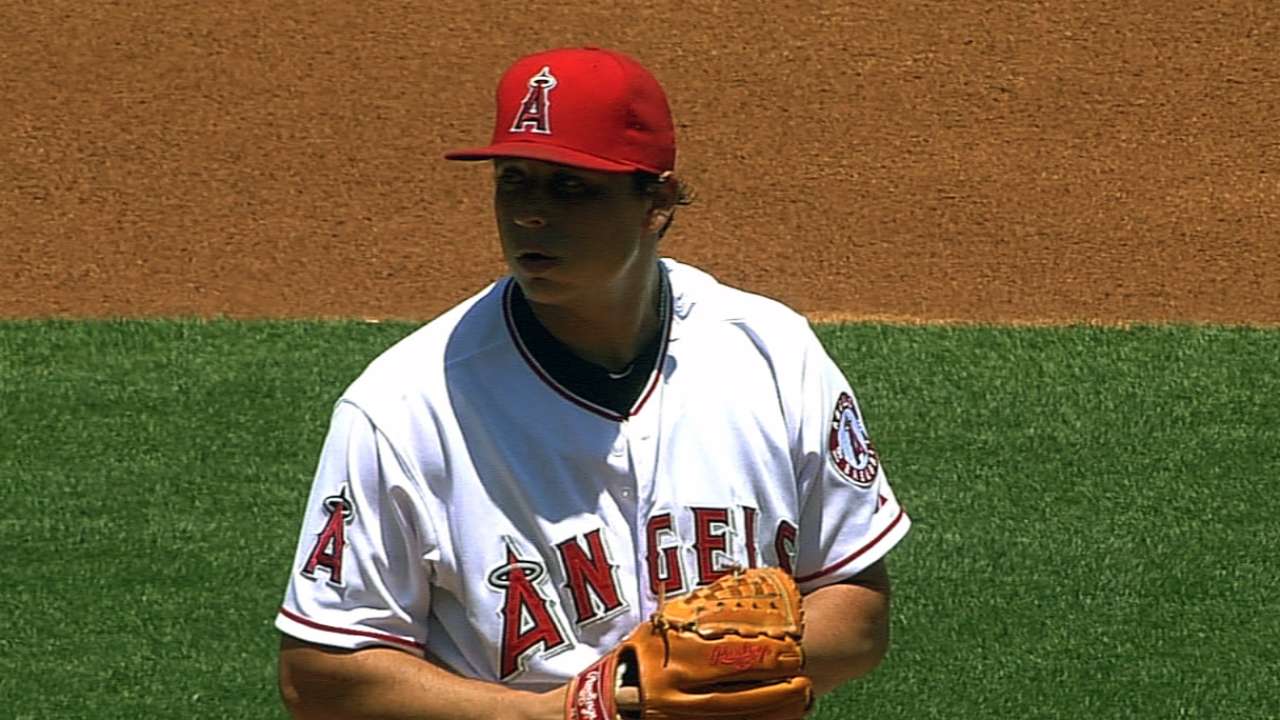 ANAHEIM -- It is no secret that the Angels were built around a lineup designed to drive in runs -- which is exactly what they did over the weekend against the White Sox.
Although the Angels have had a hard time putting together complete efforts through the first quarter of the season, all facets were working Sunday when the Angels defeated the White Sox, 6-2, at Angel Stadium.
The offense tallied seven hits and six walks, Jason Vargas pitched seven shutout innings and Ernesto Frieri recorded his ninth save as the Angels won the final two meetings of a four-game series with Chicago.
"It's what you try to do every game," Angels manager Mike Scioscia said. "You want to try to get good at-bats, pressure the other club and we beat a good pitcher out there this afternoon. Jake Peavy was throwing the ball great. He's tough, had good stuff today and we combined all the things you talked about. Definitely the patience, taking some walks, some good clutch hitting with runners in scoring position and some good baserunning."
Since the Angels were shut out Friday for the fourth time this season, the offense has scored 18 runs and collected 19 hits.
Erick Aybar, who began the day with just three hits in his last 21 at-bats, started the scoring with a two-run double down the right-field line in the third, scoring Chris Iannetta and J.B. Shuck.
In the fourth, the Angels relied on patience and plate discipline to tack on two more runs.
Mark Trumbo led off the inning with a walk and following Howie Kendrick's one-out single and a walk to Alberto Callaspo, the Angels had the bases loaded.
Peavy then walked Iannetta -- who leads all catchers with 27 walks this season -- and Aybar, forcing in a pair of runs. Kendrick would add a two-run double in the eighth.
"He's got a great eye, no doubt about it," Peavy said of Iannetta. "But, good eye or nothing, I have to throw the ball where he has to swing the bat. Like I said, first at-bat, I thought I made a good pitch there 3-2, just didn't get the call. Didn't miss by much. I felt Aybar was swinging there and we made a real good pitch. I thought he would swing the bat."
The Angels' rotation entered Sunday with a 9-20 record and a 5.08 ERA, but Vargas has notched a quality start in four of his past five games and has lowered his ERA from 6.75 to 3.55 since April 16.
"He's really doing what he's done his whole career," Scioscia said. "Changing speeds, getting in the zone. He's a pitcher, he has a great feel of when to come in and when to take a little off. That's Jason's talent and it's shown up for us. He's been our most consistent pitcher.... Ever since he's gotten comfortable in the season, he's been lights out."
The left-hander limited the White Sox to four hits, allowing only two runners to reach second base and giving the bullpen, which surrendered five runs in 4 2/3 innings a day ago, some reprieve.
"I think just being able to get ahead with the fastball early [was key]," Vargas said. "They really weren't swinging at a lot of off-speed pitches, there were a couple times where they did. I was just trying to get ahead and stay ahead."
The White Sox did not get on the board until the eighth when Dane De La Rosa walked Alexei Ramirez and gave up a double down the left-field line to Alex Rios.
The Angels are still trying to find a rhythm, but the back-to-back wins, coupled with the rehab progress of Sean Burnett, Jered Weaver and Kevin Jepsen, may be the start of a turnaround.
"I think we're going to get better as the season goes on -- not even the season, this month," Scioscia said. "We've got a lot of things on the horizon that are going to make us deeper in some important areas, and in the meanwhile we need to go out there and do what we did today."
William Boor is an associate reporter for MLB.com. This story was not subject to the approval of Major League Baseball or its clubs.