Free passes costly for Peavy in road-trip finale
Right-hander issues five walks, two with bases loaded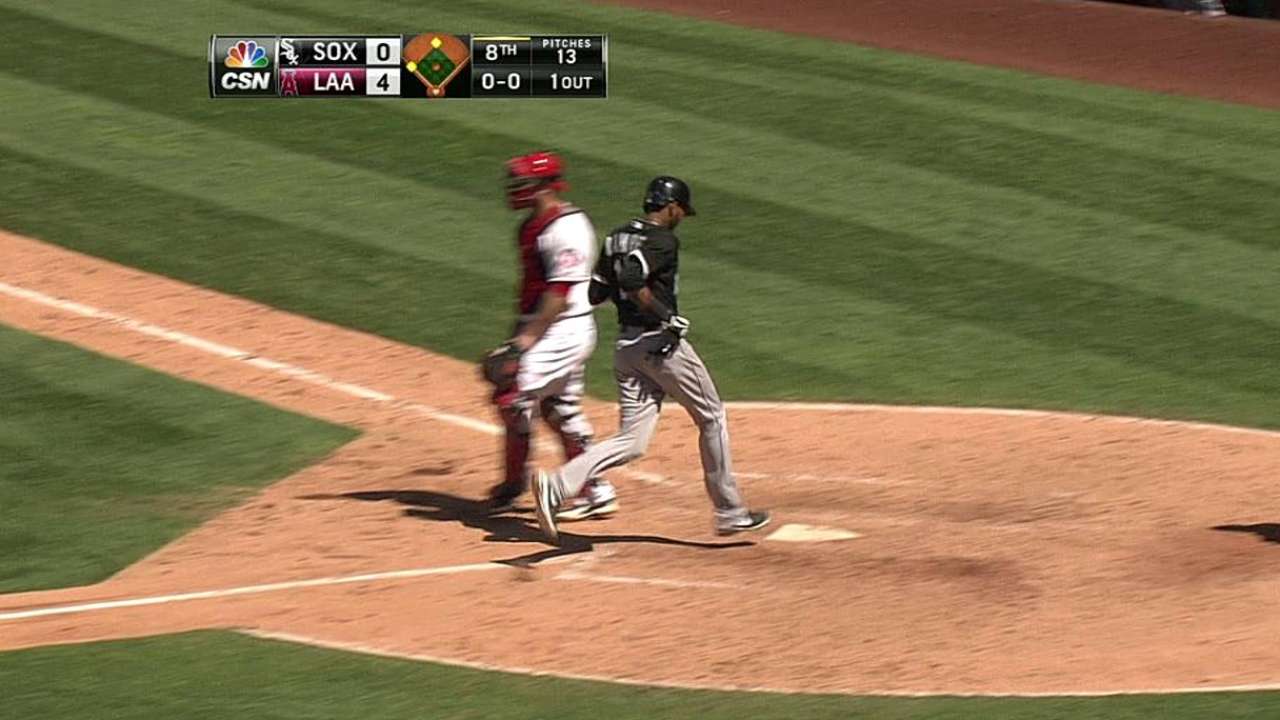 ANAHEIM -- The following line from Jake Peavy focused on his individual performance during the White Sox 6-2 loss to the Angels before 38,190 fans at Angel Stadium on Sunday afternoon.
His words could have just as easily summed up the entire 4-3 road trip to Minneapolis and Anaheim for the White Sox.
"I got some positives to take out of it," said Peavy of his 117-pitch effort, covering six innings. "It's just hard to be positive right now."
Peavy (5-2) entered the series finale Sunday with the Angels (17-27) without a loss in his last five trips to the mound. The White Sox, in turn, entered Saturday's third game of the series on a season-best four-game winning streak, with a chance to turn this excursion into something exceptional and possibly even get to .500 if everything fell into place.
They even grabbed a 4-0 lead in the fourth inning Saturday to heighten the anticipation. But when Alexei Ramirez flied out in the ninth inning Sunday to leave two runners on base after closer Ernesto Frieri (ninth save) walked the bases loaded, the White Sox were going back to an eight-game homestand at U.S. Cellular Field on a two-game losing streak.
When the White Sox departed from Chicago last Sunday night, they stood at 15-20 and five games out of first in the American League Central. They return home at 19-23 and six games behind the division-leading Indians.
"Today just kind of got away from us," White Sox catcher Tyler Flowers said. "Obviously you want to go home with a win. But we played fairly well on this trip and hopefully we can build off of the games we won."
"You want to get one of these last two," said White Sox manager Robin Ventura of his team's road-trip conclusion. "But you keep going."
Sunday's setback dropped Peavy to 0-4 lifetime with a 6.06 ERA against the Angels, and it was the right-hander's uncharacteristic touch of wildness that cost him. Peavy had walked just eight over his previous 46 2/3 innings this season but issued five free passes against the Angels.
Leadoff walks from Peavy in both the third and fourth innings sparked two-run frames. Chris Iannetta reached base to open the third, marking his fifth straight walk drawn against White Sox pitching. He moved to third on J.B. Shuck's single falling in front of center fielder Alejandro De Aza and they both scored on Erick Aybar's double.
Mark Trumbo's walk, Howie Kendrick's one-out single and Alberto Callaspo's walk loaded the bases in the fourth. Peavy forced home a run by once again walking Iannetta, and after retiring Shuck on a popup to shortstop Alexei Ramirez, he walked Aybar to bring home the Angels' fourth run.
"Obviously walks are gonna kill you, especially leading off innings," Peavy said. "I have all the respect in the world for Chris Iannetta, but you've got to make him hit the ball. There's really no excuse for walking anybody to lead off an inning."
"He might have had some stuff flatten out that normally has a little sink to it," said Ventura of Peavy. "And it is uncharacteristic. It's one of those days."
These pitches weren't missing by much for Peavy. He struck out seven to go with the five walks, giving White Sox pitchers 16 free passes in their past two games, but was especially disappointed by the fact that he felt so good physically on the mound.
"That's the most frustrating part for me. I felt good," Peavy said. "Went out there with a good game plan we felt like we could execute and just didn't quite execute well enough."
"Early on he was lights out. He knows how to pitch. His velocity is back," said Angels manager Mike Scioscia. "The approach is definitely understanding his stuff and looking for a pitch in a certain zone and hopefully hitting it hard."
Angels starter Jason Vargas (3-3) walked three and struck out six over seven scoreless innings. The White Sox best chance to score against Vargas came in the fifth, when Jeff Keppinger singled and Flowers walked with two outs, but De Aza struck out to end the frame.
Conor Gillaspie opened the sixth with a double down the left-field line. But he was stranded at third thanks to Mike Trout's diving catch on Keppinger's line drive and Howie Kendrick's slick pickup and throw on Flowers' grounder up the middle.
Alex Rios extended his hitting streak to 14 games with an eighth-inning double off of Dane De La Rosa, scoring Ramirez from first. But reliever Scott Downs struck out Adam Dunn, and Frieri got Paul Konerko on a flyout to left to end the frame.
Dunn fanned three times in the loss but said the back spasms that caused him to leave Saturday's game in the fifth were not an issue.
"Obviously it's not going to feel great," Dunn said. "But you know it felt good enough to go."
A piece of good news for the White Sox is that they play 17 of their next 23 games in Chicago, including two at Wrigley Field. But the better news to be taken from this trip is that the struggling offense hit .299 and raised its on-base percentage from .280 to .293.
"Even when we weren't hitting this trip, we still felt like we put a lot of good at-bats together," Dunn said. "We are pretty close to getting really hot. For the most part, all road trip we swung the bats pretty well, excluding today."
Scott Merkin is a reporter for MLB.com. Read his blog, Merk's Works, and follow him on Twitter @scottmerkin. This story was not subject to the approval of Major League Baseball or its clubs.