Gordon dominant, but late homer drops Royals
Royals' No. 3 batter goes 4-for-5 as Kansas City falls to .500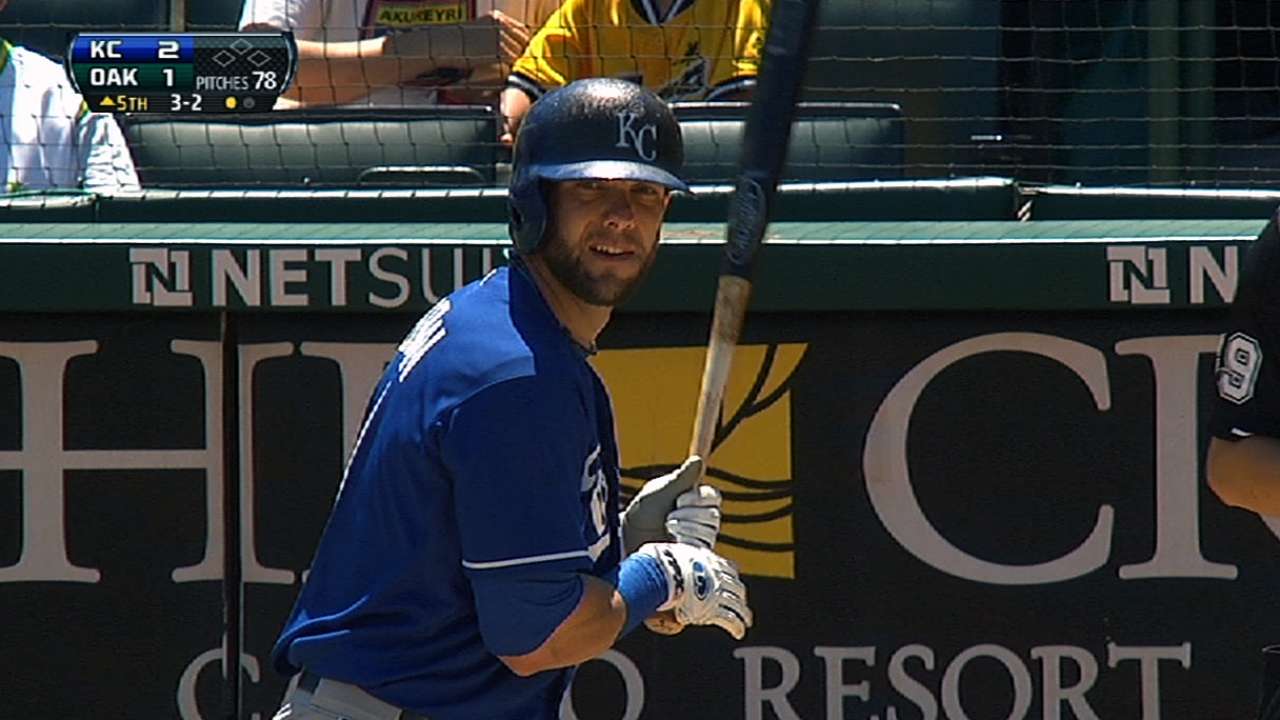 OAKLAND -- Royals reliever Kelvin Herrera got the pitch right where he wanted it, but, obviously, so did Oakland hitter Yoenis Cespedes.
Cespedes hammered Herrera's pitch over the left-field wall in the eighth inning to give the Athletics a 4-3 victory over the Royals on a sunny Sunday at the Coliseum. The A's swept the three-game series, winning each time by one run.
The Royals, who were seven games over .500 two weeks ago, slipped to an even 20-20 by losing for the 10th time in 13 games. They are a season-high four games behind first-place Cleveland in the American League Central.
Alex Gordon stroked four hits, and starter Luis Mendoza pitched well, but the Royals also received repeated disappointments. They were winning, 3-2, going into the A's seventh when things turned.
Derek Norris led off the inning against Mendoza with a liner to center field, a single. But the ball bounced and flicked off David Lough's glove for an error, and Norris wound up at third.
Lough blamed himself for not heeding his instinct to charge in to catch the ball on the fly.
"If I'd have went for it, I'd have caught it in the air, for sure," Lough said. "It was a hard-hit ball, one of those balls that could have sink on it, but I think it hung enough that if I'd have went for it, I would've have had it."
Norris was shocked to find himself at third base.
"About as surprised as one human being could be," Norris said. "I had some unfortunate luck with hitting the ball hard and hitting it right at guys. When I hit it, I was kind of yelling at the ball to get down. When it skipped past him, I knew I had to kick it into gear and try to get to third base with no outs. That was crucial for us."
Sure was. Left-hander Bruce Chen relieved Mendoza and got an out, but Coco Crisp lofted a sacrifice fly for a 3-3 tie.
Herrera took over in the eighth inning, determined not to give up another home run. He had already been bedeviled by seven homers in 17 previous outings. Cespedes, the first batter he faced, took ball one before Herrera fired another fastball.
"It was a good pitch, finally," Herrera said. "I made the good pitch, but he jumped on the fastball. I threw it right where I wanted it, down and away, but he just hit it. He's got power, and he made good contact."
The 20,387 fans erupted as Cespedes trotted around the bases with his eighth home run. It was also the eighth surrendered by Herrera in 18 games after he gave up just four in 76 games last year.
"I don't know, maybe it's a bad moment for me in my career," Herrera said, adding with determination: "I'm going to get it, later."
Manager Ned Yost thought it was an odd turn of events for his young reliever.
"It's really funny, because they're not manufacturing runs off him," Yost said. "They're not up there knocking doubles and singles and scoring a bunch of runs. He's given up 18 hits all year, but eight of 'em have been home runs."
Yost indicated that he might ease the burden on Herrera, who has been his eighth-inning setup man, by using him earlier in games until he finds his 2012 form. Part of the problem is that hitters now know what to expect from Herrera and the other young relievers.
"These kids aren't new to the league anymore," Yost said. "They know Kelvin Herrera comes in and throws 97, 98, 99 miles an hour. They get in fastball counts and gear up, and if it's not in a good location, these hitters are going to put good swings on it."
Herrera retired the next three batters easily, and Ryan Cook came in to pitch the ninth inning for the A's. Cook got two outs, including retiring Gordon for the first time all day. But Billy Butler singled, and Eric Hosmer singled pinch-runner Elliot Johnson to third base.
Up came Mike Moustakas, just 1-for-24 on the trip and clearly struggling at .178 on the season.
"I'm battling it, there's no getting around it," Moustakas said. "I'm hitting what I'm hitting, so there's no getting around it. ... I want that situation every time. I want to be there, and I want to produce."
But on Sunday, he did not produce. While Hosmer got to second on a stolen base, Moustakas worked the count to 3-2. But he grounded out to end the game.
Yost, firm in sticking with Moustakas, had no intention of pulling the left-handed batter for his remaining bench player, Miguel Tejada, a righty, against the right-handed Cook.
"I seriously thought we were going to win the game right there," Yost said. "I just thought that Moose was due. He took the count to 3-2, he laid off some tough pitches. I mean, the kid is an All-Star closer. It was a darn good at-bat."
The loss took the glow off Gordon's big game. He had a double, three singles, a run scored and an RBI. His average is up to .343.
And he is absolutely the king of two-out hitters in the Majors. When he knocked in the Royals' first run against A.J. Griffin in the third inning, it gave him a .500 average (26-for-52) in two-out situations this season.
Since being switched from leadoff to the No. 3 spot in the batting order, Gordon is 18-for-40, .450, with seven runs and six RBIs in 10 games.
Pretty impressive stuff. But mention his four-hit game to Gordon after another loss, and there is no happiness evident.
"It's great, but a 'W' replaces four hits any day," Gordon said. "Four hits and a win is great, but four hits and a loss is just another loss. It's tough, but we'll battle through. We'll find a way to bounce back."
Dick Kaegel is a reporter for MLB.com. This story was not subject to the approval of Major League Baseball or its clubs.