Cards ride four-run fourth to take series from Brewers
Impressive defense backs rookie Gast against former Redbird Lohse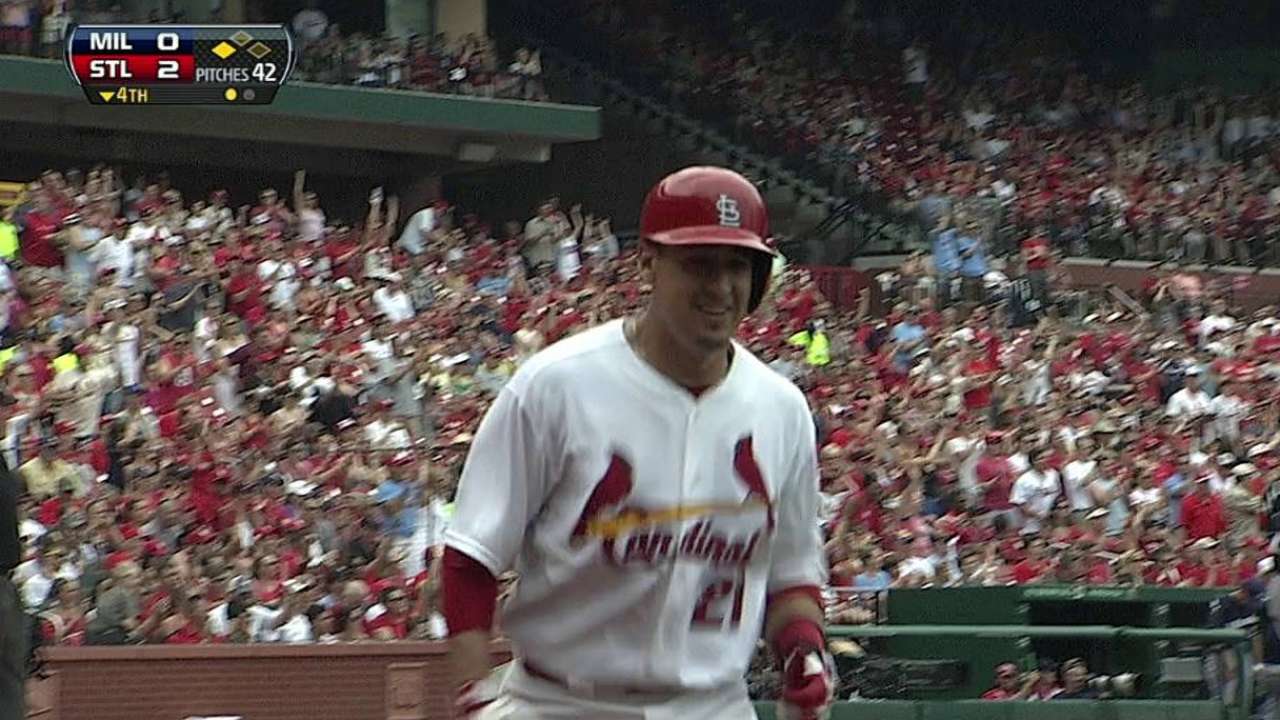 ST. LOUIS -- The Cardinals opted not to resign Kyle Lohse this offseason in favor of relying on young pitching talent.
And Sunday afternoon, it appeared to pay off as rookie John Gast, in his second career start, outpitched Lohse for a 4-2 victory at Busch Stadium in front of an announced crowd of 39,878 fans.
Lohse and Gast opened with three scoreless innings, but the Cardinals' bats came alive in the fourth for four runs in four consecutive at-bats, including an RBI double from Jon Jay and another score on a squeeze bunt from Pete Kozma.
"Baseball is weird, man," Lohse said. "You make some good pitches and they get some good hits. You try to keep the damage to the minimum. It's just, I know that team from being over there. Once they get it going, you have to try to slow it down."
Lohse, who surrendered four earned runs on eight hits, is now 0-3 against his former team this season and all three losses came against rookie pitchers, two to Shelby Miller and now one to Gast.
"It's tough to beat a guy three times when a guy has that good of control," David Freese said. "He's a good buddy of ours, but when he's on that mound, he's on another team."
Filling in for the injured Jake Westbrook, Gast pitched five scoreless innings, but he was charged with two earned runs after exiting with one out in the sixth inning, the same inning in which Gast stumbled in his Major League debut.
But this time, manager Mike Matheny was quick to relieve Gast with Seth Maness, who was hit for two singles but struck out two to end the inning.
"I made a few mistakes there in the sixth," Gast said. "Maybe a little bit of fatigue today because it was so hot. It's something to keep an eye on, but I don't think two starts is a big enough sample size to make any conclusions on that."
Sticking with youth, Matheny remained with first-year reliever Maness in the seventh. Maness pitched himself into a jam with three groundball singles, but he retired Jean Segura on an infield fly before Ryan Braun grounded into a double play.
Matheny said after the game that with reliever Trevor Rosenthal and closer Edward Mujica's recent heavy workloads, he preferred not to have either pitch multiple innings.
In 5 1/3 innings through temperatures that reached the low 90s, Gast gave up two runs on four hits, walked two and struck out five batters. With starter Jaime Garcia's season in question with a left shoulder strain, Gast has an opportunity to make his stay longer than expected.
"You never know what you're going to get when you bring up a guy into this situation," Matheny said. "He just has a makeup a lot like Seth. You don't see them rattled. You don't see them much of anything except making pitches. They've been pretty impressive."
Mujica continued his strong run as the Cardinals closer, earning his 13th save of the season in as many opportunities. Mujica's save record was kept clean thanks in part to a pair of diving catches by Jay and Carlos Beltran in the final inning.
"Being an outfielder, that's my job," Beltran said. "I have to catch as many balls as I can out there, so it was good to be able to maybe save a run there."
Freese made another impressive defensive play of his own in the first when he chased the speedy Norichika Aoki along the third-base line for the third out after Aoki got caught too far down the line by catcher Yadier Molina.
"I forgot Yadi had a glove on," Freese joked after the game. "I pumped faked, thought I had him -- you know the little guy is fast. Aoki plays hard. Fortunately enough I caught him."
Freese caught his hand on Aoki's spike on the play, and needed a few stiches near his right thumb, but brushed off the injury as minor.
With another series victory over Milwaukee, the Cardinals are now 8-2 against the divisional opponent this season.
"It's apparent why those teams are winning," Braun said of the top three teams in the National League. "They're good. Good starting pitching, good bullpens, they hit with runners in scoring position. They're doing all the things well that we're not doing well."
St. Louis improved to 28-15 and holds the best record in the NL.
"When you're a St. Louis Cardinal, you expect stuff like this," Freese said. "The front office puts guys on the field and great guys in the clubhouse. It's a good recipe with Mike [Matheny] leading us."
Chad Thornburg is an associate reporter for MLB.com. This story was not subject to the approval of Major League Baseball or its clubs.