Back-to-back HRs lift Phillies to walk-off vs. Reds
After Kratz's long ball off Chapman ties it in ninth, Galvis hits winner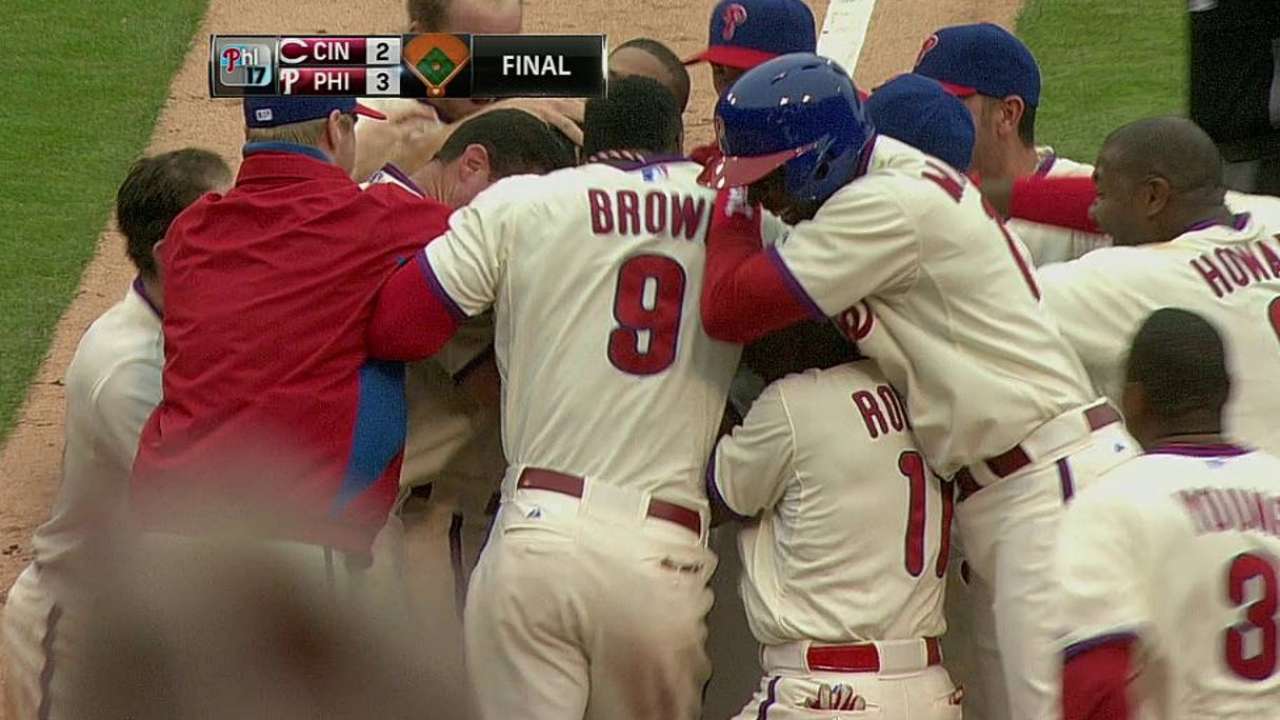 PHILADELPHIA -- Freddy Galvis raced around the bases at Citizens Bank Park like a blur, smiling and yelling the entire way before tossing his helmet to the side and leaping onto home plate among a crush of teammates.
Galvis ripped a 1-1 fastball just a couple of feet inside the foul pole and a couple of feet above the left-field wall for a solo home run to give the Phillies an improbable and dramatic 3-2 comeback victory over the Reds on Sunday.
"Thank God it was a homer," Galvis said.
Cliff Lee shared that sentiment. The Phillies started the inning down one run when pinch-hitter Delmon Young worked a four-pitch walk off Reds closer Aroldis Chapman to represent the tying run. Lee pinch-ran for Young, but five pitches into Chapman's at-bat with Erik Kratz, the left-hander picked off Lee at first base.
Lee looked inconsolable in the dugout. He thought he had blown it.
"Unacceptable and basically brutal," he said.
But two pitches later, Kratz crushed a solo home run to left field to tie the game.
"I've never been so disappointed when a guy hit a home run to tie the game in my life," Lee said. "That was bad. I felt horrible."
"We could have sat there and said, 'Oh, Cliff got picked off. What now?'" said Kratz, who replaced an injured Carlos Ruiz in the third inning. "I don't think anybody did that. I know I didn't. I know Freddy didn't. Whatever it felt like in the dugout, I don't know. But it's a huge boost for us, that's for sure."
Galvis completed the heroics with his homer to give the Phillies a desperately-needed victory following a terrible 10-0 loss on Saturday. The Phillies not only won the three-game series against the Reds, but they have won seven of their last 12 as they begin an eight-game road trip through Miami, Washington and Boston.
A good week in Miami could set up an interesting weekend series in Washington. The Nationals are just two games ahead of the Phillies in the National League East standings.
"Everything's good now," a beaming Galvis said.
That is far from reality, but the victory at least afforded the Phillies a more enjoyable flight to Miami. Chapman had converted his first eight save opportunities of the season until he blew his first save Thursday in Miami. That makes two in a row for Chapman.
"Rarely do you see back-to-back homers [to end a game]," Reds manager Dusty Baker said. "We were thinking Galvis has power from the left side. We were thinking Kratz was really the only guy that could hurt you at the bottom of the order. I guess it shows that anybody with a bat is dangerous. That's a tough one to lose."
Lost in the aftermath of Lee, Kratz and Galvis in the ninth was a fine performance from Phillies right-hander Jonathan Pettibone -- who allowed two runs in a career-high seven innings -- and a scoreless inning each from relievers Justin De Fratus and Antonio Bastardo.
Pettibone kept the Phillies within striking distance, and the performances from De Fratus and Bastardo show what can happen when the bullpen does not turn a manageable deficit into a blowout loss, which is what happened Saturday when the 'pen allowed six runs.
The Phillies snapped a 16-inning scoreless streak in the eighth inning to make it a 2-1 game when Chase Utley's two-out single to left field scored Ben Revere.
Offense remains a concern for the Phillies. It has been trending that way since they last won the National League pennant in 2009. Forgot for a second that scoring is down everywhere in baseball; look at where the Phillies have finished compared to their NL peers in scoring in that five-season span: They ranked first in the NL in scoring in '09, second in '10, seventh in '11, eighth in '12 and 12th so far this year.
"Fortunately, we didn't stop," Kratz said.
Crazy things happen in baseball. The Phillies looked lifeless since scoring two runs in the eighth inning in a comeback victory Friday until Kratz homered to tie the game. Then Galvis, who got his first start in a week, came up big.
"Awesome," Galvis said. "First time that ever happened in my life. I'll never forget it."
Phillies manager Charlie Manuel entered the clubhouse to shake Galvis' hand and offer his congratulations. Manuel said he would have had John Mayberry Jr. pinch-hit for Galvis had Lee not been picked off at first base.
Things worked out for the best.
"That was the best feeling I've had in a while when he hit that home run, just to redeem my mistake," Lee said. "That was huge."
Galvis couldn't agree more.
"Oh my God," he said. "I got a big smile right there, the biggest one I had so far in my life."
Todd Zolecki is a reporter for MLB.com. This story was not subject to the approval of Major League Baseball or its clubs.