Chapman allows tying, walk-off homers in Philly
Reds still seeking first series win at Citizens Bank Park since 2006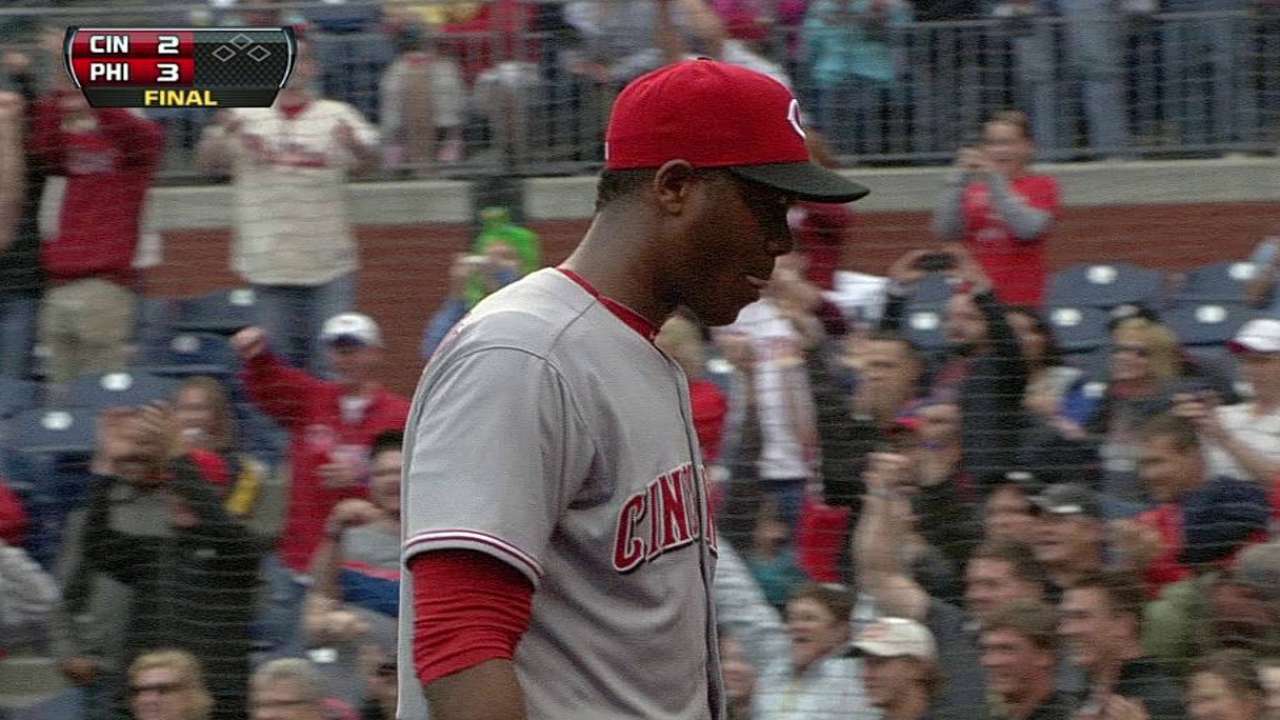 PHILADELPHIA -- Winning a series at Citizens Bank Park isn't something the Reds would take for granted. After all, it hadn't happened since 2006. They were one inning from finally ending that streak before a crushing turn of events on Sunday afternoon.
Back-to-back home runs by Erik Kratz and Freddy Galvis in the ninth inning off of Aroldis Chapman sent the Reds to a 3-2 loss, which joined a growing list of recent infamous endings for Cincinnati in the City of Brotherly Love.
"It is an unfortunate way for it to end," said Reds manager Dusty Baker, who had talked before the game about how badly he wanted a series win in Philadelphia.
After going 8-for-8 in saves to start his season, Chapman blew his second consecutive save on Sunday. The first happened on Thursday in Miami, when Chapman blew a 2-1 lead before the Reds won it in the 10th inning. He also struggled in a non-save situation in Chicago on May 3, needing to be bailed out after he allowed four hits and three runs in the ninth vs. the Cubs.
The Reds had a 2-1 lead in this one when Chapman began the ninth by walking pinch-hitter Delmon Young on four pitches. With Cliff Lee pinch-running as Kratz batted, Chapman sent a pickoff throw to first base and got Lee in a rundown before he was caught.
Chapman did not capitalize on the break, though, as Kratz tattooed a 3-2 pitch into the left-field seats for the game-tying homer. On a 1-1 pitch, Galvis hit his homer just inside the left-field foul pole to end it.
"Rarely do you see back-to-back homers [to end a game]," Baker said. "We were thinking Galvis has power from the left side. We were thinking Kratz was really the only guy that could hurt you at the bottom of the order. I guess it shows that anybody with a bat is dangerous. That's a tough one to lose."
It was the first walk-off homer of Galvis' career.
"As soon as I hit it, I knew I hit it good," Galvis said. "I didn't think it was to the wall, but thank God it was a homer. "[Chapman is] really tough. Here's a guy who throws 99-100 [mph], sometimes throws a 96 cutter. What I did when I went to home plate, I was like, 'OK, follow it right there and try to hit it.'"
Entering the day, Chapman had only allowed seven home runs in a big league career that started in 2010. Never before had he surrendered two long balls in an appearance.
Afterwards, Chapman remained confident that he would be fine.
"I don't see any problem," Chapman said via translator Tomas Vera. "I've been hit. Everybody gets hit, why not me? I'm going to get hit, as well."
Chapman and Baker both felt that Chapman did not make mistake pitches to Kratz and Galvis.
"Sometimes it's assumed when a guy hits a ball out, that it's a mistake. I hit quite a few of them that weren't mistakes," Baker said. "It was a matter of them hitting well at the right time."
The Reds are 0-6-1 in series at Citizens Bank Park since 2006. There have been some tough-to-stomach defeats in that interim. During the 2009 season, the Phillies crushed the Reds for a 22-1 victory. In 2010, the Reds blew a 7-1 lead and lost a 9-7 game in 10 innings on Ryan Howard's walk-off homer off Arthur Rhodes. In the playoffs that season, Phillies ace Roy Halladay threw a no-hitter. In 2011, the Phillies won in 19 innings, with position player Wilson Valdez getting the victory as a relief pitcher.
Spoiled in Sunday's loss was a good outing for Reds starter Homer Bailey, who pitched seven scoreless innings with five hits, one walk and three strikeouts. Reds starters have a 1.44 ERA in the first six games of the nine-game road trip.
For most of the game, it looked like the Reds' 2-0 lead would be enough for Bailey. In the second, Jay Bruce hit a leadoff home run to center field against Phillies starter Jonathan Pettibone. In the sixth, Todd Frazier hit a two-out RBI double off of the right-field wall.
Bailey had several rocketed line drives hit against him, but most only went for long outs. The exception was Ben Revere's one-out double in the first inning, but nothing came from it. In the second, Bailey escaped after having runners on the corners and two outs.
"Early on, I wasn't quite sharp. From the fourth inning on, I started to sharpen up a little bit," Bailey said. "[There were] a couple of line drives that were hit to people. We just got it in on them, but they weren't well-located pitches. But they were outs. How many times do you have broken-bat hits? Well, there's your even part of it."
Bailey left a runner on third base in the sixth inning and had a 10-pitch seventh inning to reach 96 pitches.
"I tried to lobby for the eighth," said Bailey, who threw 125 pitches in his complete-game win at Miami his previous start. "Sometimes you win those, sometimes you lose those. I was feeling pretty good still."
With two outs against Jonathan Broxton in the eighth, Revere reached on an infield single near first base and Michael Young walked to bring up Chase Utley. Lefty Sean Marshall gave up Utley's lofted single to left-center field for Philadephia's first run, ending the team's scoreless streak at 16 innings.
Philadelphia completed the comeback in the ninth as Chapman proved again that he is not invincible. The last time he blew back-to-back saves was June 19 and 24 last season.
"It's sort of spoiled you that you expect automatic. There is no automatic," Baker said. "He went through a couple of streaks last year at this time. They all do. You don't like it. But everybody is capable of it. Right now, we just have to get him out of this funk that he's in and hope it's not too long."
Mark Sheldon is a reporter for MLB.com. Read his blog, Mark My Word, and follow him on Twitter @m_sheldon This story was not subject to the approval of Major League Baseball or its clubs.