Offense breaks out behind Cashner's solid start
Blanks, Venable go deep to help key big day for Padres bats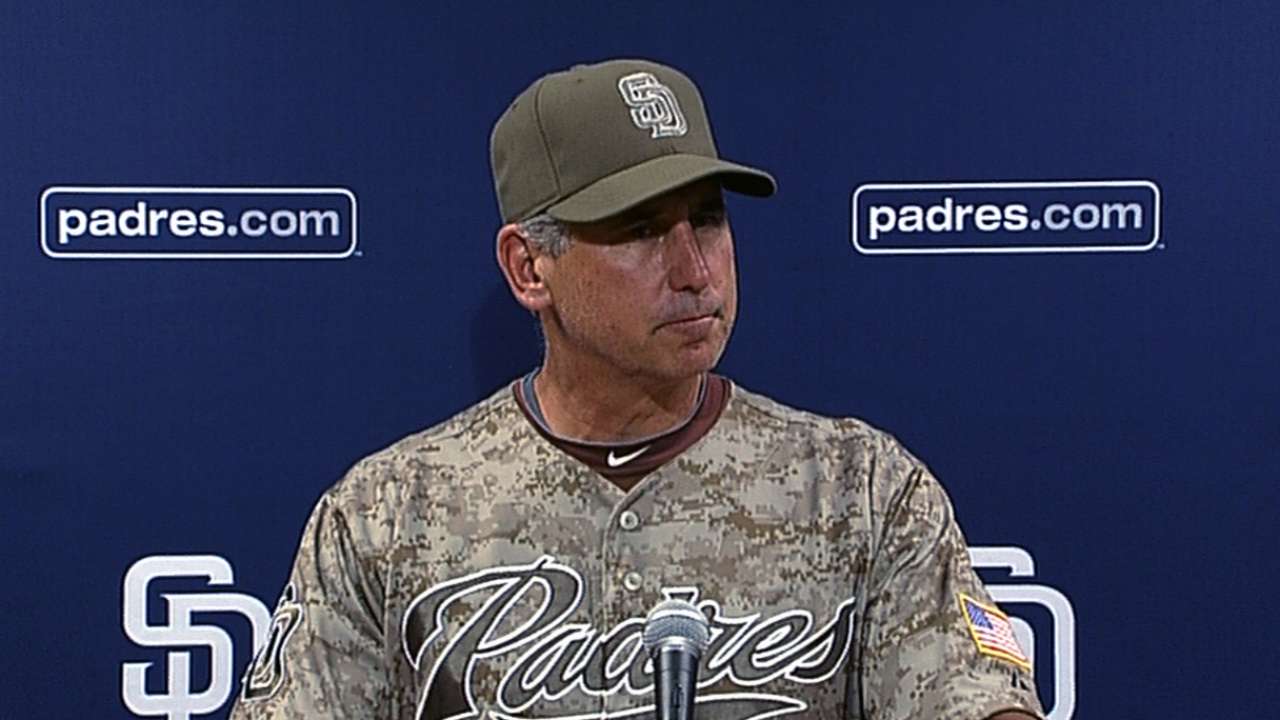 SAN DIEGO -- On at least two occasions Sunday, play was halted at Petco Park when beach balls fell onto the warning track, which also provided about the lone semblance of respite the Nationals' pitching staff would get all day.
To be sure, there weren't nearly enough.
"Today, it snowballed in the right direction," said Padres hitting coach Phil Plantier. "Sometimes ... you get rewarded with a big, crooked number."
The Padres pounded out 15 hits, three of which were home runs, on their way to a 13-4 victory over the Nationals before a crowd of 27,080 to earn a split of a four-game series that began with two losses.
Will Venable, Kyle Blanks and Yonder Alonso each hit home runs and five players had two or more hits in the game for the Padres, who continue to inch toward the .500 mark after a miserable start that saw the team go 5-15 after its first 20 games.
Pitcher Andrew Cashner continued to excel in the rotation, allowing three runs over 6 2/3 innings with one walk and six strikeouts. Using a fastball-changeup combination, Cashner again traded velocity for efficiency, especially early on.
"He was efficient early, which set the tone for the game," said Padres manager Bud Black. "I think that momentum carried him through the game. He wobbled very little."
Since moving into the starting rotation last month, Cashner is 3-2 with 2.80 ERA in six starts.
"I think it was efficient, but I definitely think there's still a lot of room for improvement," Cashner said. "I thought I could've executed better in some different situations. But I thought when I needed to make a pitch today, I was able to make it and stop them from scoring."
The same couldn't be said for the Nationals, particularly Dan Haren, who got into big trouble right from the start.
Three of the first four batters of the game reached base with Carlos Quentin hitting an RBI double down the left-field line. Alonso followed with a sacrifice fly and Jedd Gyorko followed with an RBI double of his own.
Haren needed 27 pitches to get out of the first inning. He pitched five innings, allowing seven runs on nine hits. The seven earned runs were the most Haren has surrendered in any of his nine starts this season.
After Henry Rodriguez pitched a scoreless sixth inning for the Nats, Ryan Mattheus and Drew Storen allowed a combined six earned runs over the final two innings.
"It's real disappointing [to split the series.] That one -- I hate to even talk about that one today," said Nationals manager Davey Johnson. "We didn't pitch very well. We get back in the ballgame. Haren, obviously, didn't have his good stuff. We got back in the ballgame and then our reliable bullpen just didn't do it."
Even with an early lead, the Padres kept adding. They scored four runs in the fifth inning when Will Venable and Blanks connected for home runs. Blanks lined a ball into the second deck of the Western Metal building in left field for his third home run. The Padres then added five runs in the seventh inning.
"The guys were feeding off each other, seeing good at-bats in front of them and good at-bats from the bench," said Plantier, who praised the aggressiveness of the hitters.
"That's our game [being aggressive]. That's our mindset. You take the safety off. If you've got a decision to make in the box, make it an aggressive one."
Blanks said that when things start to snowball like they did Sunday -- in a good way, of course -- it's easy to fall in line. But there has to be focus at the plate, even with a big lead.
"We were just firing [away], especially when the runs started to pile up," Blanks said. "I think a lot of at-bats get thrown away in [lopsided] games like that. But I think it's a great time to go up there and make an aggressive swing."
The Padres have scored 88 runs over their last 18 games since April 30, which ranks second in the league over that span. The 13 runs and 15 hits Sunday were season-highs for the team at home in 2013.
"Today, our bats broke out," Black said.
Corey Brock is a reporter for MLB.com. Keep track of @FollowThePadres on Twitter. This story was not subject to the approval of Major League Baseball or its clubs.