Padres offense gets best of Haren in tough outing
Right-hander gives up seven runs over five innings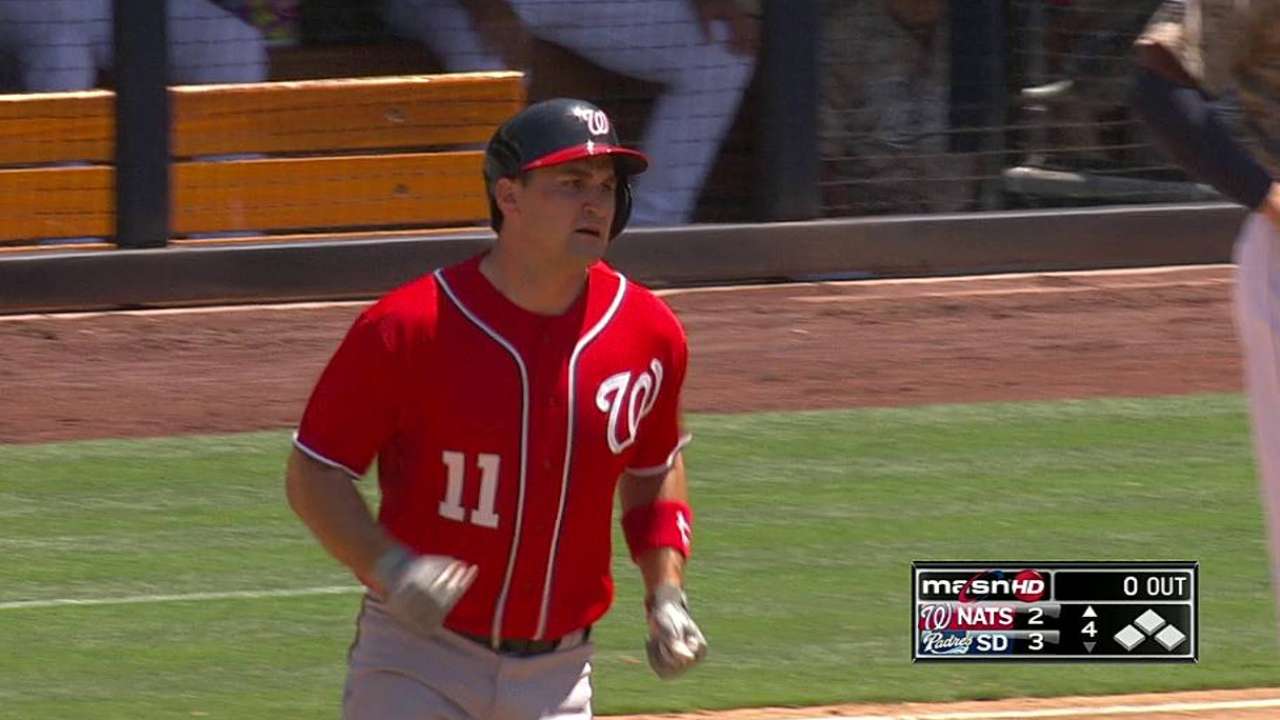 SAN DIEGO -- Right-hander Dan Haren had an outing Sunday afternoon that he would like to forget as the Padres pounded the Nationals, 13-4, at Petco Park. After winning the first two games, the Nationals ended up splitting the four-game series.
It didn't help that they were without Jayson Werth, Bryce Harper and Wilson Ramos, who are recovering from injuries.
"It's real disappointing [to split the series]," manager Davey Johnson said. "That one -- I hate to even talk about that one today. We didn't pitch very well. ... Haren, obviously, didn't have his good stuff. We got back in the ballgame and our reliable bullpen just didn't do it. It was a tough day."
Before the game even started, Haren had a feeling that Sunday wasn't going to be his day. He just didn't feel right during his bullpen session. His mechanics were not right. He insisted that the problem wasn't physical.
The first inning proved it wasn't going to be his day after he threw 27 pitches in the frame. Everth Cabrera started the inning with a single to center field. After Will Venable struck out, Chase Headley walked and Carlos Quentin doubled to left field, scoring Cabrera. Yonder Alonso followed with a sacrifice fly to right fielder Roger Bernadina, scoring Headley. Jedd Gyorko then doubled to left field, scoring Quentin to give the Padres a 3-0 lead.
"I made a bunch of mistakes in the first inning. I was able to keep it close for a while. You can't keep letting balls over the plate to a professional lineup like that," Haren said. "I was fighting myself out there with mechanics. I was working behind in the count too much. That's a recipe for disaster."
Right-hander Andrew Cashner started for the Padres and he dominated Washington in the first three innings, allowing a hit and striking out three batters. But the Nationals were able to get him in the fourth inning, when Ryan Zimmerman hit a two-run homer over the left-field wall to make it a one-run game.
The Padres broke the game open in the bottom of the fifth against Haren. Venable led off with a solo home run, then Gyorko had an RBI single and Kyle Blanks hit a two-run homer to make it a 7-2 game.
"We were just firing [away], especially when the runs started to pile up," Blanks said. "I think a lot of at-bats get thrown away in [lopsided] games like that. But I think it's a great time to go up there and make an aggressive swing."
Washington was able to add two more runs against Cashner and reliever Tim Stauffer. Zimmerman and Adam LaRoche highlighted the scoring with RBI singles in the seventh.
The Nationals are in a tough situation on offense, especially with the injuries piling up. Johnson is hoping that Harper, his No. 3 hitter, will be back in the lineup Monday against the Giants. The young outfielder has a banged up left knee after running into the wall at Dodger Stadium this past Monday.
"It's a tough situation with Harp out. He said he is getting better. Maybe, he'll be OK for tomorrow," Johnson said.
It was all Padres by the seventh inning. Reliever Ryan Mattheus had his worst outing as member of the Nationals, pitching one inning and allowing five runs in the seventh. Cabrera highlighted the scoring with a two-run single.
Before the outing, the last time Mattheus pitched was Tuesday against the Dodgers, but he didn't use the lack of work as an excuse. He said he was throwing in the bullpen the previous two days and should have been ready to go on Sunday.
"I just fell behind hitters," Mattheus said. "I had to come back and make a pitch and they put good swings on the ball. It's inexcusable to not come in the strike zone and leaving balls up."
Alonso faced right-hander Drew Storen in the bottom of the eighth and hit a solo homer over the right-field wall.
The Nationals now head to San Francisco to face the Giants in a three-game series. Washington is 3-4 so far on its West Coast trip and will try to start hitting its stride starting in San Francisco.
"We are not healthy, that's one thing. You are missing your No. 3 hitter, your [No.] 2 hitter [Werth]. That's tough," Haren said. "Harper is banged up. Werth is trying to come back as fast as he can. The pitching has been doing a good job for the most part. ... We haven't hit our stride yet, and I'm sure it's coming. We have too much talent to be playing this mediocre."
Bill Ladson is a reporter for MLB.com and writes an MLBlog, All Nats All the time. He also could be found on Twitter @WashingNats. This story was not subject to the approval of Major League Baseball or its clubs.