Delayed start, but Braves rally late again to sweep
Atlanta gets to LA 'pen yet again, taking impressive Minor off hook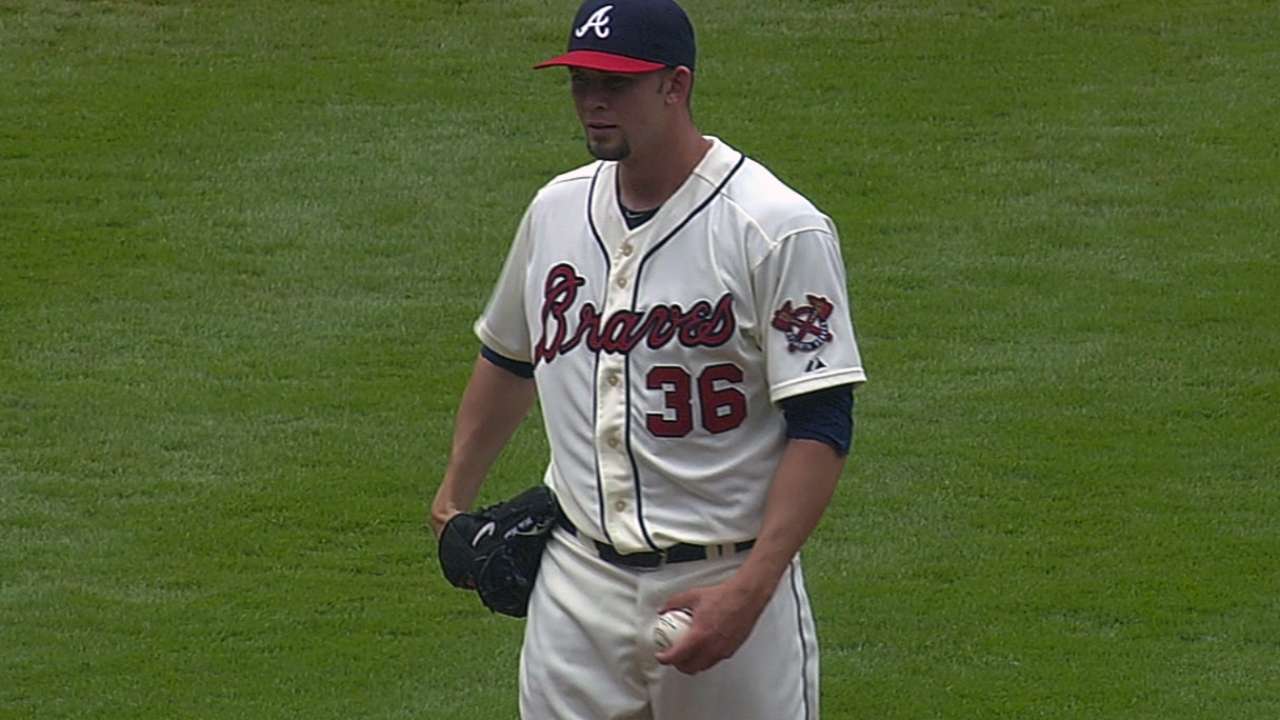 ATLANTA -- After addressing the media early Sunday evening at Turner Field, Braves manager Fredi Gonzalez breathed a sigh of relief. His emotions could have been much different had his team not ended a long, rain-soaked day with a third consecutive comeback victory.
Still riding the momentum of the late-inning home runs that propelled them to victories the previous two days, the Braves played some small ball and manufactured four eighth-inning runs to complete a three-game sweep with Sunday's 5-2 win against the Dodgers at Turner Field.
"We got it done somehow," Braves shortstop Andrelton Simmons said. "That's what you've got to do. Just get it done somehow. However you can, get it done."
Less than 24 hours after surrendering back-to-back eighth-inning home runs, Dodgers right-handed reliever Kenley Jansen entered Sunday's seventh inning and stranded two runners with a strikeout of Justin Upton. But the big right-hander's good fortunes ended shortly after he surrendered a Freddie Freeman single and walked Brian McCann to begin the eighth inning.
Simmons reached on a perfectly-placed sacrifice-bunt attempt against Brandon League to load the bases for pinch-hitter Gerald Laird, who tied the game with a single to left-center field. Ramiro Pena followed with a go-ahead sacrifice fly, and Chris Johnson added an insurance run with a single off League.
"We've got a good feeling right now," Johnson said. "We know we've got some good hitters in our lineup and that we can get some runs going. We have nine innings to hit. We don't always want to wait until the end. But we've got all nine innings and we try to use them."
Jordan Schafer's successful squeeze attempt provided a little more cushion for Craig Kimbrel, who ended the game with a scoreless ninth inning. Kimbrel's 14th save was notched long after both teams saw the start of the game delayed one hour and 42 minutes because of rain. Another 33-minute delay occurred during the bottom of the sixth inning.
"It was not easy," Pena said. "With the rain delay, we started a little bit later. You just have to concentrate on the game. Everybody did a great job. I think everybody put something into that inning."
The three comeback wins provided the Braves their first sweep since April 14 and a chance to distance themselves from a disappointing 4-6 road trip that ended Wednesday. They opened this series Friday with Upton belting a decisive sixth-inning grand slam off Paco Rodriguez. Their comeback win Saturday came courtesy of the back-to-back homers Evan Gattis and Simmons hit off Jansen.
"[Third-base coach Brian Snitker] said it's nice to win ballgames without hitting it out of the ballpark, and certainly we have that type of lineup that we can do that," Gonzalez said.
This was actually just the second time the Braves won in the 16 games they have played without a home run. But it was the fourth time they won a game in which they were trailing after the seventh inning. They recorded a total of seven such wins last year.
"I didn't panic at all for us, just because every guy that goes up there, I feel like is going to get a base hit or put a quality at-bat together," Braves starter Mike Minor said. "That's what happened. I don't think any of us panicked."
The Braves did not panic when they lost five of their final six games on their most recent road trip, then placed Jordan Walden and Eric O'Flaherty on the disabled list this weekend. They expressed confidence in their injury-depleted bullpen, then reaped the benefits, as it allowed only one run -- a home run O'Flaherty surrendered Friday -- in eight innings this weekend.
"We got guys out here that can do the job," Gonzalez said. "We'll mix and match and figure out what we can do, but you feel good with everyone that you bring down there."
Before Anthony Varvaro, Luis Avilan and Kimbrel held the Dodgers scoreless in the final three innings of the series finale, Minor enhanced the confidence that has steadily grown as he has posted a 2.43 ERA in his past 24 starts.
Adrian Gonzalez provided the Dodgers a 2-0 lead with his first-inning RBI single and third-inning sacrifice fly. But Minor did not flinch as he retired the final 11 batters he faced, limiting the Dodgers to two runs in six innings. He has allowed two runs or fewer in six of his first nine starts this season.
Minor also aided his own cause when he and Schafer recorded consecutive two-out singles in the fifth inning to account for the only run surrendered by Dodgers starter Matt Magill.
"Usually, when you get come-from-behind victories, you got some pretty good pitching along the way, and I think we did that this whole series," Gonzalez said.
Mark Bowman is a reporter for MLB.com. This story was not subject to the approval of Major League Baseball or its clubs.