Felix, defense struggle in loss to Indians
Ace allows five earned runs in five frames as Masterson stifles hitters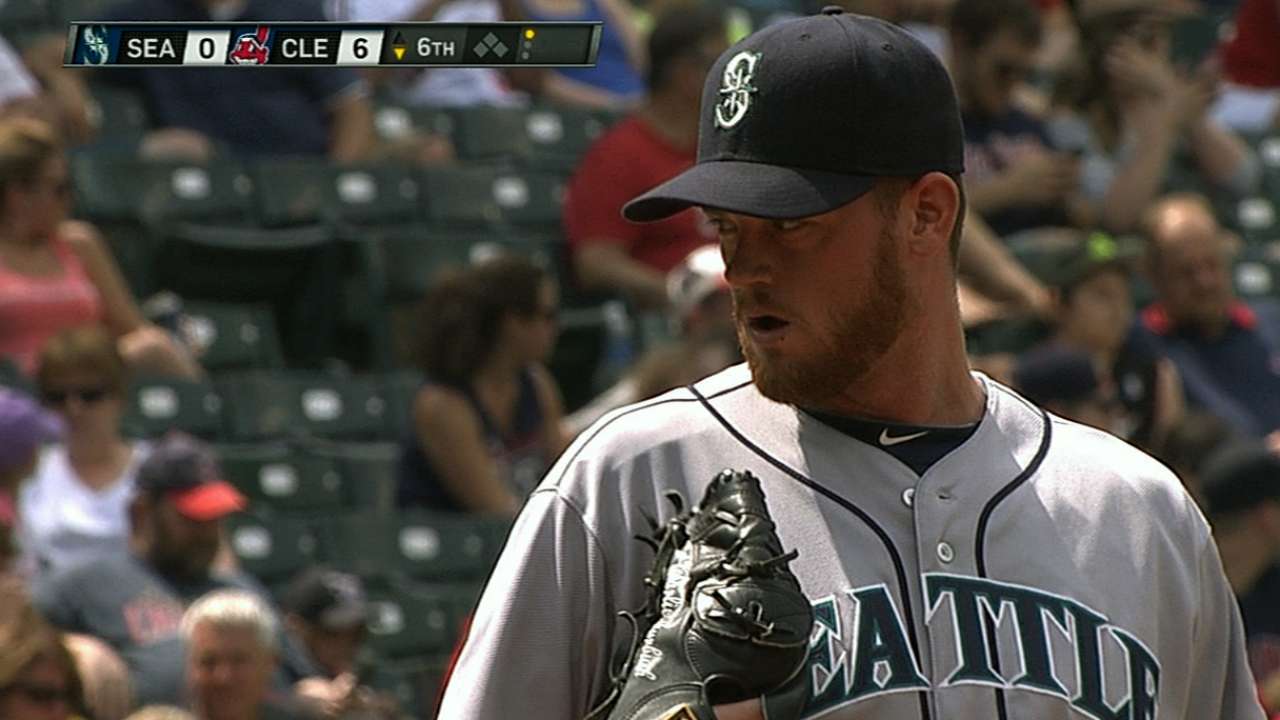 CLEVELAND -- Felix Hernandez allowed more runs Sunday than he had in his previous six starts combined as the Indians mashed the Mariners, 6-0, for their third straight win in a four-game series that wraps up Monday.
The Indians won the previous two games on walk-offs, but needed no such drama this time as Justin Masterson threw seven shutout innings while allowing three hits and striking out 11.
The win was the fifth straight by Cleveland over Seattle at Progressive Field as the Indians improved their AL Central-leading record to 25-17.
Hernandez came into the game with the American League's lowest ERA at 1.53, but gave up eight hits and six runs (five earned) in a season-low five innings. He walked two with eight strikeouts while throwing 107 pitches.
Hernandez was pulled an inning early in his last start in New York when his back tightened up, but both he and manager Eric Wedge said that wasn't an issue in this game.
"It was a weird game," Hernandez said. "I felt good, I just missed a couple pitches, and they had some good at-bats. It's tough. ... It was not my day today. I wanted to win so bad and I didn't. We just have to go for the next one."
Wedge agreed that it just wasn't Hernandez's day as the Mariners ace is now 3-5 with a 4.50 ERA in nine career starts at Progressive Field.
"He was a little off, and they did a good job against him," Wedge said. "We were sloppy there in that first inning, but that aside, they did a good job of laying off some tough pitches, and they hit some tough pitches. A few mistakes they didn't miss, too.
"You have to give them credit. That's a good-hitting ballclub over there, and they really made him work hard today and got some big hits when they needed."
The three-time All-Star had allowed just five runs (four earned) over 44 innings in his prior six outings. Hernandez fell to 5-3, and his ERA now stands at 2.07.
After coming to Cleveland having won 11 of their previous 17 games and in second place in the AL West, the Mariners have now dropped back to third behind the A's at 20-24.
Hernandez gave up a pair of runs in the first, but didn't get much help from his defense in the process. After a leadoff double by Michael Bourn, Michael Brantley drove him home with a single and took second on an ill-advised throw to the plate by Michael Morse.
Brantley then scored from second when Nick Swisher hit a ground ball that went under the glove of first baseman Justin Smoak for his first error of the season. Hernandez got out of the inning without any more damage, but needed 35 pitches to do so.
Brantley then unloaded a three-run homer in the second to make it 5-0, and the rout was underway.
"That was a sinker that stayed in the middle and did nothing," Hernandez said.
Brantley went 2-for-4 and tied his career high with four RBIs.
"I was just really trying to get good pitches early," Brantley said. "He's a phenomenal pitcher. We got him early today, and I think kind of put a little more pressure on him. I think he was trying to overthrow a couple balls, and when you do that, we get little bit of an advantage against such a great pitcher."
Mike Aviles doubled leading off the fourth, then scored from second when Drew Stubbs hit a ball in front of the plate that Jesus Montero jumped on and threw to first. But Aviles alertly kept right on running home, as Hernandez didn't cover the plate and Montero couldn't get back in time to take the throw back from Smoak.
"That was kind of a fluke because it was a swinging bunt, and they both went after the ball," said Wedge. "He didn't cut stride, he just kept on going. That's kind of the way today went. But they've got some power and some speed over there. It's a nice combination."
"Like I said, it was a weird game," Hernandez said of Aviles' scoring dash. "It was a good play. It's baseball."
Meanwhile, the Mariners couldn't make any headway against Masterson as the 28-year-old right-hander improved to 7-2 with a 2.83 ERA. Masterson is 4-0 with a 3.14 ERA in his career against Seattle.
"He's throwing the power sinker in the mid-90s, and that's a tough combination when he can flip that slider in there for a strike, too," said Kyle Seager, who had one of the three hits off Masterson. "He's a guy you have to try to get in the middle of the plate or up in the zone, but as much as his ball moves, it's easier said than done."
Smoak singled in the fifth in a 1-for-4 day and has now reached base safely in 13 straight games, raising his batting average to .254. He's hit .323 (21-for-65) over his past 20 outings.
After going 5-0-1 in their previous six series, all the Mariners can do now is try to pull one win out of this four-game set before heading to Anaheim on Tuesday to conclude the nine-game road swing.
"This was just one of those days," said Wedge. "One of those days for Felix, one of those days for us. We have one more game here, and we have to come in and be focused like we have been, snatch this last one and then head to Anaheim."
Greg Johns is a reporter for MLB.com. Follow him on Twitter @GregJohnsMLB as well as his Mariners Musings blog. This story was not subject to the approval of Major League Baseball or its clubs.