Miley sharp, can't extend D-backs' win streak
Miami's Nolasco strikes out season high 11, allows only five hits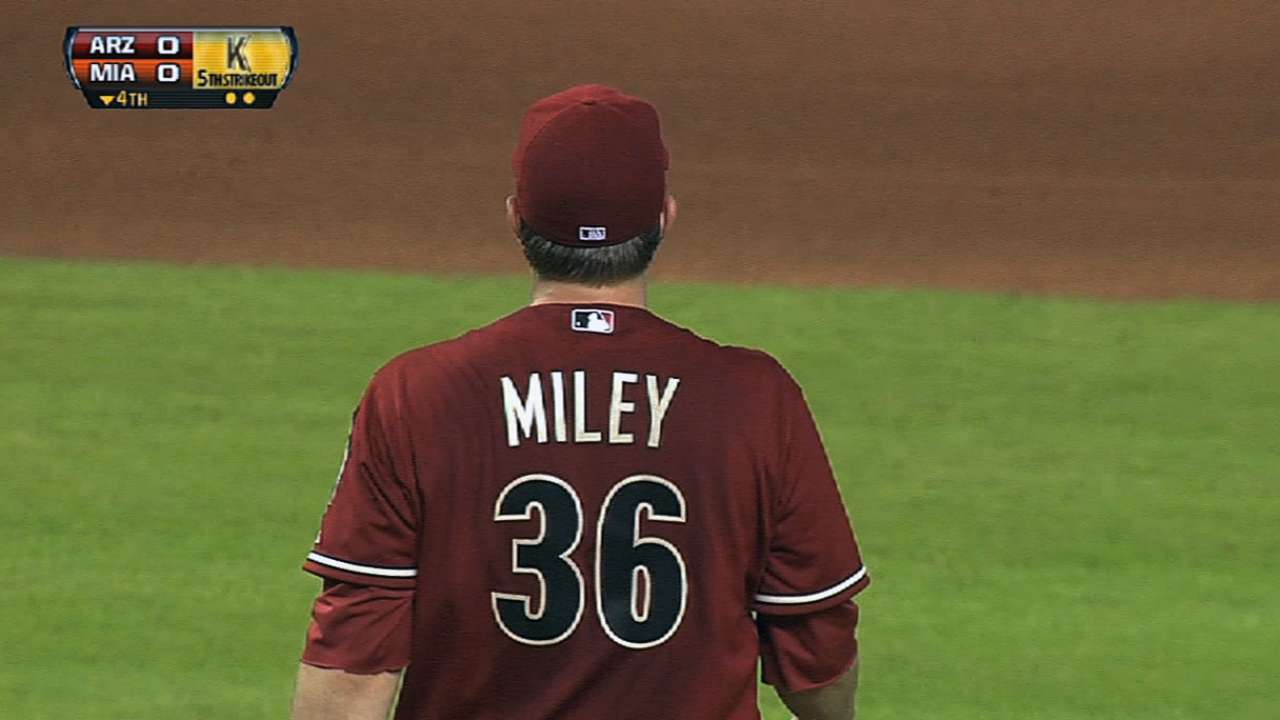 MIAMI -- A few streaks were broken Sunday afternoon at Marlins Park, none in favor of the D-backs.
Ricky Nolasco tossed a gem for the Marlins to lead them past the D-backs, 2-1 -- in the process snapping a seven-game team losing streak and a three-game personal losing streak.
The D-backs, meanwhile, saw their four-game winning streak halted.
"He threw outstanding," said D-backs outfielder Cody Ross, a former teammate of Nolasco. "I've seen him throw some really good games in the time I was with him. I was with him for five years. The thing he was doing today is he was getting his offspeed stuff over for strikes, probably even better than his fastball. He was keeping us off balance and striking guys out and getting some ground balls. He was really good. He didn't really miss over the heart of the plate very much. When he's going good, he's tough."
Sunday he was going good, and he was tough.
After allowing a pair of singles in the first, Nolasco allowed only two hits in the next seven innings and the D-backs were not able to advance a runner past second against him.
On the other side, Wade Miley was also throwing well, as he allowed only two hits through the game's first five innings.
The turning point came in the sixth.
Miley started the inning by retiring Nolasco, before giving up a single up the middle to Adeiny Hechavarria.
One out later, Derek Dietrich grounded a single to right to put runners on the corners.
"I got it in on Dietrich," Miley said. "But I wanted to go in off the plate, but he did a good job putting it in play."
Marcell Ozuna then delivered what would prove to be the decisive blow with a two-run double off the left-field wall.
"Fastball right down the middle," Miley said. "I was trying to go away and didn't get it out there and he did a great job of capitalizing. I just missed my spot."
Miley (3-3) wound up lasting six innings, and while the results were better than his last start against the Braves when he allowed seven runs in five innings, he still blamed himself for the loss.
"I felt good out there," he said. "Just making pitches and throwing strikes. Just a couple of bad pitches cost you late in the game especially in a game like that, 0-0, late in the game you've got to do a better job of holding guys and I just didn't do that today."
Marlins manager Mike Redmond allowed Nolasco to start the ninth, but when he gave up a leadoff double to Didi Gregorius -- the rookie's third hit of the game -- Redmond went to closer Steve Cishek.
Dietrich made a nice sliding play at second to rob Paul Goldschmidt of an hit, as Gregorius advanced to third, and then Jason Kubel cut the lead in half with a sacrifice fly to left.
Eric Chavez pinch-hit for Ross and grounded a single to right, and when Cishek walked Martin Prado to put runners at first and third, Redmond brought in lefty Mike Dunn to face left-hander Miguel Montero.
Montero drew a walk to load the bases and D-backs manager Kirk Gibson sent A.J. Pollock up to hit for Cliff Pennington.
Pollock battled Dunn for eight pitches, running the count to 3-2 before hitting a sharp grounder to short on a fastball to end the game.
"Got the pitch I wanted just kind of got in on me a little bit," Pollock said. "Obviously looking back it would be great to have gotten that through and gotten the runs. What are you going to do?"
The save was the first of the year for Dunn.
"I got him to chase a slider early," Dunn said of the third pitch to Pollock. "We came out and discussed what pitch we wanted to go with. We decided to stick with the fastball and make him beat me on my best pitch. We were just focusing down and away. You have to execute the pitch, and [I] got him to roll it over to shortstop."
Steve Gilbert is a reporter for MLB.com. Read his blog, Inside the D-backs, and follow him on Twitter @SteveGilbertMLB. This story was not subject to the approval of Major League Baseball or its clubs.