Solo shot all Locke needs as Pirates top Astros
Lefty hurls seven scoreless innings; Alvarez supplies home run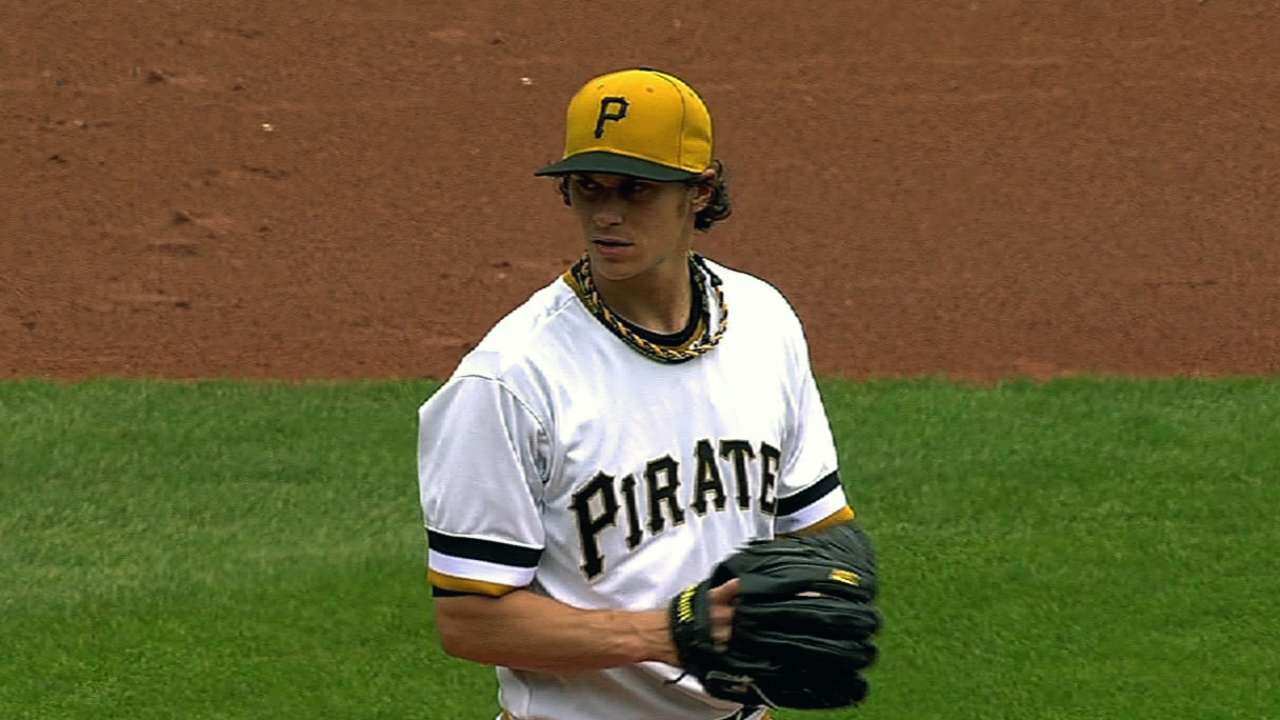 PITTSBURGH -- Jeff Locke on Sunday continued his seamless transition from struggling youngster to virtually unhittable pitcher, with no stops in between.
The left-hander added seven dominant innings to his growing trail in the Pirates' series-clinching 1-0 victory over the Astros at PNC Park.
Locke thus made a considerable contribution to uplifting the spirit of the Bucs, who had to feel fortunate to take two out of three from Houston. By a lot of measures, they napped through the weekend, scoring a total of eight runs in three games started by pitchers who entered with ERAs of 8.36, 6.67 and 5.11.
"The other team came to play," said Pirates manager Clint Hurdle, in that understated tone that is the highest of peer praise. "Three very good, competitive games, and we were able to win the series."
On Friday, they got a gift, that botched popup with the bases loaded and two outs in the ninth. On Sunday, they got a gem.
"That's not the best stuff he's had all season," Hurdle said of Locke, shaking his head in tacit admiration -- something he has done quite often following his starts. "But he pitched . He danced around the lineup, mixed and matched. His offspeed pitches played well."
Locke had to be at his finest to prevail over Houston right-hander Lucas Harrell, and he was. All he needed was a solo home run by Pedro Alvarez to be able to turn over a lead to the closing combination out of the Pirates' bullpen.
Mark Melancon and Jason Grilli weren't about to reprise the hiccup of Saturday night, when the 2-1 lead inherited from A.J. Burnett was not protected. Locke's fourth win in five decisions was in good hands, with the relievers posting their more customary hitless innings, Grilli for his 17th save in as many chances.
"You do get zoned in more," said Locke, acknowledging the competition from his mound opponent. "The way the game was going, with no one getting any hits, you had the sense that the first run scored might be it."
"This was vintage Lucas Harrell," said Houston manager Bo Porter. "It was ground ball after ground ball, it was attack, it was efficient pitch count. We didn't score any runs and their guy did a good job of keeping us off balance by using their breaking stuff, and their bullpen did a good job closing it out."
Harrell had yet to allow a ball to be hit out of the infield when, with one out in the fifth, Alvarez bypassed the outfield entirely and went right for the seats. His eighth homer of the season, lined into the left-field corner a few seats to the good side of the foul pole, was on the opposite side of the tape measure from No. 7.
That one, on Friday, he had pulled on the bounce into the Allegheny River and traveled 462 feet on the fly. This one went 330 feet. Both counted, however.
"It doesn't matter how many feet they go," Alvarez said. "They all count -- and they all help the team."
On the home run gauge, Hurdle would've measured this one based on speed, not distance.
"Ball's out in the blink of an eye," Hurdle said. "Might've been the shortest home run he's hit. But -- it's good hitting. Our biggest swing of the day, at a very good time."
Locke went seven innings for the second time in his career -- and for the second time in five starts -- and made it look effortless. He pitched hitless ball until Carlos Corporan's leadoff single in the fifth, gave up a total of three hits along with a couple of walks, and was never in genuine trouble. The Astros did not get a man to third on his watch.
In the 37 innings of his last six starts, Locke has surrendered 21 hits.
The only one who might have had a more satisfying afternoon than Locke was his batterymate. After a frustrating week on the pine following his five-steals nightmare on Monday against Milwaukee, Michael McKenry foiled the Astros' only attempt -- nailing Brandon Barnes in the third -- and also got one of the Pirates' four hits off Harrell.
"They were in sync," Hurdle said of pitcher and catcher. "You didn't see a lot of shakes [from Locke]."
"We were joking [on the bench] that Harrell kept hitting the bottom of the knee with every pitch," McKenry said, "but Locke was even better. There's nothing like catching a shutout, and 1-0 makes it even sweeter."
Starling Marte's misguided hustle appeared to cost the Bucs an insurance run in the sixth: He led off with a grounder fielded deep in the hole by shortstop Marwin Gonzalez, who showed off his high-caliber arm by throwing a laser to first. Instinctively, Marte dove head first into the bag and the throw barely beat him.
Given how close that play was, Marte beats it out by running through the base. Travis Snider followed with a double. As it was, the Pirates had nothing when Snider himself was thrown out at home on Gaby Sanchez's two-out single to Barnes in center.
"We always encourage them to run through the base. Diving through is never faster. It can't be. And it's risky," said Hurdle, happy that the play hurt neither Marte nor the Pirates' chances at victory.
Tom Singer is a reporter for MLB.com and writes an MLBlog Change for a Nickel. He can also be found on Twitter @Tom_Singer. This story was not subject to the approval of Major League Baseball or its clubs.