Moore improves to 8-0 as Rays complete series sweep
Scott's solo shot, Joyce's contested homer help edge out Orioles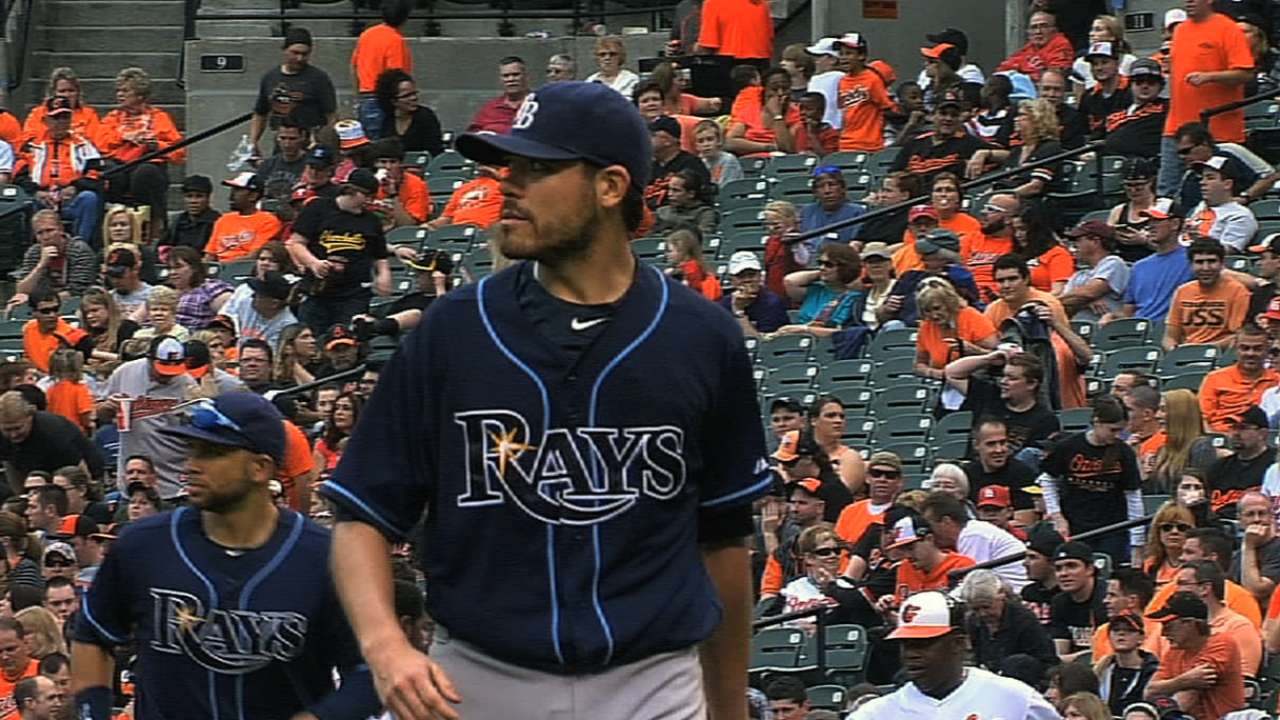 BALTIMORE -- Matt Moore carried an undefeated record into Sunday's start against the Orioles, aiming for more than just another win. He also hoped to go deeper into the game.
The 23-year-old left-hander got what he wanted. Moore held the Orioles to one run on five hits in seven innings to pick up his eighth win, and Luke Scott and Matt Joyce each homered to lead the Rays to a 3-1 victory over the Orioles and a weekend sweep at Camden Yards with 37,704 watching.
The Rays' third straight win moved them to 23-20 on the season and 9-12 on the road.
Entering Sunday's game, Moore had made it past the sixth inning just once in his previous eight starts. Sunday afternoon, he made his seven innings of work look effortless before he left after throwing 106 pitches. Joel Peralta and Fernando Rodney then retired the next six in order to ensure that Moore remained undefeated at 8-0.
"It was in my mind where hopefully I get deep into the game," Moore said. "But we have Peralta and Rodney down there. That's what they do, they shut the door then we take showers and go on to the next one."
Moore's 8-0 start is the best by a player so young since Babe Ruth did it in 1917. Because Moore seemed to be the person least impressed by what he's done, Rays manager Joe Maddon was asked for some perspective.
"If you compare [what Moore has done] historically, he ranks up there with Babe Ruth, and that's not a bad thing," Maddon said. "I think from where he's coming from, he knows he can be better. He doesn't like those five-inning outings. He doesn't like that at all. So I'm sure he's deflecting based on that. As you see him get deeper into the games and more consistent with the wins, I think you might see him step out a little bit.
"But I like the idea that there's humility involved. I like the idea that he knows that he can get better. I love that. The accountability is tremendous. That doesn't surprise me. ... Historically speaking, it's been wonderful, but there is 'more' in Moore. And he knows that."
The only blemish on Moore's line came in the fourth, when Manny Machado lined a ball to right-center field to lead off the inning. Desmond Jennings and Joyce converged on the ball in unison from center and right field, respectively, and dodged a collision at the last second as the ball slipped between them and rolled to the wall. Machado stopped at third with a triple.
"That was a tough play," Joyce said. "I called it. They're so loud out there that Desmond didn't hear me. He ended up going full speed and called it, so I just got out of the way. I told him if he's going to call it, I'm going to get out of the way."
Adam Jones followed with a single to drive home Machado to tie the game at 1-1. Moore managed to escape the fourth inning jam with Jones on third, and he also got out of trouble in the third inning when the Orioles had a runner at third with fewer than two outs.
"We had some runners on base in those innings," Moore said. "Obviously, we want to leave them on base. We had some good defense. ... It's good to be able to get out of those situations without any damage."
Jones said Moore was "dealing right now."
"He's throwing the ball really well since the start of the season," Jones said. "It's the grind of the season. We caught him when he's a good groove right now. Tip your cap to the man. He kept us off balance. We had a few opportunities to get runs; nobody had a lot of opportunities today.
"You've got to maximize your opportunities. We capitalized on one, there were a couple others, but sometimes you just have to tip your cap to the man. He pitched his game."
The Rays' offense wasn't as potent as it has been lately, but they did generate enough scoring to get the job done, beginning with Jennings' third-inning RBI double off Orioles starter Chris Tillman that drove home Yunel Escobar, putting the Rays up, 1-0.
Scott led off the Rays' fifth with a solo home run into the right-field stands, giving the Rays a 2-1 lead.
With one out in the sixth, Joyce hit what at first appeared to be a double down the right-field line. Maddon argued that the ball hit an area painted in black at the base of the right-field foul pole, a location that would have made the hit a home run. After a good amount of discussion, the umpires reviewed the play and Joyce's hit was ruled a homer.
The Rays left Baltimore feeling like they have the wind at their backs.
"I'm excited that we came out on the road and we're starting this road trip right," Moore said. "Winning three games, not two out of three, we took the series in a sweep. It's very important for us. Now we head to Toronto with some pretty good feelings and some pretty good emotions heading into it."
Bill Chastain is a reporter for MLB.com. This story was not subject to the approval of Major League Baseball or its clubs.