Lackey, Red Sox weather storm to sweep Twins
Righty flirts with perfecto as game endures three-hour rain delay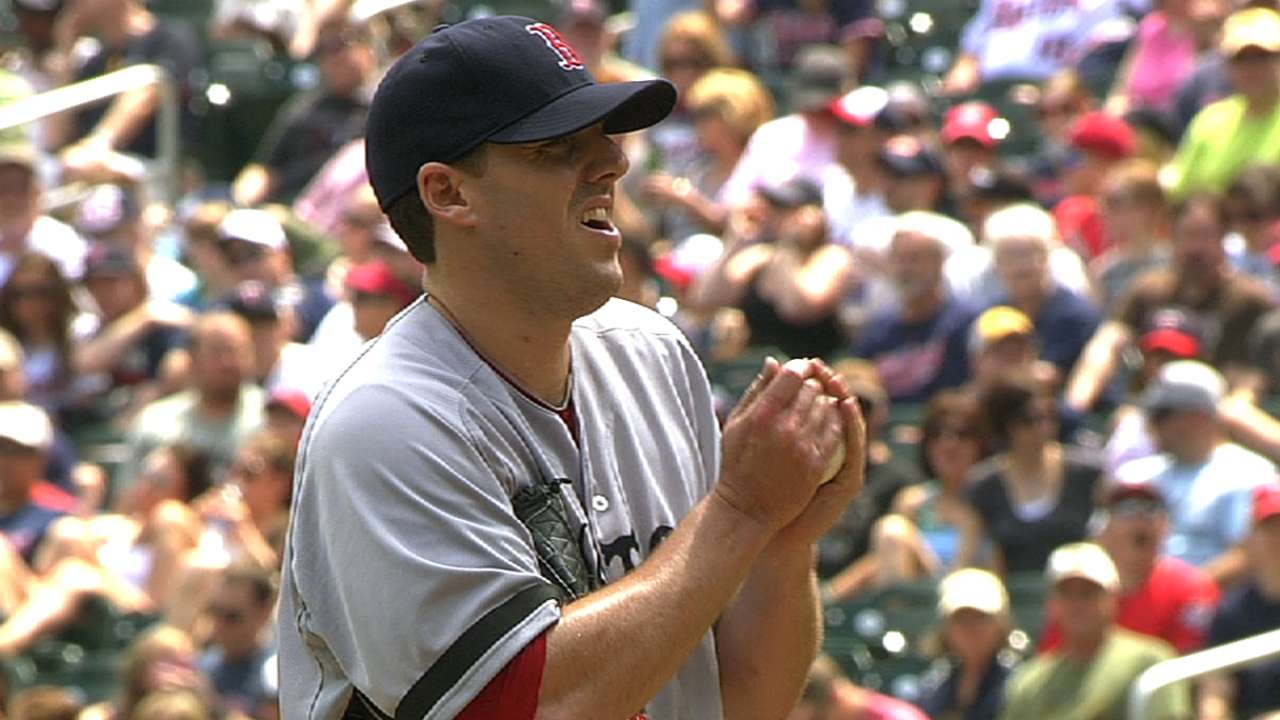 MINNEAPOLIS -- The Red Sox are so hot, even a Midwestern monsoon couldn't slow them down.
John Lackey allowed one run on one hit over six innings as the Sox completed a three-game sweep of the Twins with a 5-1 win on Sunday that featured a three-hour rain delay at Target Field.
Lackey, who earned his second win and first since April 28, lost his perfect game when Trevor Plouffe led off the fifth inning with a no-doubt double to the fence in left field. Plouffe came around to score on a throwing error by shortstop Pedro Ciriaco that cut Boston's lead to 3-1.
Heavy rain stopped play in the middle of the seventh inning, and the prospect of more baseball looked doubtful as wave after wave of showers blew through the Twin Cities. But considering the score and the fact that it was Boston's last trip to town, umpire Jeff Kellogg's crew was determined to wait it out.
The crowd was treated to a big-screen showing of the 1993 baseball movie "The Sandlot" -- previously scheduled as a postgame attraction -- and some of the Red Sox players watched from the visitors' dugout as they killed time, waiting for the game to resume or be called. Manager John Farrell said never worried about his team losing focus, however.
"With this group, it's built in," Farrell said. "This is a group that, their focus is to play the game. Even with a three-hour rain delay they're raring to go. They love the game, they love to play it, and ... the game is clearly a priority to all of them. Whatever it took to finish out this win, we were here for it."
The game resumed with the ball in the capable hands of Boston's bullpen. Three Red Sox relievers ran the bullpen's scoreless streak to 14 innings, including 10 1/3 innings in this series. Koji Uehara created a little drama by loading the bases with two outs in the eighth, but he struck out Joe Mauer to end the threat and preserve the 3-1 lead.
Junichi Tazawa gave up singles to the first two batters in the ninth, but recovered to nail down Boston's fifth straight win, all away from Fenway Park.
"I definitely wanted to go at least another inning," said Lackey, who copped to a shaky warmup session before starting the game with four perfect innings. "I was definitely frustrated not to keep going, but the bullpen came in a did a great job, and winning the game is really all that matters."
That bullpen is about to get closer Andrew Bailey back from the disabled list on Monday, adding even more depth to a group that has been dominant of late. Lackey said the starting pitchers have taken note of that performance and its impact on the starters' effectiveness.
"It gives you a lot of confidence to go hard early in games and not worry about leaving something in the tank later on," Lackey said. "[You can] trust in those guys and just give it everything you've got as long as you're out there."
The Red Sox jumped ahead in the second inning, when Will Middlebrooks blasted his eighth home run of the year for a 1-0 lead. Middlebrooks waited on a changeup from Twins starter Pedro Hernandez and drove it 402 feet to the opposite field, clearing the scoreboard in right-center to stake Lackey to an early lead.
"I was just sitting soft away, giving him the inner part of the plate. He left a changeup up and away and I got a good piece of it," Middlebrooks said. "That's been my swing for awhile. I just went through a few weeks where I wasn't seeing the ball very well. So my swing hasn't changed at all. As far as sticking with my approach and staying on that pitch, yeah, I'm staying on that a lot better."
The Red Sox scored a run on a Twins error in the third, then chased Hernandez with four straight singles in the fifth, including a run-scoring hit by Mike Napoli that pushed the lead to 3-0. The damage could have been worse for the Twins, but reliever Josh Roenicke -- who inherited a bases-loaded, one-out situation -- got Middlebrooks on an infield popup and Jarrod Saltalamacchia on a comebacker to end the threat.
After the delay, Dustin Pedroia belted a two-run homer in the ninth for added insurance. The ball skipped off left fielder Josh Willingham's wrist and bounced into the flower bed above the wall, a break that Pedroia said he'd take considering it was only his second home run.
"They're usually robbing those, so we got lucky on that one," he said.
It was the culmination of a long weekend at Target Field -- 28 innings, 10-and-a-half hours of baseball and a three-hour rain delay in the span of just over 48 hours. Pedroia's philosophy for waiting out the interruption could apply to the next four months as the Red Sox gear up for what looks to be yet another white-knuckle pennant chase in the loaded American League East.
"I just try to stay focused and know that we're going to play, that the most important pitches and at-bats are coming," Pedroia said. "You just have to wait."
Patrick Donnelly is a contributor to MLB.com. This story was not subject to the approval of Major League Baseball or its clubs.