Mauer's streak ends, Twins drop finale with Sox
Hernandez dealt third loss to Boston as Minnesota drops fifth straight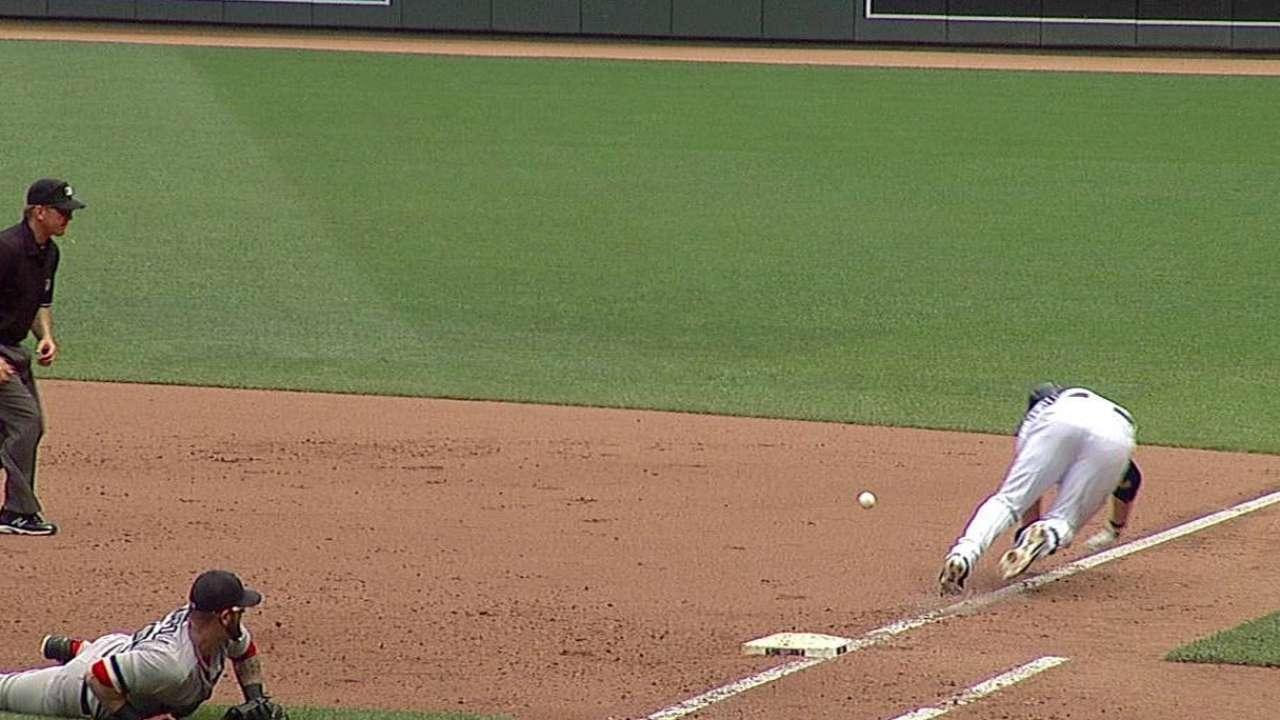 MINNEAPOLIS -- Fresh off going .500 on a tough 10-game road trip through Detroit, Cleveland and Boston, the Twins came home last week with the goal of carrying that momentum over to Target Field.
Instead, the Twins struggled on their nine-game homestand and were swept by Boston on Sunday to finish just 2-7 at home against the Orioles, White Sox and Red Sox.
Pedro Hernandez was the latest starter to scuffle, as he lasted just 4 1/3 innings and the Twins' offense was shut down by John Lackey in a 5-1 loss to the Red Sox on a rainy Sunday afternoon that featured a three-hour rain delay. The Twins dropped all three at home after taking three out of four at Fenway two weeks ago.
Joe Mauer also saw his 15-game hit streak end, as he went 0-for-4 with three punchouts, including a crucial strikeout against reliever Koji Uehara to leave the bases loaded in the eighth inning.
"This is where we're supposed to win ballgames," Twins manager Ron Gardenhire said. "Boston is playing well, but we played well at their ballpark. We know they're a very good team that can swing the bat and they came in here and beat the ball around pretty good. But we had our opportunities here at home to drive in runs and we didn't get it done. You can't come home and lose like we have here."
Hernandez simply continued his recent struggles, as the left-hander gave up three runs on nine hits and a walk, and has a 9.00 ERA over his last four starts, with 17 earned runs in his last 17 innings. He also fell to 0-2 with a 14.81 ERA in three career starts against Boston.
"It's frustrating," said Hernandez, who is 2-1 with a 5.85 ERA on the season. "I've faced this team three times and they've beat me three times."
He gave up a solo shot to Will Middlebrooks in the second inning to hand the Red Sox an early lead. The opposite-field shot was the eighth homer of the year for Middlebrooks.
The Red Sox scored again in the third with the help of a throwing error from Trevor Plouffe. Dustin Pedroia hit a grounder to Plouffe with one out and runners at first and third but Plouffe's throw to second base went into right field for a run-scoring error.
Hernandez surrendered another run in the fifth, when he gave up four straight singles to Pedroia, David Ortiz, Mike Napoli and Daniel Nava. Hernandez exited with the bases loaded after Nava's single, but reliever Josh Roenicke was able to clean up the mess by getting Middlebrooks to pop out and Jarrod Saltalamacchia to ground out to end the inning.
The Twins, meanwhile, didn't even have a baserunner against Lackey until the fifth, as the right-hander was perfect through four innings. Plouffe led off with a double and came around to score on a groundout from Chris Parmelee. Parmelee was injured on the play -- he was hit by the throw from shortstop Pedro Ciriaco -- but remained in the game.
"[Lackey] was rolling along there pretty well," Plouffe said. "He tried to go away with that pitch, but he missed in. I didn't see too many pitches in this series, but I was able to capitalize on it."
Lackey tossed six strong frames, giving up just one unearned run on just one hit with five strikeouts and no walks. But he saw his outing cut short by mother nature, as a three-hour delay -- the longest in Target Field history -- began before the bottom of the seventh inning with Justin Morneau due up.
"If there's no rain, he's in line for a minimum of seven, maybe eight innings," Red Sox manager John Farrell said. "His pitch count was very much under control, he was efficient and he had a very good outing today."
Reliever Andrew Miller came in for the Red Sox after the delay and promptly tossed a 1-2-3 seventh inning. The Twins rallied in the eighth, loading the bases against reliever Uehara, but Uehara struck out Mauer to strand all three runners.
Pedroia capped the scoring with a two-run homer in the ninth off reliever Jared Burton on a ball that went off Josh Willingham's wrist in left and over the fence.
The Twins went down quietly in the ninth against Red Sox closer Junichi Tazawa and fell to a season-worst four games under .500 at 18-22.
"We didn't do much," Gardenhire said. "We had the one big chance there at the end of the ball game and couldn't get one in. "We've got to start picking up these runs and start pitching better."
Rhett Bollinger is a reporter for MLB.com. Read his blog, Bollinger Beat, and follow him on Twitter @RhettBollinger. This story was not subject to the approval of Major League Baseball or its clubs.