Hot-hitting Murphy does it again in Mets' win
Second baseman belts decisive homer, extends streak to eight games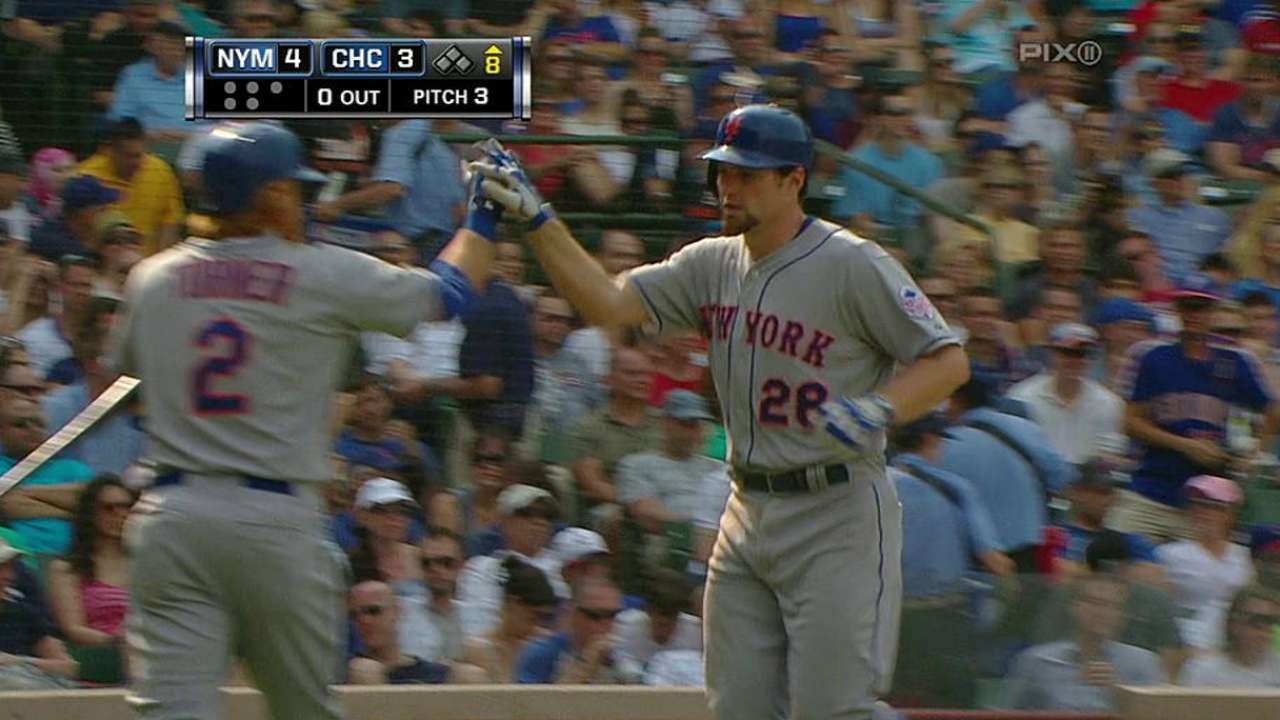 CHICAGO -- The Mets slid second baseman Daniel Murphy into the leadoff spot on Sunday in hopes that he could provide the slumping offense with some timely hitting. So far the role suits him just fine.
Murphy hit a go-ahead solo home run in the eighth inning, capping a late rally for a 4-3 victory and series win over the Cubs at Wrigley Field.
It was just the third time in their last 13 games that the Mets scored more than three runs. Two of those games have been wins. It's the Mets' second road series win of the year, and their third in Chicago since 1996.
"That's one of the bigger home runs I've ever hit," Murphy said, "just because it was a tie ballgame. It was really nice to put a good swing on that ball."
The shot to right field capped Murphy's first day at the top of the order, in which he went 1-for-4 with two runs and an RBI.
The comeback effort was made possible by Greg Burke (one scoreless inning) and Scott Rice, whose Major League-leading 25th appearance and two perfect innings gave him the win and set it up for Bobby Parnell's sixth save.
"Oh my goodness, they were tremendous today," manager Terry Collins said. "Burke did a great job, Scott Rice did a great job to get it to Bobby. Again, we probably won't have Rice tomorrow, but we needed a win today."
The Mets had no answers for Travis Wood's arm early, and the lefty's bat did the initial damage on the offensive end, with a two-run homer over the left-field bleachers in the fifth inning, breaking a scoreless tie against starter Dillon Gee.
"Wood hitting the home run kind of surprised me because I'd been throwing so many sliders to him. I thought there was no way he was hitting it," Gee said. "But it was like he was sitting on the fastball as soon as it left my hand. But we came into the game knowing he can hit."
Wood limited the Mets to just two hits until David Wright delivered a two-out RBI single in the sixth, plating Murphy and narrowing the margin to one run.
But after Ryan Sweeney hit a solo homer off Gee to lead off the sixth, Wood served up a two-out two-run homer to center fielder Juan Lagares that knotted the score at 3 in the seventh.
"It was the last batter [Wood] was going to face, and he threw the worst pitch of the game in that situation," Cubs manager Dale Sveum said. "That was unfortunate, giving up another home run. We pitched great, we just couldn't keep the ball in the ballpark."
It was an afternoon of unlikely power, as each of the first three long balls was the batter's first of the year. The fourth, from Murphy, came from the Mets' leadoff spot, which has a league-worst .186 batting average.
Sweeney's was his first as a member of the Cubs, with his most recent coming on July 27, 2011, for the Athletics. Wood's homer was the fourth of his career -- his last came on Aug. 8, 2012 -- and Lagares' was the first of his Major League career.
"I just wanted [Lagares] to have a chance a play," Collins said. "I thought his first at-bat was good, and he had decent swings. I certainly wasn't expecting a homer, but I thought he might get a base hit for sure. I'm really, really happy for him."
Murphy is now 14-for-28 over his last seven games and has an eight-game hitting streak. That, combined with the Mets' need for a spark in the lineup, could keep him in the spot he inhabited for the first time on Sunday.
"Yeah, I might," Collins said of keeping Murphy at the top of the order. "He gets on base because he can hit, and he's swinging good. He gets some walks, but we've got to get some people on ahead of [Wright], that's for sure."
Joey Nowak is a reporter for MLB.com. Follow him on Twitter at @joeynowak. This story was not subject to the approval of Major League Baseball or its clubs.