Lincecum's wobbly start sinks Giants
Rotation woes continue with six runs allowed by right-hander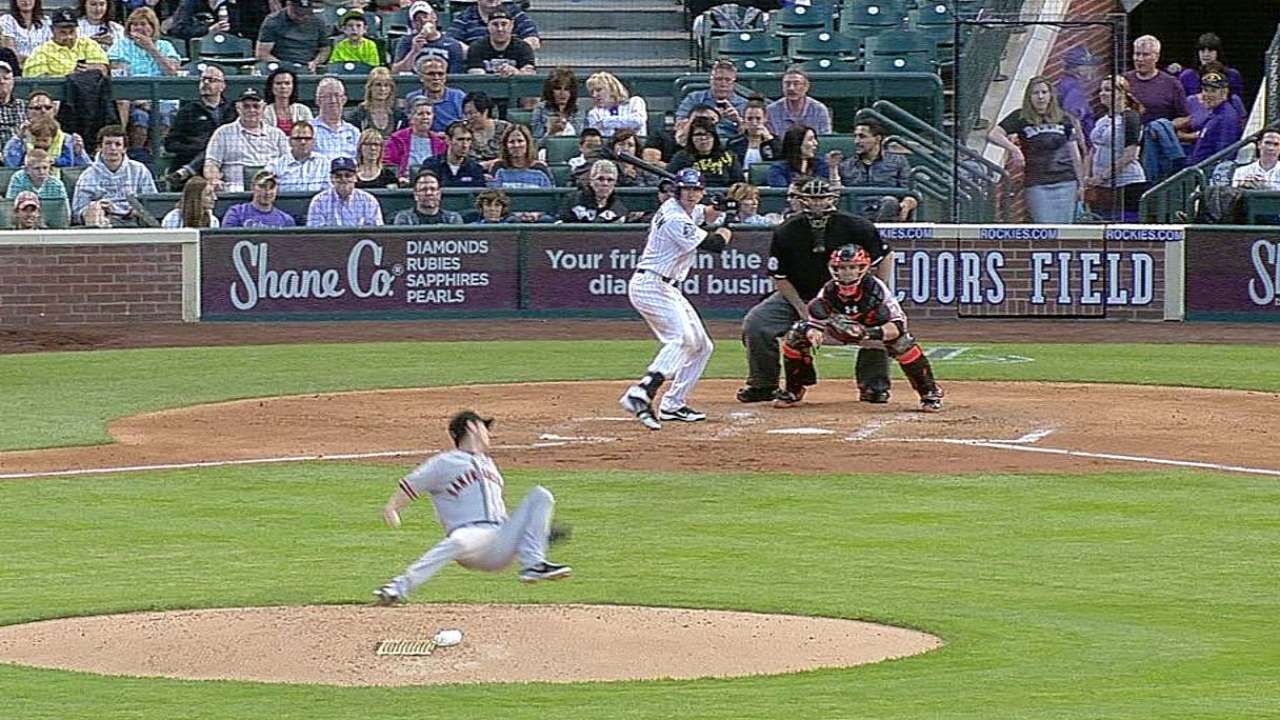 DENVER -- Pitching and defense, which turned the Giants into champions, continued to make them look like chumps.
San Francisco's sudden free fall continued with Saturday night's 10-2 loss to the Colorado Rockies. Tim Lincecum surrendered six runs in five innings and committed a third-inning throwing error that enabled the Rockies to score three runs while hitting only one ball out of the infield.
The Giants, who looked polished while winning three games in a row against National League East-leading Atlanta last weekend, fell to 1-4 on their two-city trip. During this span, they've committed 12 errors while their starting pitchers have recorded a 10.27 ERA.
Both are stunning developments for the team that has sustained excellence on both the field and the mound while winning two of the last three World Series.
"This is as tough a stretch as I think we've gone through," said manager Bruce Bochy, whose club has been outscored 47-28 on this trip.
Bochy and catcher Buster Posey attributed the starters' slump largely to faulty pitch location.
"That's kind of been our thing on this road trip," Bochy said.
Posey didn't spare himself from blame, however.
"My job as a catcher is to give those guys the best chance to succeed," he said. "So when they're not successful, of course I'm partly responsible for that."
The Giants' struggles are beginning to take on historic proportions. San Francisco last amassed 12 errors in a five-game stretch from April 18-22, 1996, near the outset of a dreadful 68-94, fourth-place season.
The current Giants maintain that they're too accomplished to stumble that badly.
"This is a tough group," Bochy said. "They bounce back. They're resilient. They've had their backs to the wall many times. What's important is that they do bounce back."
"It's one of those things that can turn around really quickly," Posey said. "It's just a matter of keeping on working. And I know these guys will. ... The mood of the team in general is still good. It's a confident feeling going into each game."
But desperation has begun to infiltrate the Giants' collective psyche. Lincecum's ill-advised throw continued the team's pattern of trying too hard, which Bochy addressed with players in a pregame meeting.
"Trying sometimes really ties you up in a game that has to be fluid like baseball," right fielder Hunter Pence said.
Posey said that feverish effort is "not necessarily a bad thing, because you're searching and you're working to try to get it right. Sometimes it is best, though, to step back and take a deep breath."
"Everybody wants to make the big play," Lincecum said, acknowledging that the Giants have been pressing. "It's just the way we are. So we're going to take it personally and hard when we don't do well. We just have to learn to not dig ourselves in bigger holes after that. That's what I did today. I put us in a big hole."
Lincecum's third-inning trouble began when he issued a leadoff walk to Charlie Blackmon, Colorado's No. 8 hitter. Blackmon moved to second base on Tyler Chatwood's comebacker and scored on Dexter Fowler's double past third base.
Then everything spun out of control for Lincecum and the Giants. Lincecum briefly juggled Josh Rutledge's comebacker and hurried his throw to first base. The ball flew wide of its intended target and rattled around the warning track beyond the right-field line as Fowler scored. Rutledge raced to third on the play and came home on Carlos Gonzalez's groundout.
"Kicking the ball around, that was probably the biggest frustrating thing for myself," Lincecum said, admitting that he simply should have held the ball. "After that I didn't collect myself and concentrate. I just kind of unraveled. Just really frustrating."
Lincecum indeed remained vulnerable afterward. Stumbling in mid-delivery while facing Blackmon in the fourth inning, Lincecum balked Nolan Arenado to second base. That put Arenado in scoring position for Chatwood, the opposing pitcher who lifted his batting average to .625 (5-for-8) with a two-out RBI single. Colorado struck again with two outs in the fifth as Wilin Rosario yanked a two-run homer.
The score changed, but the evening's lopsided nature didn't.
Chris Haft is a reporter for MLB.com. This story was not subject to the approval of Major League Baseball or its clubs.