Cards unable to capitalize in extra-inning loss to Crew
St. Louis loads the bases in the ninth but go on to lose in the 10th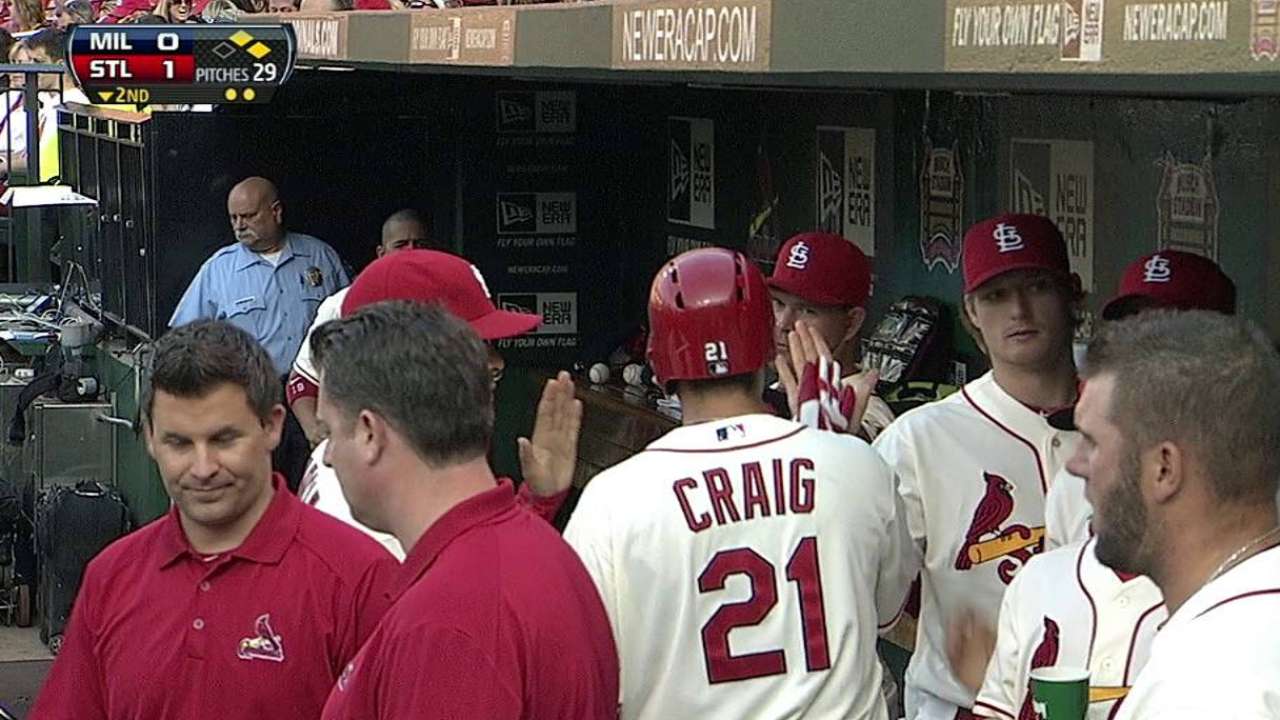 ST. LOUIS -- After weeks of watching the starting rotation pick up a wobbly bullpen and underachieving offense, the Cardinals' starters have spent much of the last week as the beneficiaries of some payback assistance from both.
On Saturday, they simply didn't get enough.
After pitching four scoreless innings, a stingy St. Louis bullpen bent in the 10th. With a two-out, two-run single off Joe Kelly, Brewers infielder Jeff Bianchi lifted Milwaukee to a 6-4 win in front of an announced crowd of 42,410 at Busch Stadium. The tie-breaking hit came a half-inning after the Cardinals stranded the bases loaded.
"I didn't feel like I was getting whacked, just gave up some hits," Kelly said. "[I] got [the] ground balls I needed to. I thought I was going to get out of it."
Down 4-2 when Lance Lynn exited after five innings, the Cardinals used four straight singles in the sixth to even the game and chase Brewers starter Marco Estrada. The offense's best chance to get one more disintegrated when pinch-hitter Daniel Descalso went down swinging with the bases full in the ninth.
That matchup was the one that Brewers manager Ron Roenicke sought as the inning progressed. After Matt Holliday's two-out double, he had reliever John Axford pitch around Allen Craig and Yadier Molina to force the Cardinals to use a pinch-hitter in the pitcher's spot.
Prepared for Axford's fastball, Descalso went down swinging on a slider -- the third he saw in the five-pitch at-bat. Those three stranded runners brought the Cardinals' total to 11 for the night. Seven were left in scoring position.
"You have to respect his [ability to throw] 98 [mph], but you have to do your best to make him throw a strike," Descalso said. "I was up there figuring he was going to come after me."
The matchup also foiled manager Mike Matheny's plans to send Edward Mujica back out for a second inning of work. Instead, Kelly took the assignment. Consecutive hits by Ryan Braun and Aramis Ramirez put the righty in immediate trouble.
His attempt to get out of it started promisingly enough. After freezing Braun at third on a weak groundball, Kelly induced a grounder to Kozma with the bases full. Playing in and with the speedy Logan Schafer running to first, Kozma opted to secure the force-out at home -- a decision Matheny backed up afterward -- instead of gambling for a tough double play.
"I didn't think he hit it hard enough to turn two," Kozma said. "We're playing in, so when that ball was hit I just wanted to get that runner at home."
On the next pitch Kelly threw, Jeff Bianchi laced a fastball up the middle for the two-out, game-winning hit.
"I checked the scouting report right before I went out and it said he throws a lot of fastballs, so anything up in the zone there I was taking a good hack," Bianchi said. "Fortunately, it went through."
"He got a good hit up the middle on a good pitch," added Kelly. "I just tip my cap to that and move on."
The two runs were the only blemish on an otherwise strong night from the bullpen. The first four relievers came and went without allowing a run. The only serious jam during that stretch was solved by Trevor Rosenthal, who struck out Yuniesky Betancourt to end the eighth with the bases full.
The emergence of a reliable 'pen and continued timely hitting from the offense -- which scored all four of its runs with two out on Saturday -- has helped pick up a Cardinals rotation that, over the last week, has looked porous and vulnerable for the first time all season
Since celebrating consecutive shutout performances by Shelby Miller and Adam Wainwright last Friday and Saturday, respectively, the club has placed two starters -- Jake Westbrook and Jaime Garcia -- on the disabled list. A group that was averaging 6 2/3 innings per start over the first 35 games has had a starter go that deep only once during these last seven games.
The rotation ERA over that stretch is 5.49 -- pushing its season mark up a half run to 2.62.
Of course, there was never an expectation that the Cardinals' starters would maintain that early-season collective dominance for six months. Rather, there was the hope that when they stumbled, others would step up to pick them up. That assistance has been there, helping the Cardinals salvage four wins during this seven-game span.
"Everything seems to be coming together and that's what you ask for," Lynn said. "I would have liked to have pitched better today to help us win the game, but everyone else picked up the slack."
Lynn was the most recent starter off his mark. One start after throwing a career-high 124 pitches, he threw a season-low 89 on Saturday. The top three hitters in Milwaukee's lineup gave Lynn fits all evening and were in the middle of both run-scoring rallies.
Leadoff hitter Norichika Aoki extended the third inning with an infield single off the glove of first baseman Matt Adams. Lynn paused when he saw the carom, which cost him the opportunity to cover first and take a throw for the out.
The mistake became costly when Jean Segura followed with a tying two-run triple and Braun knocked an RBI single to right.
"I think if there wasn't the ricochet, I would have been there," Lynn said. "It cost me three runs."
Braun then temporarily gave the Brewers a two-run cushion with another RBI single in the fifth. Against Lynn, the first three in the order reached base seven times and scored three runs.
"The last outing he suffered a little bit of the same thing, working behind in counts, and today I think was a little bit more so," Matheny said. "He was constantly fighting from behind. That's not a good situation to be in to be successful."
Jenifer Langosch is a reporter for MLB.com. Read her blog, By Gosh, It's Langosch, and follow her on Twitter @LangoschMLB. This story was not subject to the approval of Major League Baseball or its clubs.