Bianchi wins it for Crew after Axford's clutch ninth
Brewers end five-game skid against Cardinals with 10-inning win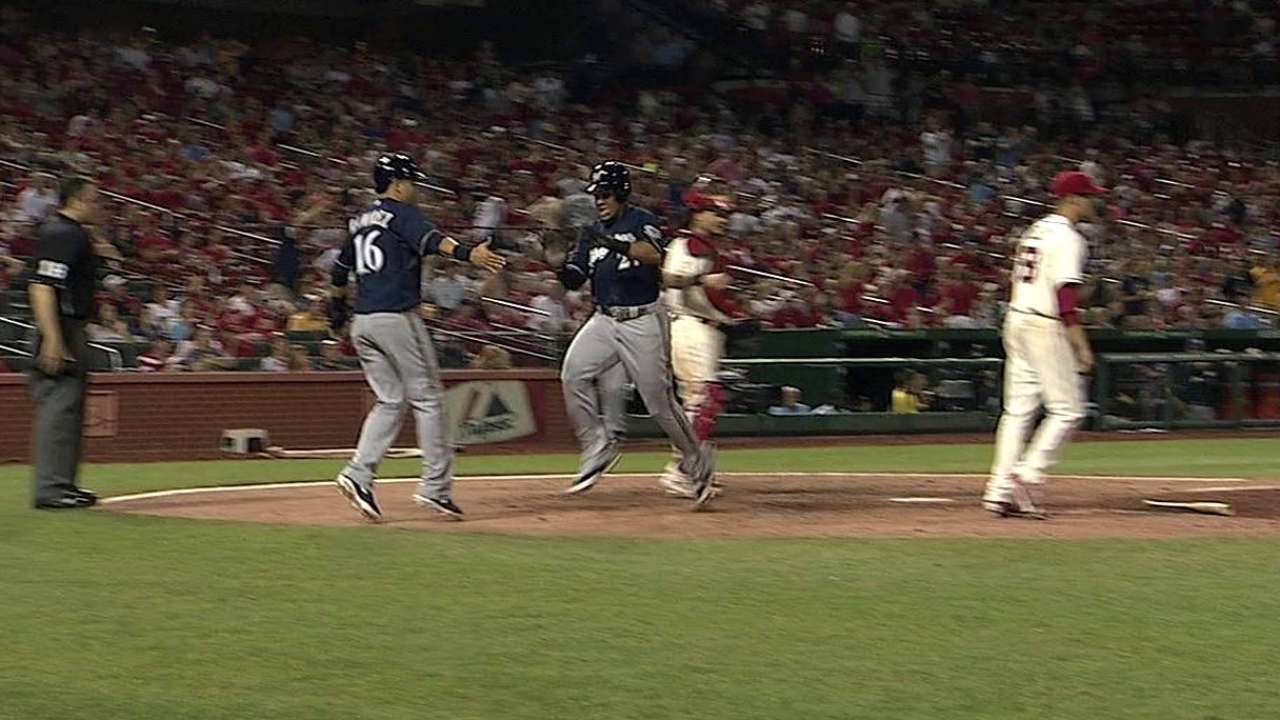 ST. LOUIS -- John Axford got the out he so sorely needed with the bases full of Cardinals, took a few confident steps toward the dugout, punched his right fist into his glove and let out a yell. It was a rare show of emotion from a Brewers reliever who usually keeps it all inside.
A few minutes later, infielder Jeff Bianchi rewarded Axford for his escape, grounding a two-out, two-run single that sent the Brewers to a sorely-needed 6-4 win over the Cardinals in 10 innings Saturday night at Busch Stadium.
Axford finally had a victory to go with his three losses and three blown saves, and the Brewers finally had a victory over St. Louis after losing the previous five matchups.
"I've always had those emotions inside, and I don't show it out there on the mound," Axford said. "But obviously that hasn't been working, so changing things up, maybe, brings you back to where you want to be. Being that calm, cool, collected person out there hasn't really helped so far. Maybe I need to do a little bit more."
Do the Brewers have another Tony Plush on their hands?
"Not quite there," Axford said with a smile.
The Brewers would settle for the old John Axford, the one with the 97-mph fastball who set a franchise record by converting 49 consecutive regular season saves from 2011 into '12. He has been missing for much of '13, burned either by a mysterious dip in velocity, misplaced pitches or plain bad luck.
The Brewers needed the old Axford on Saturday after Ryan Braun and Jean Segura drove in two runs apiece to build leads of 3-0 and 4-2, only to see the Cardinals score all four of their runs with two outs, including two in the sixth inning against starter Marco Estrada and reliever Michael Gonzalez to forge a tie.
It was still 4-4 in the eighth, when Brewers manager Ron Roenicke removed reliever Brandon Kintzler, who had already recorded five outs with relative ease, in favor of Axford, who has been bounced this season between the closer's role, middle relief and setup duties. Roenicke made the call based on limited information; the Cardinals' pinch-hitter, Carlos Beltran, was 2-for-2 with a home run against Kintzler and 1-for-5 with three strikeouts against Axford.
"Those are tough decisions, they are," Roenicke said.
Axford struck out Beltran with a full-count curveball, then went back out for the ninth. He retired the first two Cardinals hitters in the ninth before Matt Holliday lined a ground-rule double down the right-field line. With first base open, Axford walked Allen Craig on four pitches, then intentionally walked Cardinals catcher Yadier Molina after falling behind to a 3-1 count.
That brought up Daniel Descalso, who, with Axford's pitch count up above 30 and his arm admittedly tiring, looked at a 98-mph fastball down and in that ran the count to 2-and-2. Descalso then struck out swinging at Axford's 33rd pitch, a slider.
Walking off the mound, Axford punched his right hand into his glove in celebration.
"Maybe you'll see that more out of me, I'm not too sure," Axford said. "Maybe becoming a little bit of a different person -- I think that's helped me out a little bit, too. I don't know. I don't know what's going to happen to me. Maybe I'm going to start hitting my glove more often."
The reaction in the Brewers' dugout when Axford let out his yell?
"Same," Roenicke said. "That was certainly a huge out."
Brewers closer Jim Henderson, who would eventually work a 1-2-3 10th inning for his eighth save, did not have a good view of Axford's elation. He chuckled when informed about it.
"I was watching his [last] outing in Pittsburgh, and it just looks like he's taking control of his innings now, and that's a big thing for him," Henderson said. "I think the confidence is back."
The Brewers still needed to win the game, and they did so in the top of the 10th against Cardinals right-hander Joe Kelly. Braun and Aramis Ramirez greeted him with singles, then moved into scoring position on a groundout. Kelly intentionally walked Carlos Gomez to load the bases and the Cardinals pulled the infielders in against pinch-hitter Logan Schafer, who hit a sharp grounder to Pete Kozma at shortstop.
Kozma made the safe play, throwing home for a sure out instead of wheeling for a throw to second base and a potential double play.
"It would have been real tough, especially with Schafer at the bat," Kozma said. "He's really fast. I've played against him a lot before. He's really quick. I didn't think he hit it hard enough to turn two. We're playing in, so when that ball was hit I just wanted to get that runner at home."
Said Roenicke: "Where they were positioned, they had to go home. We do the same thing. You put him in a spot where you know you can't turn two, but you think the run is that important, which it was."
Up next was Bianchi, who made a rare start in place of slumping Brewers second baseman Rickie Weeks and already had singled and scored in the Brewers' three-run third inning. Against Kelly, he grounded a first-pitch, 98-mph fastball past a diving Kozma and into center field.
It was the sort of clutch hit that had eluded the Brewers so far on their road trip. Even with Saturday's win, they are 2-7 on the trip with Sunday's finale to go.
"We finally got a big hit," Roenicke said. "That was nice to see. … I mean, my gosh, that was a huge hit, the last one. Nice, because of the bigger picture, absolutely. That's what we have been struggling with."
Adam McCalvy is a reporter for MLB.com. Read his blog, Brew Beat, and follow him on Twitter at @AdamMcCalvy. This story was not subject to the approval of Major League Baseball or its clubs.