Royals get on board early but fall vs. A's
After early dominance, Kansas City falls closer to .500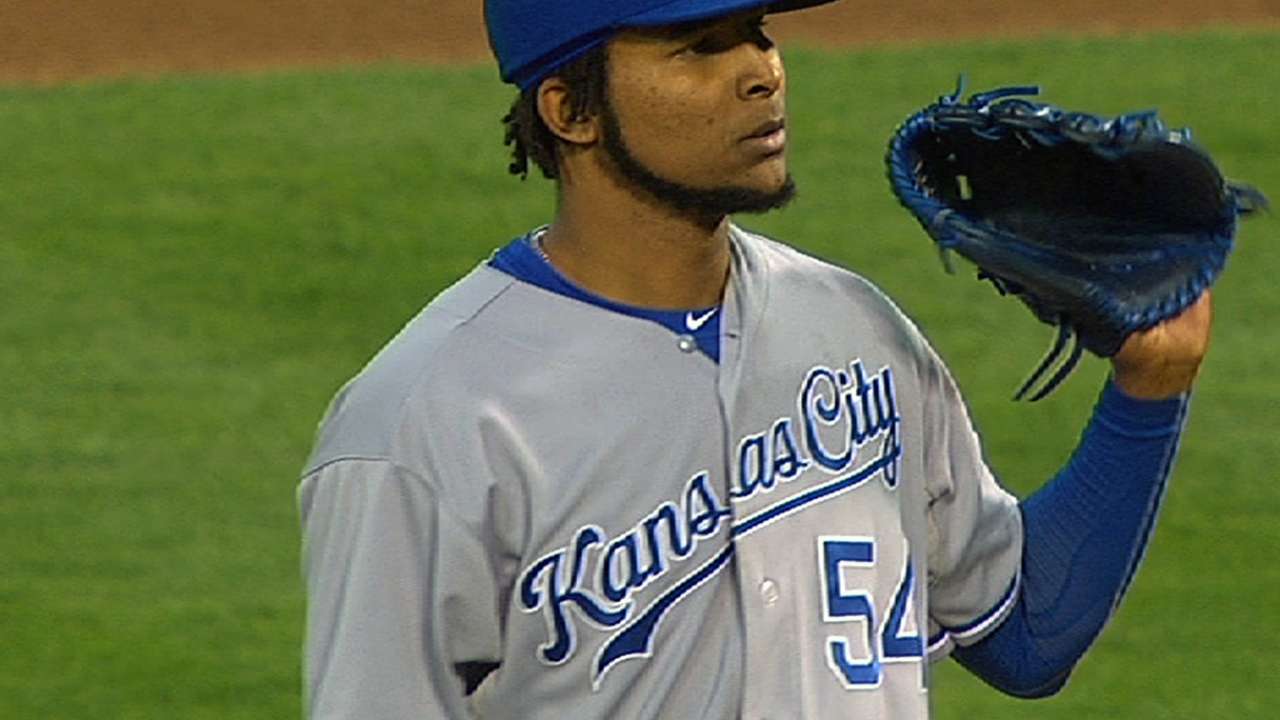 OAKLAND -- Now things are getting a trifle unsightly on the Kansas City club's ledger. Since a four-game winning streak, the Royals have lost nine of 12 games. Unsightly indeed.
The latest loss came to the Oakland Athletics, 2-1, on Saturday night with a sellout crowd of 35,067, lured by a Star Trek fireworks display, jamming the Coliseum. The Royals, seven games over .500 a couple of weeks ago, now stand at 20-19.
Royals starter Ervin Santana was thwarted for the third time in his bid for a 100th career victory.
This was the second straight 2-1 loss to the A's, who upped their record to 22-22. In both games, the Royals had just five hits.
In the series opener, it was a fine pitching performance by James Shields that went for naught. This time, it was Santana, who has gotten even less run support than Shields. In Santana's eight starts, the Royals have scored just 21 runs, or 2.6 a game.
"We're struggling a little bit right now," center fielder Lorenzo Cain said. "We've had two outstanding days where guys pitched lights out, but we haven't been able to put up runs for 'em. We've got to find a way to score runs -- that's the bottom line. We're all struggling right now. Just got to pick it up and get going."
Alex Gordon, with a .400 average since taking over the No. 3 spot in the order May 9, continued to make the move look good. He doubled with two outs in the first inning and scored as Billy Butler dropped a single into right field.
But then came the killer.
In the second inning, the Royals loaded the bases with nobody out against left-hander Tommy Milone. Salvador Perez singled, followed by walks to Mike Moustakas and Jeff Francoeur. But Milone got Elliot Johnson to foul out and fanned Cain and Alcides Escobar. Three left on base.
"Bases loaded, nobody out and we put together some great at-bats to get the bases loaded; we just couldn't do any damage from that point," manager Ned Yost said. "We got Milone's pitch count way up the first two innings. Then he settled in a little bit."
Another chance came in the fourth, when Perez led off with a double and Moustakas moved him to third on a flyout to deep center. But Milone struck out both Francoeur and Johnson.
"Had another opportunity with a runner on third -- Moose got him over with a great at-bat after Salvy's double -- and we couldn't get him in," Yost said. "So we had some opportunities; we just didn't capitalize."
Milone threw 111 pitches, so he was pulled after six innings.
"I feel like I can get out of every inning," Milone said. "I have to have that confidence in myself and my stuff. I wanted to make sure I made quality pitches. I didn't make it easy on myself, but to get out of those situations felt good."
Santana got some help from Gordon in the third inning. Eric Sogard tried to stretch his hit to left into a double, but Gordon threw him out, his third assist this season.
"That's what Gordy does; that's why he's a Gold Glover," Yost said.
After breezing through five innings, Santana gave up two runs in the sixth. Sogard led off with a double to right and took third on a wild pitch. After Coco Crisp walked, Jed Lowrie lofted a sacrifice fly to center. Brandon Moss' drive cleared Cain in deep center, and the triple scored Crisp for a 2-1 A's lead.
Other than that, Santana's evening went splendidly.
"Everything was working good; everything felt good," Santana said. "I just didn't have good luck today."
Or enough runs, either.
After Milone left the game, Ryan Cook, Sean Doolittle and closer Grant Balfour each reeled off a scoreless inning for the A's. After the fourth inning, in fact, the Royals got no runner past first base.
"We had the situation where we had the bases loaded with no outs, and we couldn't score any runs," Santana said. "In the end, you know how it is."
Well, yes, another outstanding pitching performance by the Royals was wasted.
"Right now, there's just no room for error for any of them out there," Yost said.
And the Royals' ledger is looking a little bleak.
Dick Kaegel is a reporter for MLB.com. This story was not subject to the approval of Major League Baseball or its clubs.