Milone solid as A's come back to top Royals
Oakland overcomes early deficit for second straight game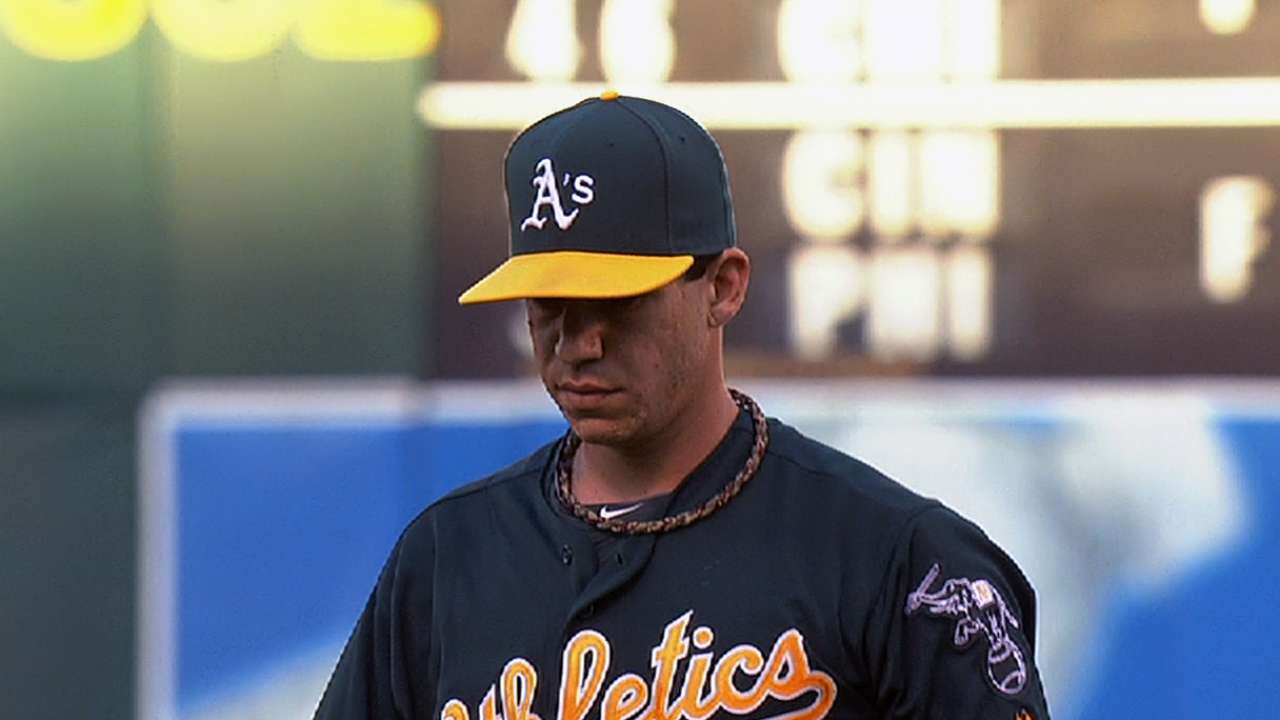 OAKLAND -- Tommy Milone had to endure some tough-luck losses during his five-game losing streak.
Milone (4-5) ended that frustrating skid with yet another quality, and he got to celebrate right along with his teammates when the Oakland Athletics rallied to beat the Kansas City Royals, 2-1, on Saturday night.
Milone gave up a two-out, first-inning run, escaped danger in the second and then foiled the Royals through six innings in front of a sellout crowd of 35,067 on fireworks night.
"That was Houdini," A's manager Bob Melvin said. "Fifty pitches with three outs, 70 pitches with six or seven outs and he goes six innings. To do that, you have to be a pretty clear thinker out there. I've been impressed with a lot of his starts, and none more than that one."
Salvador Perez singled to open the second inning, and Milone walked Mike Moustakas and Jeff Francoeur to load the bases. He got Elliot Johnson on an infield popup and then struck out Lorenzo Cain and Alcides Escobar to set the stage for another A's comeback.
"I feel like I can get out of every inning," Milone said. "I have to have that confidence in myself and my stuff. I wanted to make sure I made quality pitches. I didn't make it easy on myself, but to get out of those situations felt good."
Milone also got out of a sticky situation in the fourth. Perez led off with a double and advanced to third on Moustakas' flyout. The A's left-hander then struck out the next two hitters to end the threat.
The Royals never got a runner past first base afterward.
"Bases loaded, nobody out and we put together some great at-bats to get the bases loaded; we just couldn't do any damage from that point," Royals manager Ned Yost said. "We got Milone's pitch count way up the first two innings. Then he settled in a little bit. Had another opportunity with a runner on third -- Moose got him over with a great at-bat after Salvy's double -- and we couldn't get him in. So we had some opportunities, we just didn't capitalize."
There was nothing to indicate the A's were ready to figure out Ervin Santana, an Oakland nemesis from his days with the Los Angeles Angels. He breezed through five innings, then gave up a double to Eric Sogard, who went to third on a wild pitch. Coco Crisp walked, and Jed Lowrie's sacrifice fly tied the game.
Brandon Moss followed an out later with an RBI triple, and the A's bullpen took over from there.
"It has a lot to do with the starting pitching," Melvin said. "It's one thing to try and fight back from four runs down and another thing when you're one run back or even. It makes it easier to keep grinding."
Milone, who lowered his ERA to 3.47, appreciated the effort. He did not give up an earned run during two of the games during his losing streak. The A's were shut out in both those games and lost another by a single run.
"Losing five in a row is never a good thing, whether you pitch well or not," Milone said. "You want to win as a team. Losing is not fun."
Milone, who struck out four Saturday, allowed five hits and matched his season high with three walks before handing the ball off to another lights-out effort from the bullpen.
Ryan Cook and Sean Doolittle each pitched a perfect inning to set things up for Grant Balfour's eighth save in as many chances.
"The bullpen has been rock solid, and there's a lot of pride down there," Doolittle said. "Once we get a lead, we want to keep them at bay."
Milone nearly had to come out of the game in the second inning. Avoiding that impressed his teammates, too.
"That was unbelievable," Doolittle said. "I can't say enough about the job he did. That was gutsy, grinding it out like that. It was nerve-wracking at times. He had to dig for that."
Rick Eymer is a contributor to MLB.com. This story was not subject to the approval of Major League Baseball or its clubs.