Legend of Gattis grows with pinch-hit homer in eighth
Rookie goes back-to-back with Simmons, taking strong Medlen off hook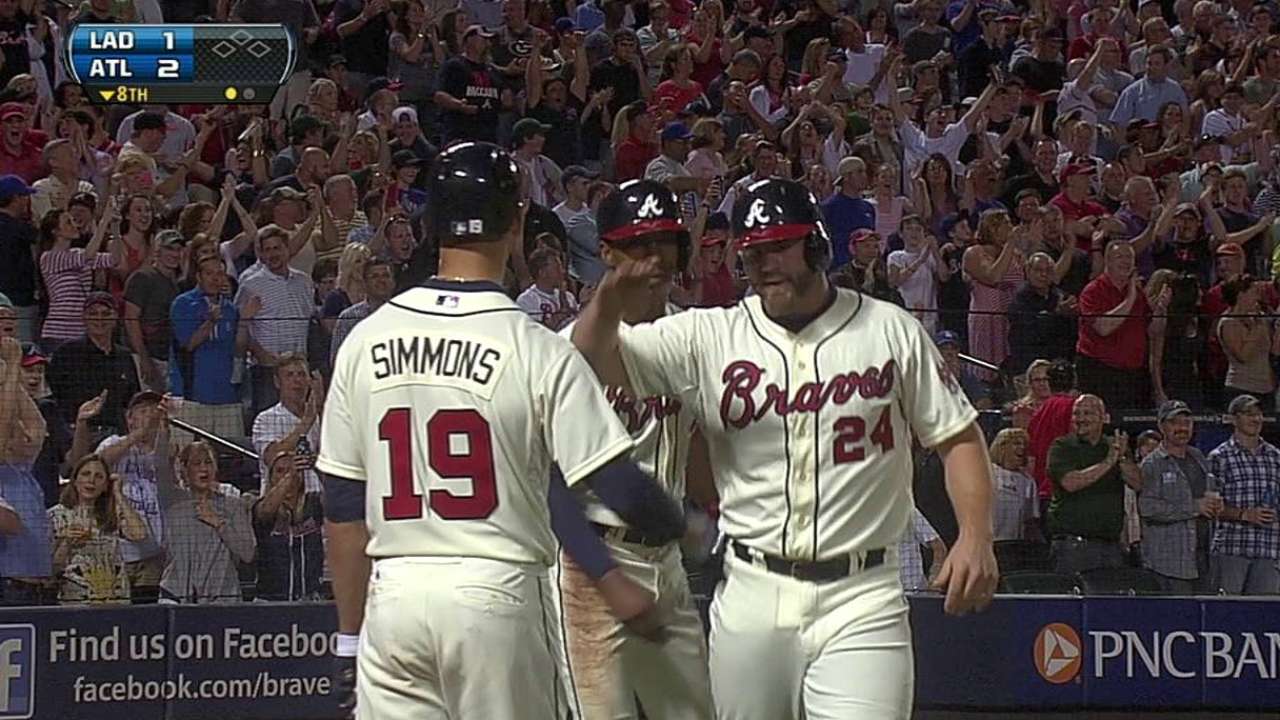 ATLANTA -- Evan Gattis has become known as the powerful rookie catcher who once served as a ski lift operator, janitor, cook and valet during a four-year absence from baseball. From now on, it might be best to simply describe him as a jack of all trades and a master of all.
Staring at the possibility of Kris Medlen being doomed by the one unearned run he surrendered during a masterful effort at Turner Field on Saturday night, Braves manager Fredi Gonzalez inserted Gattis as a pinch-hitter in the eighth inning, then watched him add to his legend by belting the decisive two-run home run in a 3-1 win against the Dodgers.
"It was awesome," said Braves shortstop Andrelton Simmons, who followed Gattis' at-bat with another homer. "He's amazing. That's all you can say. Pretty much, we saw it coming. But seeing it was awesome."
Awesome seemed to be the best way to describe the three-run eighth inning that backed Medlen, who surrendered a career-low two hits over seven innings, and more importantly, provided the Braves a second consecutive win for just the second time this month.
"It was definitely a good moment," Gattis said. "It was a good feeling."
Five outs away from their seventh shutout loss of the year, the Braves chased a dominant Chris Capuano with an eighth-inning single from B.J. Upton, who was hitless in his previous 16 at-bats. This set the stage for Gattis and Simmons to drill back-to-back home runs on consecutive pitches thrown by Dodgers right-handed reliever Kenley Jansen.
"I've got to thank [Gattis] for wearing him out a little bit," Simmons said.
Gattis fouled off three consecutive two-strike pitches before ending his eight-pitch at-bat against Jensen by drilling a 94-mph fastball over the left-field wall. It was the second career pinch-hit home run for the rookie, who also came off the bench to deliver a decisive eighth-inning home run in an April 18 win in Pittsburgh.
"He had a hell of an at-bat," Gonzalez said. "He wasn't going to give in. It's still too early to say, 'This guy likes those type of moments,' but boy, we have some history with him where he comes up big."
Through the first 34 games and 116 at-bats of his career, Gattis has belted eight home runs and collected six game-winning RBIs. Though his playing time has been limited with the recent returns of Brian McCann and Jason Heyward, he has seemingly earned a lasting spot at the Major League level.
"He doesn't really have to hit the ball square to hit the ball out of the ballpark, and obviously, that's what we were looking for tonight there, and he gave it to us," Gonzalez said. "And then Simmons, to be able to add on an extra run there was even better."
Simmons' home run provided Craig Kimbrel a two-run cushion as he worked a perfect ninth to notch his 13th save. It also gave the Braves' shortstop bragging rights against his good friend Jansen. Simmons was only 4 years old when he played with Jansen on his first team in their native Curacao.
"They said he likes to throw that backdoor cutter," Simmons said. "I was kind of looking for that, and he threw it first pitch."
Less than 24 hours after hitting the decisive grand slam in Friday's series-opening win, Justin Upton fumbled Skip Schumaker's double after it rattled out of the left-field corner with two out in the fourth inning. This allowed Adrian Gonzalez to lumber all the way from first base and cross the plate for an unearned run.
Looking at the possibility of his error being the difference in a one-run game, Upton managed to play a key role for the second straight night. Having seen plenty of Jansen while playing for the D-backs over the past few years, he told Gattis how to attack the powerful right-hander's backdoor cutter.
Gattis went to Upton for advice after realizing the Dodgers brought Jansen out of the 'pen. He initially thought it was right-handed reliever Ronald Belisario.
"He said anything middle with the backdoor cutter is going to break off the plate," Gattis said. "So if you back off the plate a little bit and you get one that looks like it is starting at you, that's going to be the one you want."
Before taking the mound, Medlen saw a discouraged Eric O'Flaherty walking around the clubhouse after learning he will likely need to undergo Tommy John surgery. Understanding the absence of O'Flaherty had further depleted an already short-handed bullpen, Medlen navigated his way through seven innings with a little extra determination.
Still, as good as Medlen was, it looked like he was going to be dealt a hard-luck loss on a night when he didn't have the mechanical issues that have plagued him through the early part of this season.
But with the latest display of his tremendous power, Gattis further endeared himself to a team that already has the utmost confidence in his ability to deliver in the clutch.
"I think you have that confidence in your teammates all the time, but he kind of already has the track record with two months in the big leagues," Medlen said. "Obviously, he puts some good at-bats together, and every time he swings the bat, he's got a chance to do what he did tonight."
Mark Bowman is a reporter for MLB.com. This story was not subject to the approval of Major League Baseball or its clubs.