Latest loss has Mattingly searching for answers
Capuano's strong outing goes to waste after Jansen allows homers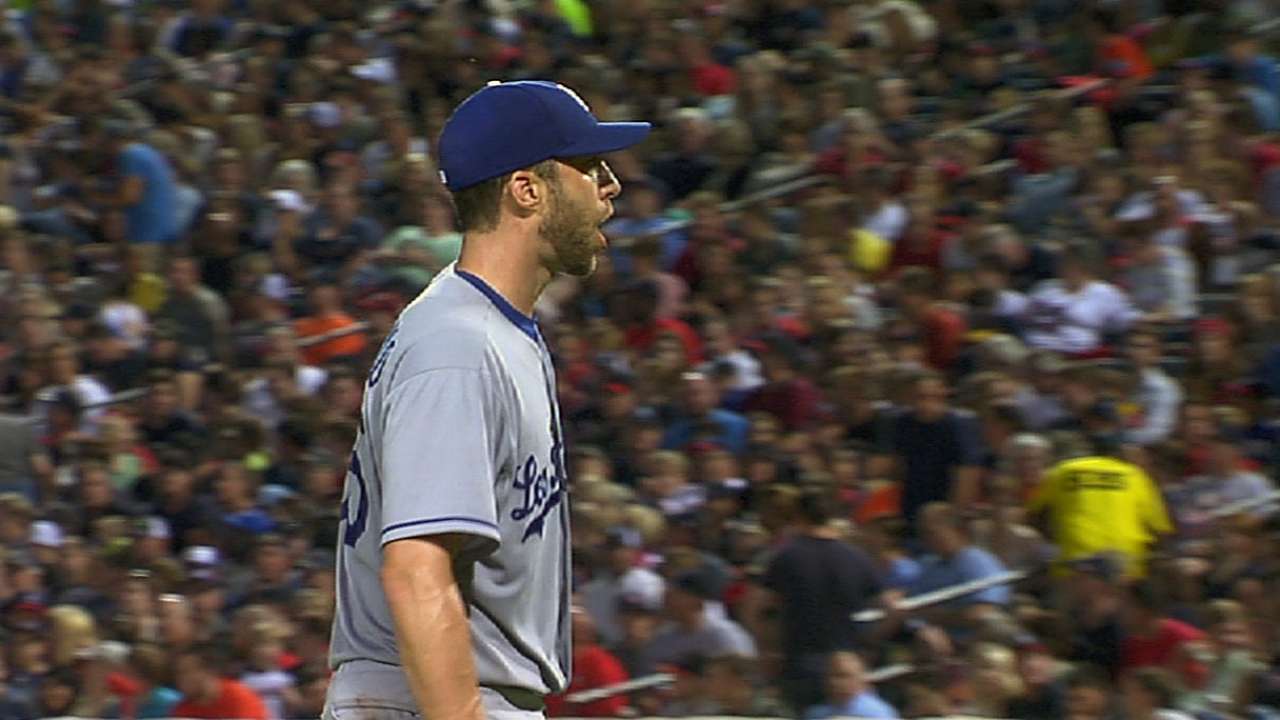 ATLANTA -- As his team reached the one-quarter mark of the season in last place of the National League West, Don Mattingly used the word "disarray." He was talking about the Dodgers' bullpen, but why stop there?
Mattingly was again seeking an explanation for another unbearable loss Saturday night, 3-1 to the Braves, this crusher the result of back-to-back home runs in the eighth inning by pinch-hitter Evan Gattis and leadoff hitter Andrelton Simmons off Kenley Jansen, the one reliever Mattingly thought he could trust with a one-run lead.
Chris Capuano got through 7 1/3 scoreless innings before tiring, that calf muscle he hurt sprinting in from the bullpen during the brawl in San Diego apparently not fully healed after all. So Mattingly asked Jansen to get a five-out save, and instead, the first two Braves took him deep.
"People clamor for one guy," said Mattingly, who clamors for a reliable closer, among other things. "Then they clamor for the next guy, and then somebody else. You'd like to set the thing the way you want it to work and keep guys in roles so you don't get disarray."
While the bullpen has suffered from the miscalculation that allowed current Cubs closer Kevin Gregg to simply walk away at the end of Spring Training, the disarray extends to the starting rotation, which Capuano wasn't even supposed to be part of at the end of spring. Now he's not only in the rotation, he's delivered back-to-back quality starts.
But the rotation also has Sunday starter Matt Magill, who was about 10th on the depth chart coming out of Spring Training. And Ted Lilly is about to be activated, but Mattingly isn't sure about his role. Then there are Josh Beckett and Stephen Fife, who are temporarily disabled, and Chad Billingsley, who is out for the year.
And disarray definitely describes the Dodgers' offense, which got only two hits and an unearned run off Braves winner Kris Medlen. The Dodgers didn't have a hit after the fourth inning and they ran out of one scoring chance in the third inning, when Dee Gordon committed the inexcusable sin of getting thrown out trying to steal third base for the third out with Matt Kemp at the plate.
"We've got to be a little better giving our pitchers some breathing room," Mattingly said.
All that said, Mattingly wouldn't buy into the suggestion that no matter what the Dodgers do now, it doesn't work.
"I'm not really a defeatist -- everything's going bad," he said. "Things are not going the way we want. We got on a little roll leaving town [winning four of five], then the game last night and today, and we don't win either one. Those hurt. We had a chance to keep the roll going. We have to continue to fight that fight.
"We lost two games, but we won four of five. The bigger picture, 13-14, not very good. But the last seven or eight days, we've been okay. I know we're capable."
Mattingly brought in Jansen with one out in the eighth after a sharp single by B.J. Upton off Capuano, who had warned his manager before the inning started to get somebody ready because he felt the calf muscle tighten as early as his fifth-inning sacrifice bunt that he didn't run out.
"I've had a lingering issue with the calf," said Capuano. "I didn't feel it strain, but I could tell it tired running the bunt out. It wasn't affecting my pitch execution."
After Mattingly said he hoped Jansen wasn't trying to go inside on the power-hitting Gattis, that's exactly what Jansen said he was trying to do in an eight-pitch at-bat, because he said Gattis was crowding the plate.
"Most of the time, that pitch is an out," said Jansen. "It was where I wanted to put it. I tried to get it in there to back him off. He just hit it out."
Jansen also wasn't comfortable mixing in a slider, so he stuck with his best pitch, the cutter, which is what Gattis was told to look for.
Gattis said he thought the Dodgers were bringing in Ronald Belisario, and when he realized it was Jansen, he asked Justin Upton for a quick scouting report.
"He said anything middle with the cutter is going to break off the plate," said Gattis. "So if you back off the plate a little bit and you get one that looks like it is starting at you, that's going to be the one you want."
Simmons, like Jansen, is from Curacao and said they played together in Little League.
"I've got to thank [Gattis] for wearing him out a little bit," Simmons said.
Sitting next to Jansen was Paco Rodriguez, who took the loss Friday night by serving up a grand slam to Justin Upton. Dodgers relievers have allowed 12 home runs this year.
The loss left the Dodgers 6-11 on the road and 4-11 in May. Instead of a chance to win a series Sunday, the Dodgers need to win a game to avoid a sweep.
"When a guy pitches that good for that long, you expect to win that one," said Mattingly of Capuano.
Ken Gurnick is a reporter for MLB.com. This story was not subject to the approval of Major League Baseball or its clubs.