Gattis' heroics force Fredi to find him playing time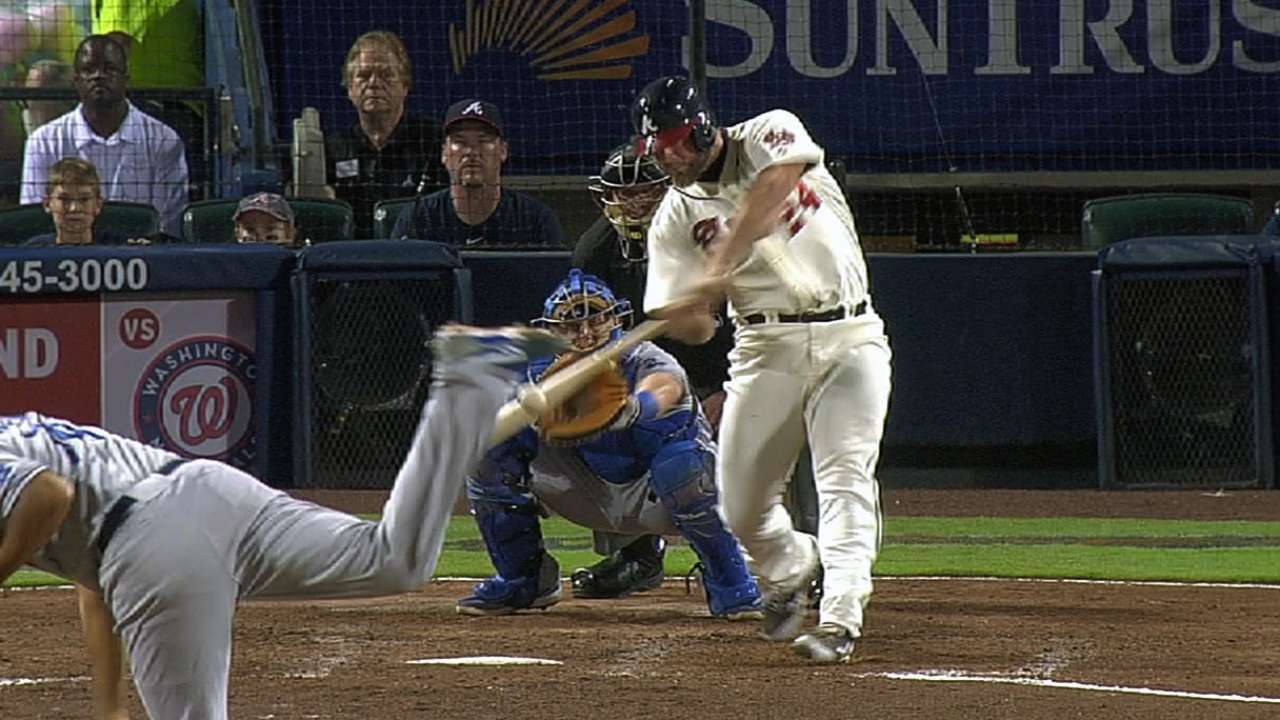 ATLANTA -- Now that All-Star catcher Brian McCann and right fielder Jason Heyward have returned from their extended stints on the disabled list, Braves manager Fredi Gonzalez faces the challenge of finding playing time for Evan Gattis.
With the Braves currently working with a six-man bullpen, there has been reason to wonder if they might stop carrying three catchers by sending Gattis back to the Minors. But those thoughts seemed to disappear as Gattis drilled a decisive two-run, pinch-hit home run in the eighth inning of Saturday night's 3-1 win against the Dodgers at Turner Field.
"It's almost better that you can put him wherever you want in a situation, but sooner or later, we need to get him three to four at-bats," Gonzalez said after Saturday's win. "You can't go from pinch-hit to pinch-hit and survive in the big leagues."
Gattis hit .261 with seven home runs while serving as the primary catcher through the first 30 games this season. The 26-year-old rookie started in left field in six of the first 10 games after McCann returned from offseason shoulder surgery on May 6.
But with Heyward returning to the lineup Friday for the first time since his April 22 appendectomy, there is no longer a regular spot in the lineup for Gattis. His opportunities to play left field and first base are blocked by Justin Upton and Freddie Freeman, and his opportunities to catch are blocked by McCann and Gerald Laird, who has served as the primary backup since McCann returned.
"The guys that you can play [Gattis] for are pretty good players," Gonzalez said. "Do you take Justin [Upton] out? Or do you take [Freddie] Freeman out and let [Gattis] play first? You've got McCann and Laird [catching]."
With all of that said, Gonzalez seems determined to find playing time for Gattis, who has hit eight home runs and collected six-game-winning RBIs through the first 116 at-bats of his career. Both of his pinch-hit home runs were game winners.
"You have to pitch [to] him," Gonzalez said. "You make a mistake, and he can run you out of the ballpark from foul pole to foul pole."
Mark Bowman is a reporter for MLB.com. This story was not subject to the approval of Major League Baseball or its clubs.